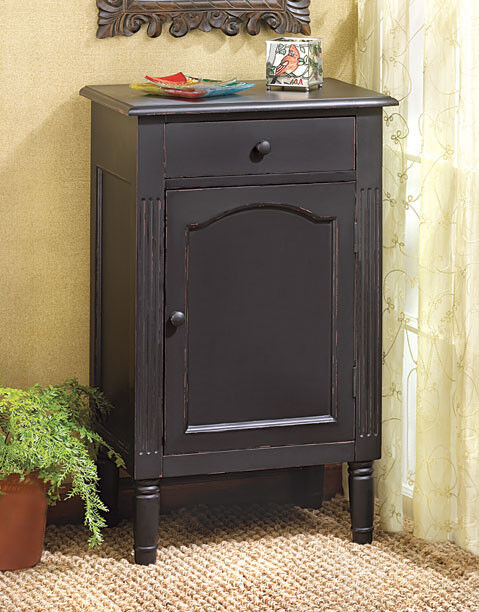 A genuine antique cabinet is, by the definition, at least 100 years old. There are plenty of splendid reproductions which are true to period detail and much less expensive than an original period piece. Cabinet making was at its height during the 18th century when artisans had access to a greater range of wood types and tools were developed that allowed increased refinement for thinner sawing. Cabinets could be anything from cupboards and dressers to consoles and vanity units. Many pieces were made as part of furniture suites and featured matching tables and occasional chairs with turned spindles or padded back rests. As antiques are in great demand by collectors the price of items is impossible to predict. One thing is for sure – the older the piece and the better its provenance, the more expensive it will be, and could cost thousands of pounds.
Antique Cabinets
Most people use the term 'antique' loosely, referring more to an antique-looking object. The workmanship required to make a cabinet look antique is astonishing. An antique pine finish applied to a wooden cabinet will complement rustic decor and give the appearance of an older fitting. Shabby chic and vintage also describe what people perceive as antique. Cosmetic effects like crackle glazing, distressed wood and lime wash are popular on antique-labelled items. Even tongue and groove cabinets made from modern timber, if given an appropriate treatment for transformation from contemporary to antique, will fit the bill. Historical Periods of Furniture in Europe
| Period/Dates | Typical Material | Style Characteristics |
| --- | --- | --- |
| 16th Century Tudor | Oak | Large, Gothic, cathedral archways commonly carved into panels, English Renaissance influence. Furniture legs carved or turned replacing previous heavy bulbous forms. Motifs include acanthus leaves, floral, fruit and foliage patterns. Bas-relief carving and baronial or armorial themes |
| 17th Century – early 18th Century Jacobean/Carolean Restoration Period | Walnut | Baroque majestic decor, finer carving, veneers and inlays replace carving as decoration. Spiral turned legs. Early Jacobean: austere, lower and less ornate, more rectangular shapes. Carolean: return to decoration and opulence |
| Mid-18th Century William and Mary, Queen Anne, mid-Georgian, Regency, French: Kings Louis, Empire. | Satinwood and Mahogany Ebony Inlays: sycamore, rosewood, tulipwood | Chippendale and Philippe Caffieri Neo-classical, Hepplewhite, slender and curvilinear, Sheraton, Directoire and Federal Robert Adam, Domenico Cucci, Florentine Renaissance, marquetry, Baroque still strong in France. In England Queen Anne style sees clean lines and subdued curves. Great variety of styles across Europe and the US from cabriole to tapered federal legs on furniture |
| 19th Century Georgian and Victorian Industrial Revolution | All types of wood with ornamentation to mimic earlier styles | Imitation styles dominate with mass production – Rococo, Gothic, Italian, Greek, Roman, Egyptian and Eastern Revivals |
| Early 20th Century Victorian, Edwardian Art Nouveau, Arts and Crafts Movement, Art Deco | All types of wood, new materials such as Bakelite and Formica Exotic timber | Eclectic mixes with influences from all periods including Japanese lacquered cabinets. Liberty & Co become a popular name for interior styling. |
Every continent has interesting antique style bathroom cabinets to offer. From Asia, there are exciting lacquered pieces in the style of the great dynasties and empires. Japanese Shodana cabinets with mother of pearl inlay provide colour and prestige. Chinese Elmwood cabinets from Shanxi or Gansu provinces bring an oriental elegance to a room. Europe has a wealth of styles that track through history from French chateaus and country houses to provincial glamour and rustic charm. North America established Federal and Shaker styles which have much appeal. South America was heavily influenced by its colonial heritage with many European designs gracing major residences. Ornate baroque styles contrast with the clean geometrical lines of art deco, yet each style could quite properly belong in an antiques catalogue. Depending on the period style, antique cabinets may show off the craftsmanship of the cabinet maker through detailed mouldings and carving and let the wood speak for itself as an object of beauty. Overmantles with friezes of trailing leaf patterns show impeccable attention to detail that are only found today by bespoke furniture makers. Other cabinets incorporate fabulous colours to imitate precious gemstones and some original antique cabinets actually have inlays of lapis-lazuli highlighted by gold leaf ornament.
Vanity Units and Cabinets in the Bathroom
Many cabinets double up as vanity units and incorporate basin and tap fittings with cupboard space. Cabinets may be free-standing or wall mounted and range in size from large dressers to small one door cupboards with shallow shelves. Interior designers have made use of furniture items that originated in one room to serve a purpose in another. Antique cabinets suitable for a bathroom could come from dining rooms, kitchens, hallways and living rooms. Larger cabinets are useful for storing towels, flannels, and toiletries in a bathroom rather than having to retrieve the items from a built-in linen cupboard or a bedroom before taking a bath or shower. Free-standing linen cupboards have an authentic appearance and as they are designed to accommodate towels, sheets and pillow cases, offer ample storage space. Some old linen cupboards are designed with plain lines, while others, which may have been located nearer to the master sleeping quarters, have more embellishment on the cornicing, pelmet and door furniture detail. Adding a marble or granite top to a standing cabinet will make the surface water resistant and remain in keeping with period styles.
Alternative Uses for Antique Cabinets
Some antique cabinets, intended for the bathroom, are such exquisite examples of craftsmanship; they would be at home as a work of art of display as a treasured objet. Being functional items of furniture, they provide sufficient storage for many household items and would not be out of place in a dining room or living room as an occasional table, or in the hallway as a telephone stand, or as a chic addition to a bedroom serving as a night stand. Larger antique cabinets such as hefty dressers and linen cupboards offer a means for storage elsewhere in the home. Acting as alternatives to wardrobes and chests of drawers for flat-folded clothing or a surprisingly effective toy cupboard, they will enhance any room with similar vintage touches.
Antique Cabinet Shapes
Shapes vary from round, barrel, or keg shaped cabinets or chunky square, geometric style dressers and cupboards. There are also kidney shape, bow front, or rectangular styles, each having its own appeal and made in a variety of sizes. Many white pieces mimic French styles and have an abundance of scroll detail to ornament the cabinet. Rococo style armoires with glazed fronts are at home anywhere for displaying items behind protective glass doors. In an en suite or a separate bathroom they complement popular white tiles yet bring a sophisticated elegance to the room where many of the fixtures or fittings are functional and utilitarian.
Caring for an Antique Cabinet
If an older cabinet is placed or mounted in a bathroom, care must be taken to avoid damage from moisture and steam. Make sure the surfaces are smooth and effect repairs to chipped varnish or places where raw wood is visible. A clear varnish or wax appropriate for the material is an effective seal for most cabinets and won't affect the colour of the original item.
How to Find an Antique Cabinet on eBay
On the eBay site click Categories – found on the top left in a grey ribbon. When this has opened all the categories, look for Antiques and click Antique Furniture which will present a new page with options. Under 'Product Type' expand the 'choose more' button to find list in a new pop-up and check Cabinets. There are also other filters available. In the grey list on the left, check whichever Age and Style are closest to the desired search and browse at leisure. For antique style bathroom cabinets click the blue search option arrow and call up All Categories. Type in 'antique bathroom cabinets' and eBay will search the whole site for the nearest matches in the current listings. Several related searches will be presented underneath the search box which can be clicked on. There are new listings every day, so if the item desired is not currently listed, visit again and see if something has arrived or set up an alert to inform about new listings. Alternatively save the search by clicking on the blue writing beside grey pin ribbon and the results found information and it will be readily available in the account for quick access on return another day.
Conclusion
Be aware of the age of antiques and check descriptions match items of the period. Expensive pieces maybe genuine or sympathetically crafted reproductions. Ask for papers to authenticate an item and validate its provenance. Some items may appear older than they are because they pay homage to an earlier style. Revivalism copied many earlier styles but they may still antiques in their own right if they are from the 19th century mimicking a previous era.