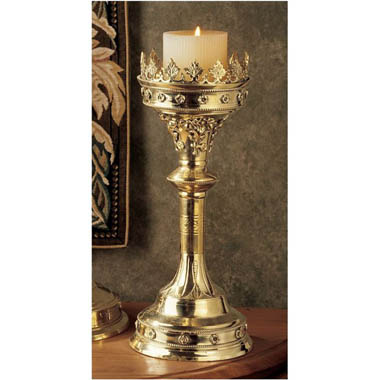 Antique candlesticks are a popular category of collectibles. Rare, delicate, and highly valuable pieces can provide a good opportunity for long-term investment. In a secure display cabinet, they can provide a striking display and serve as conversation starters. Ornate candlesticks made of hardy materials like silver, brass, or plate can be used to grace the dining room and table for holidays and special occasions. A quick polish is all that is required to keep them in top condition, and careful use and storage will ensure they retain their value. Antique candlesticks come in an enormous range of styles, materials, ornamentation, and prices. This can make choosing an item to buy at sale or auction a confusing choice. This guide provides a high-level overview of some of the main eras and styles of collectible antique candlesticks. This should assist enthusiasts who are just starting out in this absorbing activity.
About Antique Candlesticks
While candlesticks have been produced in one form or another for thousands of years, they were not common items for most of this time. Most early styles were made for royalty, churches, and the very wealthy. One of the most famous of early English candlesticks is the Gloucester Candlestick which resides in the Victoria and Albert Museum, and is dated back to 1107 AD. It is an artisan piece of gilded copper, intricately carved with figures, foliage, and dragons and made for Gloucester Cathedral. While such examples of early candlesticks can be found, they are extremely rare and mostly found in museums. They are generally out of reach for most collectors. It was not until candlesticks became much more common as household items, from the 1700s onwards, that enough variety in style and surviving numbers of candlesticks has resulted in a strong collectibles market for these items.
Standard Features of Candlesticks
Candlesticks have a basic standard structure as described below.
| | |
| --- | --- |
| Socket or Pricket | At the top of the candlestick is the socket where the candle is inserted and held in place. In earlier candlesticks, this was a sharp point that the candle was spiked upon, called a pricket, to hold it in place. |
| Bobeche | The bobeche is a wide circular area underneath or surrounding the socket area, and is used to catch the candle drippings. |
| Column or Shaft | The socket and bobeche reside on top of the longest part of the candlestick, the column. This is usually the most ornate and decorative part of the candlestick. |
| Base | The base supports the whole structure of the candle. It is usually the widest piece of the candlestick, and can be highly ornate. |
| Ejection Mechanism | Push-up candlesticks have a tool inside the column that allows for the burned out stub of a candle to be ejected out of the socket. Not all candles are push-ups. |
Selecting Antique Candlesticks
The materials and styles of candlesticks are as varied as the art and styles of each era and period of history. The number of styles is so extensive it cannot be covered here in-depth. This section focuses on the periods from the 1700s, where candlesticks became standard household items and many new styles, materials, and ornamentation were introduced.
Materials
The materials used to create candlesticks are extensive and include; brass, bronze, copper, crystal, earthenware, electroplate (gold and silver), glass, gold, jewels (precious and semi-precious), marble and stone, pewter, pottery, porcelain, Sheffield Plate, silver, silver gilt, tin, and wood.
Antique Era and Popular Candlestick Styles for Collectors
The following table provides some detail of popular and collectible eras and styles of candlesticks. Ardent candlestick collectors and hobbyists may choose to specialise in a specific material e.g. silver or a specific era e.g. the Georgian era. Becoming expert in such niches will take time as there is an extensive variety of patterns, styles, manufacturing methods, hallmarks, and historical knowledge to master.
Queen Anne (1702 – 1714)

There are two major styles of Queen Anne candlesticks: Sheet silver in the Greek revival style with Doric rounded columns, ornate bases, and a built in drip pan. These are delicate due to the very thin silver used in the design. The second style is cast candlestick models made from Britannia silver featuring oblong or octagonal shaped stems. Decoration was generally minimal, though family coats of arms were sometimes incorporated. Good condition Queen Anne silver candlesticks are highly sought after.

Brass, Silver

Georgian era

(1714–1837)

Influential art styles for the Georgian era were Neoclassical, Rococo, Gothic revival, French aristocratic and oriental design. The design of candlesticks reflected these art styles at different times in this era. Brass candlesticks became popular for the middle classes in the 18th and 19th centuries before electricity became widely available. Silver gilt was often applied to these but have generally worn away. Collectors tend to favour a golden tone to the brass colour revealed under any silver gilt. By the mid-18th century, glass was becoming a popular material for home decor items including candlesticks. Candlesticks often bore glass 'lustres' as decorative features. Silver became less popular towards the end of this period as it became a more expensive material to construct candlesticks with.

Silver, Silver Gilt, Brass, Crystal and Glass

Victorian era (1837–1901)

Influential styles in the Victorian era include the revival of medieval Elizabethan and Gothic styles. Later in the era, there were revivals of Jacobean and Queen Anne styles. Candlestick design was influenced by the revival styles and by the new arts movements: Arts and Crafts, Aesthetics, and Art Nouveau. A particularly popular collectible style are the 'Diamonds' range of brass candlesticks. Created in 1897 to celebrate Queen Victoria's Diamond Jubilee, this style became so popular it was still being produced up to 1939.

Brass, Glass, Silver

Edwardian era

(1901–1920)

Art Nouveau was a strong stylistic influence during this period. Candlestick columns and decorative elements reflected the swirling flower and nature patterns of this art style.

Brass, Silver, Silver plate
Candlesticks produced after the Edwardian era are considered to be 'vintage' rather than 'antique'. The materials listed against each era are not comprehensive (candlesticks were made in a much bigger range of materials) but reflect the more common materials used, and that have survived well into the 21st century.
Finding Antique Candlesticks on eBay
Here's how to search out antique candlesticks on eBay.
Category Search
Starting on the eBay home page, click on the All Categories link in the top of the left-hand column. This displays all major categories. Next, select the Antiques link, and then the sub-category Decorative Arts link. On the Decorative Arts page find the Product category, and select the Choose more link. This will pop up a Products box listing all the product sub-categories. Select the Candlesticks/ Candelabra checkbox and then select the Go button. All the Antique Candlesticks are now displayed. Use the search options in the left hand column to further break down the results. Primary Material, Style/ Period, Price, Age and other features can be used to sort the listings.
Search Non-antique Categories
Misunderstanding of the difference between antique and vintage items is commonplace. It is always worthwhile doing a couple of different category searches to make sure all relevant candlesticks are viewed. Try these search paths to get lists of additional candlesticks: Select Categories, then Collectables and then Metalware. On the Metalware page, find the Product category in the left-hand column and then select the Candlesticks/ Candelabra checkbox. Now use the Style/ Period categories to sort by different antique periods. Alternatively, select Categories, then find the Home, Furniture & DIY category and click on the More drop down arrow. In the expanded listing, now select the Home Decor link. On the Home Decor page, select Candle & Tea Light Holders. Finally select Candlesticks/ Candelabra checkbox under the Type heading.
Search with Text Box
Two additional searches by using the Search boxes are worth trying: Go to the Search box at the top of any eBay page. Enter the term "candlesticks", or "antique candlesticks", or "vintage candlesticks" and then click the Search button to bring up successive listings. Alternatively, go to the Search box at the top. Select Pottery, Porcelain & Glass in the drop-down box, enter "candlesticks" in the adjoining text box, and then click the Search button.
Summary
Antique candlesticks can be an excellent investment for the canny buyer. They can also serve the dual function of an investment piece that can also be utilised as part of the home decor, gracing the dining rooms and tables of homes for festive occasions. Beginners to this collectibles niche can purchase genuine antiques for a bargain, or spend a lot of money for rare and keenly sought after items. Vigilant searching by knowledgeable antique hunters will turn up many valuable antique candlesticks on eBay, to start or add to their personal collectable sets.