Although the name comes from a French phrase that means "long chair", chaise longues date back to the ancient Egyptians. They are usually characterised by a stretched seat and low backrest at one end. Owners can use these versatile and beautiful pieces of furniture in a variety of ways, from a reading chair to guest seating with an elegant flair. Antique chaise lounges add a touch of luxury and history to home decor.
Victorian Antique Styles

Popular trends changed throughout the centuries and ranged from mini or small chaise longues with simple designs to large and ornate styling.Victorian chaise lounge from between 1837 and 1901 were bulky with a gothic twist. Furniture from this time featured dark woods and elaborate embellishments. Asian architecture and the Arts and Crafts were a big influence on later styles. Everything was elaborate with ornate carvings, bold colours, and gold accents.
Edwardian Antique Styles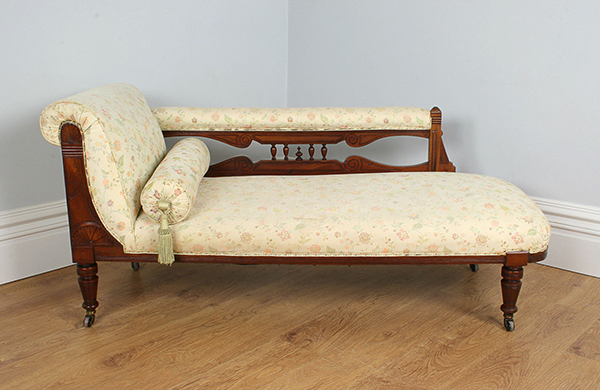 Edwardian furniture has simple, clean lines and thick frames. A desire to get away from the overly ornate and formal appearance of the Victorian furniture defined this style. Lighter stains were used on the wood and there is less upholstery.Other materials such as wicker, became popular. An Edwardian chaise longue often takes its inspiration from the Art Nouveau movement.
Design and Construction
As for design, construction methods varied over the years. Most antique furniture is sturdy with wood pegs and dowels. Glue was uncommon until the later years. Particular woods went in and out of style and the embellishments, such as locks and metal end caps, usually had a specific epochal look to them.
Authentic Antique Chaise Lounges
Quality reproductions of chaise lounges may look authentic, but they often lack certain signs of age. As most antique furniture is made of wood, check the wood for rounded edges from being worn down. Sharp edges without dents indicate that the furniture was made recently. Additionally, look for any cracks, warps, stains, or fading. Wormholes in the wood are a good indicator of age and original upholstery is likely to have worn and faded spots.
Foundation
The frame and the suspension in antique furniture is what matters the most. Make sure the frame is sturdy and that the parts which cannot be reconstructed are intact. Often, dainty furniture, such as some French Napoleon era designs did not hold up well because the pieces of wood used to construct the frame were small. A cracked frame can be repaired, but the process is more difficult. On the other hand, do not be too put off by superficial damage, such as holes in the leather, stains on the wood, or missing bits and pieces. You can easily remedy such problems and they should be expected when shopping for old furniture.