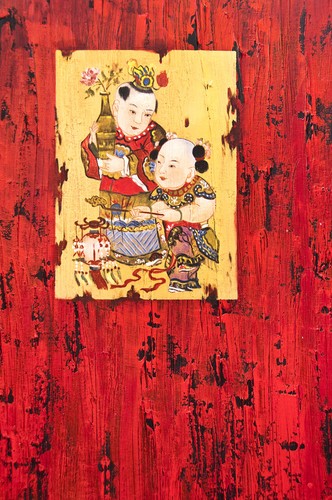 Paintings are one of the most popular art forms on earth. The history of this particular type of art is one that reaches back thousands of years, mapping the development of cultures in societies. The influence of Chinese painting on art in other parts of the world is significant. China has a history that is rich with culture and art and investing in antique Chinese paintings can bring beauty and cultural history right into your home.
Paintings have become a commodity that can hold very high values. They are traded like other valuable goods and displayed in art galleries across the world. Paintings are also purchased to be displayed in homes, schools and hospitals as a form of decoration. Antique Chinese paintings can also be investments for people who believe that the value of the painting may increase over time.
This guide offers information about the history of Chinese paintings, the different types of antique Chinese paintings, factors to consider when purchasing an antique Chinese painting, and some tips on the care of an antique Chinese painting.
History of Antique Chinese Painting
The earliest Chinese paintings that have been found were of the time of the Warring States (481-221BC). These paintings mainly were of patterns, mythological creatures, battles and domestic life and they were usually painted on silk, rock, brick or stone. Calligraphy and painting came to be seen as the purest of art forms and many antique Chinese paintings incorporate both as part of the artistic standard that we recognise today. It was the wealthy elite that had the time to learn and perfect their technique. One of the most famous artists in Chinese history is Gu Kaizhi (344-406AD). Gu was a specialist in classical Chinese landscape paintings and was an inspiration to many other young Chinese artists. As such, over time, landscape paintings became a speciality of Chinese artists. Classical Chinese painting continued into the early years of the Qing dynasty and the style used from this period is now known as realism. Those paintings were typically of people and expressive landscape depictions of nature.
Discover Antique Chinese Paintings
The collecting of paintings is popular throughout the world. The depictions that were painted by artists from China's past can be seen as a first-hand account of how life was. Buying paintings is an activity that can be enjoyable, informative and lucrative. Owning an antique Chinese painting can give you a unique experience and insight into a time in history. The fact that the focus of Chinese painters in the past was realism also gives the art historical significance as each painting acts as a snapshot of an ancient culture. Over time, Chinese paintings document changes in society, customs and human behaviours. There is a range of antique Chinese paintings dating back over generations and dynasties, each with their own style and story to tell.
Types of Antique Chinese Paintings
China has a long tradition of producing skilled and technically-adept painters. Here is a list of some of the types of antique Chinese paintings that a buyer may see available on the online market.
| Type | Description |
| --- | --- |
| Landscape | The age of the Five Dynasties and the early part of the Song Dynasty was known as "The Great Age of Chinese Landscape". During this time, different techniques merged together into what is known as the classic Chinese landscape. |
| Folk | These paintings were very popular during the Song Dynasty (960-1127). They were often to do with the subject of folklore and mythology and people believed that having these paintings in their homes would protect them from evil spirits. |
| Still Life | Detailed paintings depicting animals or nature. |
| Daily Life | The subject matter of these paintings was usually everyday life in China. |
| Guo Hua | The literal translation is 'Native Painting' and instead of using oils this technique uses natural inks. |
| Shui Mo Hua | This is a Chinese painting style that incorporates calligraphy. For this style, the painter uses a mixture of water and Mo - a natural ink made of pine soot. This creates a watercolour effect. |
| Shan Shui | This is also a calligraphy-inspired approach. The subject matter was often nature but the painters were less obsessed with replicating the natural world in its exact form, as in the past. |
Factors to Consider When Buying Antique Chinese Paintings
Budget - Before buying an antique Chinese painting, there are some things that the buyer should consider. Firstly, how much money do they have to spend? Certain styles by certain painters will be a lot more costly than others, so it is important to understand the value of what you are looking at.
Art or investment? – Does the piece you are considering purchasing have value to you as a work of art, or are you looking at it primarily as an investment? If it is a piece that you are looking at to enhance a space, then choose a painting that will create the atmosphere that pleases you.
Personal preference - Look at all the different styles of antique Chinese paintings and find the ones that you may want to continue purchasing to eventually create a collection. It can be helpful to have a good idea of what type of painting you want to buy before you start searching, this can save time when you are trying to narrow down your search.
Budget – Often your budget will be the deciding factor in a potential purchase and finding a hidden gem online is possible with some research and patience. Look at purchasing pieces that are of higher quality as those tend to increase in value at a more consistent rate.
Research - It is always advisable to gain as much knowledge about the painting that you are thinking of purchasing. Having this knowledge will help you understand the marketplace better and it will give you more confidence when you come to make a decision about a purchase. If you can, get lots of background information about the type of antique Chinese paintings that you are interested in and have it ready to refer to. The price of different styles of paintings will fluctuate so it is good to equip yourself with the knowledge that you need.
Ask questions – The sellers are usually very helpful in offering up information on their paintings, so do not hesitate to ask. Try to get information about the age, condition, signature, papers of authenticity, and any other details they may have that would confirm that the item they are selling is a genuine antique Chinese painting.
How to Care For Antique Chinese Paintings
Antique Chinese paintings require special care to ensure that they stay in pristine conditions. Here is some information about how to care for these paintings.
It is important that an antique painting is hung in a suitable place and in the correct way. A painting should be hung slightly away from the wall so that air can circulate around it. This is good for the health of the painting and it will minimise the amount of fading and discolouration. A painting should not be hung anywhere that is damp, near a fire, above a radiator, or in direct sunlight.
Cleaning work of any kind should be done by a professional restorer. The delicacy of Chinese antique paintings means that any slight mistake in cleaning can cause serious damage. Such work should be left in the hands of a trained professional. If you do notice any paint flaking, you should take the painting to a professional restorer as soon as possible. This will minimise the potential damage to the painting and safeguard its value.
Accessories for Antique Chinese Paintings
There are many useful accessories you can consider if you are going to be buying antique Chinese paintings. Here is a short list of some of those accessories.
Carry case - Paintings can be very valuable, and some older paintings can be very delicate. It is important that paintings that are transported in the correct way so that they are not damaged by being dropped or banged.
Frame - It is important to have a frame that fits your painting correctly, this will give your painting the proper protection.
Picture hooks - These are used to hang a painting on a wall.
Brackets - Some heavy paintings may need to be supported at the base on brackets fixed to the wall.
Finding Antique Chinese Paintings on eBay
Once you determine the type of antique Chinese painting that you want to purchase, visit the Antiques
portal on eBay, click on 'Asian Antiques' and 'Paintings/Scrolls' and you can start searching the item listings. The Categories list on the left-hand side of the eBay page helps to narrow the search.
Searching for Antique Chinese Paintings on eBay
Search eBay listing titles for specific words when shopping for antique Chinese paintings. For example, to find a Qing dynasty scroll, type Qing dynasty scroll into the search box, and then click on the Advanced button to customise the results. Also visit eBay's Search Tips page for more advice on searching for antique Chinese paintings with keywords. If you can't find the antique Chinese painting you want, try shopping eBay Stores
Conclusion
China is a country with a long history of producing prolific artists and painters. There is a large selection of antique Chinese paintings available, all varying in style, value and quality. It is important to assemble the relevant information. With this information and understanding, the buyer can purchase antique Chinese paintings safely and securely on eBay.