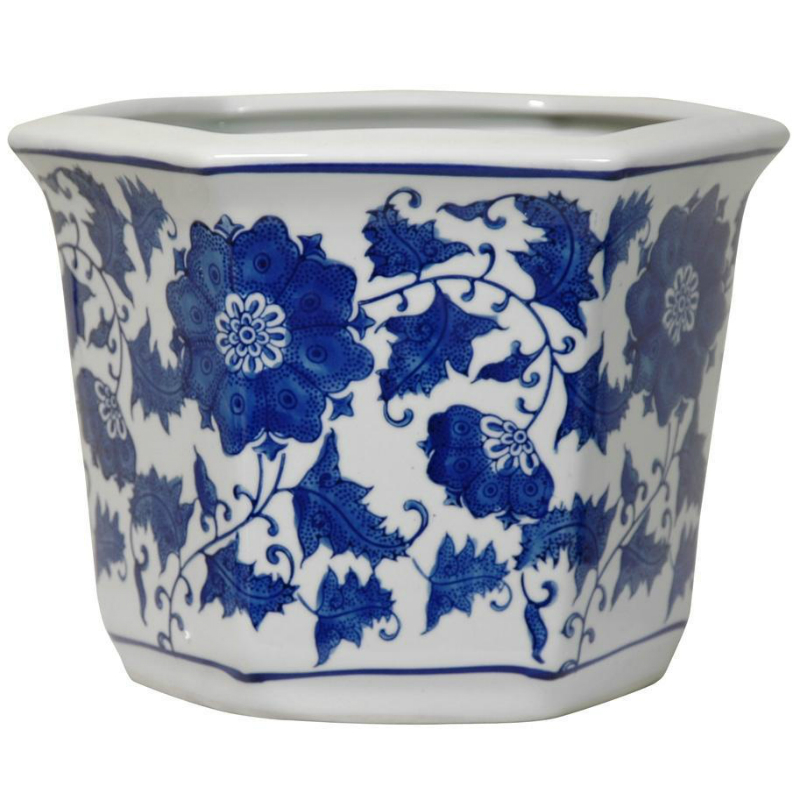 Purchasing an antique Chinese planter may not be as easy as purchasing other collectables because there is not much consumer information available about buying planters. The term 'planter' refers to a range of pots that are made for the purpose of holding plants. Antique ones tend to be more elaborate in design and style than newer, more modern planters. This guide provides a complete overview of antique Chinese planters from the types of planters that are produced to the factors that affect one's buying decision. It includes a brief history of the Chinese planter and provides a list of manufacturers that produce them. This guide will also give buyers a thorough outline on how to efficiently search for antique Chinese planters on eBay.
History of the Antique Chinese Planter
Chinese ceramics are believed to have been first produced Palaeolithic age, although, early versions would be roughly made and simplistic in style. Today, the term ceramics covers a whole range of construction materials from bricks to pottery and porcelain. China's influence on ceramic production and the art form that surrounds it was, and still is, important throughout the world. The first bronze pots were produced in China in around 1700 BC during the Shang Dynasty. Stoneware followed a few hundred years later in, approximately, 1400 BC. It would be more than a millennium before the first sophisticated glazed ceramics were produced in China. This happened during the Han dynasty (206 BC-220 AD). Today, Chinese planters made from stone, bronze, porcelain and brass.
Discover Antique Chinese Planters
Planters that were produced in China are considered Asian antiques that fit within the collectibles or art section of most museums and retailers. Planters are available in several shapes and made from several materials. Antique Chinese planters are bought for many reasons.
Some people buy them to use functionally in their garden or home, to store plants or other household items. Other buyers will see an Chinese planter as a purely decorative item and they will not use it for the purpose that it was built. They will, instead, have it on display as a piece of art. Certain buyers will buy an antique planter for its monetary value. They will believe that the planter is likely to increase in value over future years, meaning that if they were to sell it on they would make a profit on their original investment. This type of buyer is unlikely to use the planter functionally or display it. They will, most likely, keep in storage, somewhere safe and secure.
Types of Antique Chinese Planters
There are several types of antique Chinese planters. Some of the most popular types include planter pots, planter bowls, and planter vases.
| Type | Description | Advantages | Considerations |
| --- | --- | --- | --- |
| Pots | Antique Chinese planter pots are shaped similarly to standard pots and are rounded and feature unique designs. | Planter pots are ideal for growing plants. | Antique planter pots may be stained. |
| Bowls | Planter bowls are significantly larger than pots. They feature beautiful drawings. | Antique planter bowls are used as stands for small tabletops or ornaments. | Antique Chinese planter bowls may chip, especially porcelain ones. These planters are heavy. |
| Vases | Planter vases can be shaped differently. They can be tall and narrow or short and wide. | Painted vases look great on stands and corner tables. They can be used for growing plants or to hold cut flowers. | Porcelain antique vases are easily stained. |
| Boxes | Antique Chinese planter boxes are rectangular or square-shaped. | These are ideal for holding indoor plants. | It may be hard to find accessories, such as trays and stands, for planter boxes due to their shape. |
| Statues | Statues are containers that resemble animals or people. They are usually carved. | Unique planters that are great conversational pieces. | These planters don't have a lot of room for growing plants. |
Materials Used to Make Antique Chinese Planters
Over the thousands of years since pottery was first invented Chinese cultures have used a variety of materials to produce all sorts of household wares and antiques. Many of these materials have been used in the production of planters. Here is a brief list of some of those materials.
| Material | Description | Advantages | Considerations |
| --- | --- | --- | --- |
| | Porcelain planters are made from raw materials, through a process of heating and moulding. They are usually glazed and feature bright colours. | Porcelain planters are easily painted and feature decorative pictures and scenery. | Porcelain planters stain easily, especially on the interior white surface. The stains are hard to remove. They are also prone to chips and cracks. |
| | These planters are made from bronze. | Bronze planters are durable and do not chip or crack. | The surface may become tarnished s over time. |
| Stone | These planters are made from stone, such as marble and soapstone. | Stone planters are durable. The stone surface can be carved on. | Antique Chinese stone planters are heavy. |
| Brass | These planters are made of brass and can be shiny if polished. | Brass planters are durable. | Antique Chinese brass planters may lose their shine or lustre over time. |
Factors to Consider When Buying an Antique Chinese Planter
There are a few things to consider when buying an antique Chinese planter. The appearance of the planter, the material it is made from, its use and its price are four factors to consider.
Appearance – Antique Chinese planters are available in different shapes, sizes, colours, and designs. Some are carved and hand-painted, while others are moulded and dyed. A planter's aesthetics may have a direct affect on its value. If a certain type of planter becomes sought after its value may rise sharply.
Material – Antique Chinese planters are made from different materials. The properties of these materials differ and this affects the durability of the planter and the price. Porcelain planters tend to stain and chip, while bronze planters are the most expensive.
Uses – Planters make great containers for plants, but they can also be used as decorative ornaments. Planter pots and boxes are ideal for growing plants.
Price – Planters that are large in size and feature intricate, hand-drawn paintings are generally more expensive than smaller, dyed planters. Also, planters made from bronze are typically more expensive than other materials, such as porcelain.
Typical Features of an Antique Chinese Planter
Here is a list of some of the more popular features of an antique Chinese planter.
Spacious container - Chinese planters are hollow, which provides ample space to hold potting soil. This allows plants to grow an extensive network of roots, which ensures healthy-looking leaves and flowers. The container can be used to store items as well, such as umbrellas.
Drainage hole - The bottoms of most Chinese planters have holes that allow water to drain. This prevents the soil from becoming saturated with water.
Intricate Design - Chinese planters have different designs and exist in different colours.
How to Care for Antique Chinese Planters
The drawings and designs on the exterior surface of the planter are its most distinctive feature. Remove dirt and dust with a soft cloth dipped in warm, soapy water. Problems such as oxidation and deep-set stains require stronger chemicals. Brass planters are prone to losing their natural shine and lustre over time. One way to maintain its surface is by applying a powdered whiting solution with a cloth. Polish the surface until the shine returns. Porcelain planters are easily stained, especially the interior surface. It is recommended that its surface be cleaned with a solution of vinegar or a solution of hydrogen peroxide. Chips or cracks in planters, especially porcelain pots, can be repaired with slow-to-set epoxy glue.
Accessories and Add-ons for an Antique Chinese Planter
There are several accessories that will be useful alongside an antique Chinese planter.
ŸPlanter plate
Planter stand
Potting tray
Watering can
Finding an Antique Chinese Planter on eBay
Once you determine the type of Antique Chinese Planter you want to purchase, visit the Antiques portal on eBay, click on 'Asian Antiques,' then select the type of planter you want and start searching item listings. The Categories list on the left-hand side of the eBay page helps to narrow the search.
Searching for Antique Chinese Planters on eBay
Search eBay listing titles for specific words when shopping for antique Chinese planters. For example, to find antique Chinese pots used as planters, type 'Antique Chinese Planter Pots' into the search box, and then click the Advanced button to customise the results. Also visit eBay's Search Tips page for more advice on searching for Asian antiques with keywords. If a specific planter is missing from the search results, try shopping eBay Stores.
Conclusion
Antique Chinese planters are made from several materials including bronze, porcelain, stone and brass. They are hand-carved or moulded into different shapes such as pots, bowls, vases and boxes. Each feature unique designs, patterns and colours. Consider the advantages of each type of planter and determine which one is most appealing. Once you have collected this information, you can buy an antique Chinese planter safely and securely on eBay.