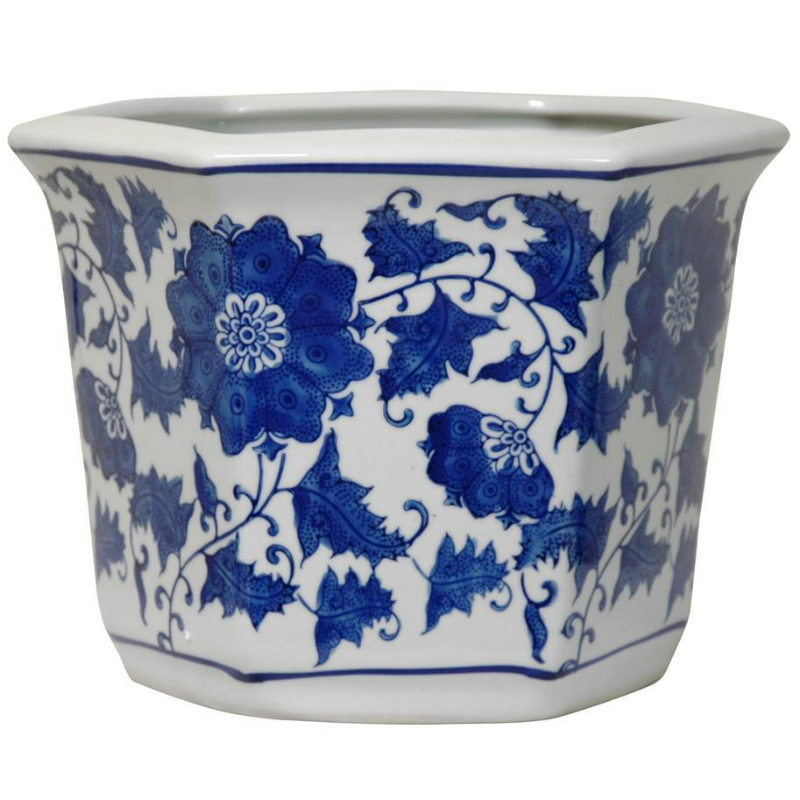 Porcelain antiques are popular among collectors and one type that is particularly well-liked is the Chinese porcelain planter. Many retailers offer antique Chinese porcelain planters in their shops and online stores. But how can one distinguish a real antique from a good-looking reproduction? This buying guide offers shopping tips for consumers who are interested in purchasing an antique Chinese porcelain planter. It includes information about the different types of porcelain planters and provides a list of reign marks to look out for when buying an antique Chinese planter. Spending some time researching prior to a purchase will allow you to assess the value of your purchase before making a financial commitment.
History of Chinese Porcelain Planters
Porcelain antiques made in China have a long history. The earliest pottery pieces made in China are believed to be nearly 18,000 years old. The porcelain antiques of today can be traced back to the Song dynasty, which covered the period from 960 AD to 1127 AD. These features were refined during the Ming (1368-1644) and Qing dynasties (1644-1911). Most porcelain planters that survived are from the Ming and Qing dynasty. They feature characteristic reign marks which identifies the period during which the piece was made and names of the emperors then. Pieces from the Song dynasty are much rarer.
Discover Chinese Porcelain Planters
Chinese porcelain planters made during the dynastic period in China are considered Asian antiques and classified as such in museums and auctions. Many collectors with expertise in Asian antiques collect porcelain planters for their historical significance to the art and culture of the region. Buyers would be interested in the aesthetics of the antique Chinese porcelain planter, especially its intricate drawings and form. Not only do these planters serve as ornaments, they could also function as containers for growing plants and flowers.
Structure of Chinese Porcelain Planters
Antique Chinese porcelain planters are pots made of porcelain.
| Part | Description |
| --- | --- |
| Container | A large pot or bowl that can hold plants. Some are rectangular boxes. |
| Porcelain | The material made from clay and other raw materials after heating at high temperatures. It is very tough and shiny, both of which result from the formation of glass and mullite. The surface is usually glazed. |
| Paintings | Colourful images drawn onto the surface of the planter. |
| Lip | The rim of the container. It extends slightly over the opening edge. Common among Chinese bowls, pots and vases. |
Types of Antique Chinese Porcelain Planters
There are several types of antique Chinese porcelain planters. They are identified by their shapes and the most common include pots, bowls and boxes.
Type

Description

Advantages

Considerations

Pots

Antique Chinese planter pots are shaped similarly to standard pots but are a bit more rounded and feature unique designs.

Planter pots are ideal for growing plants.

Antique planter pots may contain hard-to-remove stains.

Bowls

Planter bowls are more rounded than pots and significantly larger. They feature beautiful drawings.

Porcelain planter bowls are much larger than pots and can be used to grow trees.

Planter bowls can be used as decorative pieces or furniture.

These planters are heavy.

Vases

Planter vases narrow from the lip to the base. The lip is designed in several shapes, not just circular.

Painted vases look great on stands and corner tables.

Porcelain antique vases tend to stain.

Boxes

Antique Chinese planter boxes are rectangular.

Boxes look great on window sills or along the border of patios.

Can be used for storage as well.

It may be hard to find accessories, such as trays and stands, for planter boxes due to their shape.

Statues

Statues are containers that are made in the shape of animals or people. They are usually carved.

Unique planters that are great conversational pieces.

These planters don't have a lot of room for growing plants.
Factors to Consider When Buying Antique Chinese Porcelain Planters
There are several things to consider when buying an antique Chinese porcelain planter. The type of planter, its condition, and appearance affect one's buying decision.
Uses – A planter is generally used to grow plants. For small plants, pots and boxes are recommended. Some planters can be used as decorative furniture or display pieces. Statues, vases, and bowls are ideal for this. Large planter bowls can be used as storage containers or even contained koi ponds.
Authenticity – Another factor to consider when buying an antique Chinese porcelain planter is its authenticity. Most porcelain antiques made in China contain a mark that signifies which dynasty it was produced during. This is one sign that the antique is real. The best way to authenticate a piece is to have an appraiser examine it. Reproductions could have the same features and paintings as antiques. Some faked antiques have false marks or stamps and are aged deliberately to look authentic. Buy from sellers that have a high seller rating and great reviews.
Condition – If a porcelain planter is chipped or cracked, it will affect its price. Other signs of wear include dirt, stains and faded paintings. Some of these issues can be fixed, but if the damage is too much, it is best to choose another one.
Appearance and size – Probably the most important factor is the look and size of the antique Chinese porcelain planter. Buy one that fits in the space assigned for the planter and one that looks good. Take into account the shape of the planter, the colour of the glaze and the paintings.
Typical Features of Antique Chinese Porcelain Planters
Antique Chinese porcelain planters are known for three things:
Intricate designs and paintings - The surface of porcelain planters are glazed and decorated with images that are symbolic of many Chinese cultural and religious themes. The paintings are sometimes drawn with bright colours.
Large open container - Most planters provide ample space for growing plants. Some can be used as storage containers to hold items like umbrellas.
Marks - Most authentic antique Chinese porcelain planters bear the reign mark from the dynasty it was made in. The reign mark identifies the emperor during the time of the production of the porcelain antique.
How to Care for Antique Chinese Porcelain Planters
Porcelain planters, like any other porcelain antique, may have dirt or stains on the surface. The best way to clean the porcelain surface is by soaking the planter in warm, soapy water for several hours. Afterward, use a nylon brush to scrub the stains. Repeat until the surface is clean.
If the porcelain planter has chips or cracks, repair them as soon as possible. It is best to hire a professional restorer to fix the damage. Most will return the planter to its original appearance, without signs of damage or restoration.
In terms of its care, avoid drastic temperature changes. Porcelain may crack if washed in extremely hot or cold water. Strong chemical cleaners may stain the porcelain. Some adhesives used to repair chips and cracks may dry and leave a yellow residue.
Marks of Antique Chinese Porcelain Planters
A porcelain planter made in China is identified by the dynasty in which it was produced and by the emperor's or reign mark. These marks are important for valuing the planters.
Ming dynasty
Hongxi 1425 洪熙
Tianshun 1457-1464 天順
Jiajing 1522-1566 嘉靖
Chongzhen 1628-1644 崇禎
Qing dynasty
Shunzhi 1644-1661 順治
Kangxi 1662-1722 康熙
Qianlong 1736-1795 乾隆
Guangxu 1875-1908 光緒
Accessories and Add-ons for Antique Chinese Porcelain Planters
There are several accessories that would complete an antique Chinese porcelain planter.
Planter tray
Planter stand
Planter pedestal
Potting tray
Watering can
Finding an Antique Chinese Porcelain Planteron eBay
After determining the type of antique Chinese porcelain planter to purchase, visit the Antiques portal on eBay, click on 'Asian/ Oriental Antiques', then 'Chinese' and start searching item listings. The Categories list on the left-hand side of the eBay page helps to narrow the search. You can then click 'Pots/ Planters' and 'Porcelain/Pottery' and further refine the results by age, style, and price.
Searching for an Antique Chinese Porcelain Planter on eBay
Search eBay listing titles for specific words when shopping for an antique Chinese porcelain planter. For example, to find a blue antique porcelain Chinese planter, type 'blue antique Chinese porcelain planter' into the search box, and then click the Advanced button to customise the results. Also visit eBay's Search Tipspage for more advice on searching for an antique Chinese porcelain planter with keywords. If you can't find the exact antique Chinese porcelain planter you want, try shopping eBay Stores.
Conclusion
After consulting this buying guide for the antique Chinese porcelain planter, make a purchase from a seller on eBay conveniently and securely. There are several top-rated sellers that offer porcelain planters from China. Review the product page to learn the details, including the authenticity, price and shipping details. The biggest concern here is the material the planter is made from and its age. Reproductions should be labelled as such. Once you have collected all the information you need, you can buy an antique Chinese porcelain planter safely and securely on eBay.