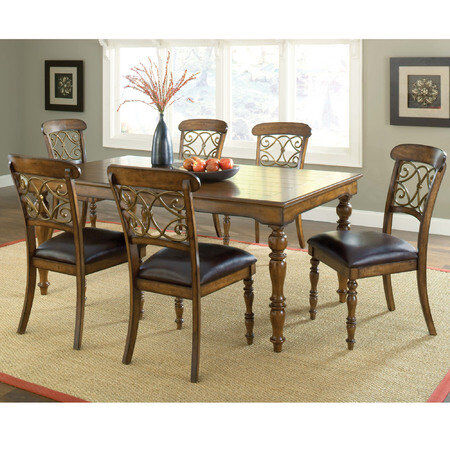 With so many antique dining tables on the market, it becomes difficult to find the right one. This buying guide offers information about antique dining tables and provides shopping tips. From the different types and styles of dining tables to the factors that affect their sale, this guide covers everything a buyer needs to know. It includes a brief history of antique dining tables and a guide to navigating the eBay listings.
History of Dining Tables
The dining table is where meals are eaten. During the Middle Ages, meals were eaten on long tables supported by trestles in the main dining hall. Large numbers of people would gather at each meal, and they would sit on a bench. It was a lively atmosphere with lots of conversation. As the times changed and religious persecution became common in Europe, fewer people would gather in the main halls of castles and instead would eat and discuss things in smaller parlour rooms. This would eventually become the dining room. The size of the dining table changed as well. It was still rectangular, but not as long, and it was supported by legs. The furniture style continued to change through the centuries. Dining tables from the reign of Louis XIV, the Regency period, the Victorian age and several other periods featured designs that were popular then and now. Today, some of these antique dining tables are displayed in museums and sold at auctions.
Discover Antique Dining Tables
Dining tables made more than 100 years ago are considered antique furniture. There are several types and styles. Many collectors value pieces from various eras, while antique shoppers may be interested in the overall look and feel of these dining tables. Some may even have their next meal on a 250 year old table purchased from a seller on eBay.
Parts of Antique Dining Tables
There are two main parts to an antique dining table – the table top and the legs. Some tables may have additional parts.
| Part | Description |
| --- | --- |
| Table top | The flat surface onto which utensils and food are placed. It is usually rectangular, circular, or square shaped and is usually made of solid wood such as mahogany, oak, and walnut. |
| Legs | The legs support the table top. Most dining tables have four legs and feature unique carvings. |
| Foot | The portion of the leg that touches the ground. The ball and claw foot is one style. It features a rounded piece that is clutched by the leg with three claw-like pieces. |
| Pedestal | Instead of legs, some tables have a single stand or pedestal. The portion that meets the table top is circular or rectangular. It sits flat on the ground or on three legs extending from the pedestal. |
| Leaf | A portion of a table top. It is one piece of a complete table top. It is used for folding tables and tables that extend in size. |
| Hinges | Table tops that fold feature metal hinges. It supports the leaf. |
| Extender | A wood or metal rail on which two separate leaves slide. It is mounted underneath the table top and connects both sides. When extended, a third leaf is inserted into the centre of the table top to increase the size of the table. |
Types of Antique Dining Tables
There are several types of antique dining tables. The following list describes each one.
| Type | Description | Advantages | Considerations |
| --- | --- | --- | --- |
| Rectangular | The most common type of antique dining table is the rectangular table. The table top is longer than it is wide and features four legs. | This dining table fits in most dining rooms and can be large enough to seat up to six people. | Rectangular dining tables may be too big for small apartments. |
| Circular | This type of antique dining table features a circle table top that sits on four legs or a pedestal. | Circular dining tables are ideal for smaller dining rooms or eat-in kitchens. | Chairs may bump into each other when pushed in. |
| Square | Equal-sided table with four legs or a pedestal. | Up to four people can eat at this table. | Squares tables can only seat four people comfortably. |
| Long | These tables are much longer than standard rectangular tables and usually feature multiple pedestals to hold it. | This table can seat a lot of people. It is ideal for large dining halls or outdoor. | This table is too large for most homes or apartments. |
| Drop-Leaf | Drop-leaf tables feature a portion of the table top that can be folded. | Drop-leaf tables save space when they aren't in use. It's great for small dining rooms | This type of table doesn't look that great when it is folded. Consider placing it against a wall or corner. |
| Extended-Leaf | Extended-leaf tables feature a section of the table top that can be removed. | This table is great for dining when unexpected guests show up. Simply replace the section to extend the table and seat more people. | Dirt and dust may accumulate in the hinges of extended-leaf tables. |
| Tilt-top | Tilt-top tables feature a table top that can be turned sideways. These are usually circular tables. | By tilting the table top, the entire table can be pushed against a wall to save space. | Tilt-top tables may get worn out quicker if it is regularly folded. |
Factors to Consider When Buying Antique Dining Tables
There are several things to consider before buying an antique dining table. The décor of the room in which the piece is going, the appearance of the table, and the table's condition will influence the buying decision.
Décor of the room – The furniture style of a particular room is an important factor to consider when purchasing antique dining tables. A dining table that is made in the style of the other pieces in the room will match, while placing a dining table with a different style could clash. For example, placing a Queen Anne dining table in a room filled with rustic furniture would look odd. If the dining table is closely related to the style of the room, it could be incorporated without looking out of place. Here is a list of popular furniture styles: Victorian, Regency, Rustic, Queen Anne, Art Moderne, Gothic, Louis XIII, Louis XIV, Venetian and Sheraton.
Appearance – There are antique dining tables of all sizes, shapes and differing wood colours. Large dining tables aren't suitable for small dining areas. Be sure to take measurements of the dining area and match a table that will fit. The shape, wood material and carved details all affect the appearance of the dining table. Select one that is appealing.
Condition – The quality of the antique dining table is another factor to consider. Some pieces may be damaged, and the signs of age may affect the value of the piece. This includes scratches, faded colours, and an uneven surface. Consider these issues when negotiating a lower price from the seller.
Typical Features of Antique Dining Tables
Antique dining tables have characteristics from the specific period or region they were produced. This was considered to be the furniture style that was popular at that time. A few of the styles that fill the showrooms and auction houses include Victorian, Regency, and Queen Anne. Each one has features that are present in most furniture pieces, including dining tables.
Victorian - Victorian dining tables feature beautifully carved leg details and mahogany wood. This style was characteristic of the period during Queen Victoria's reign in the UK. It adopted many forms of the Gothic style.
Regency - Regency dining tables feature clean lines and simple hand-carved details. One of the notable features of this style is the metal paw feet on the legs of the dining table. This style draws upon the designs of the neo-classical Georgian style and Egyptian influences.
Rustic - Rustic dining tables have a characteristic graining pattern that gives them an aged and rugged character. One type of wood used to obtain this style is white pine recycled from old barn timbers.
Chippendale - Chippendale dining tables are known for their cabriole legs and ball and claw feet. Most are made from mahogany wood and feature detailed joint mouldings and carved edges.
Queen Anne - Most Queen Anne dining tables feature walnut wood and detailed cabriole legs. This style is generally lighter and more graceful than the William and Mary style it evolved from.
How to Care for Antique Dining Tables
Antique dining tables, like any other old piece of furniture, needs to be maintained to preserve the surface. The main concern is damage from water and sunlight, as well as the accumulation of dust and dirt. Wipe the surface with a soft cloth to remove dust. Use a furniture polish to clean the surface and give it a protective coating. Apply the polish in the same direction as the wood grain.
Popular Antique Dining Table Manufacturers
There had been many well-known furniture makers over the years and below are just a few names that could provide some ideas for further research. Apart from seeking out particular pieces made by certain craftsmen, a buyer can also look at the period in which the table is made to glean more information, as outlined above under features. The furniture makers listed below are from both sides of the Atlantic.
Eliphalet Chapin
Thomas Chippendale
Florence Knoll
Duncan Phyfe
Ercol, a British company that makes furniture
Accessories for Antique Dining Tables
There are several accessories that would complete an antique dining table. They include:
Chairs
Salt and pepper grinders
Napkin holders
Placemats
Coasters
Fruit bowls
Finding Antique Dining Tables on eBay
Once you determine the type of antique dining table you want to purchase, visit the Antiques portal on eBay, click on 'Antique Furniture' then select 'Tables' and start searching item listings. The Categories list on the left-hand side of the eBay page helps to narrow the search.
Searching for Antique Dining Tables on eBay
Search eBay listing titles for specific words when shopping for antique dining tables. For example, to find Victorian dining tables, type 'Victorian dining tables' into the search box, and then click on the Advanced button to customise the results. Also visit eBay's Search Tips page for more advice on searching for antique dining tables with keywords. If you can't find the exact dining table you want, try shopping eBay Stores.
Conclusion
After searching through the listings on eBay for an antique dining table, pick one that is both appealing and in fairly good condition. Contact the seller, if possible, to confirm the details of the product page, especially for the age and style of the dining table.
Once you have collected this information, you can purchase an antique dining table safely and securely on eBay.