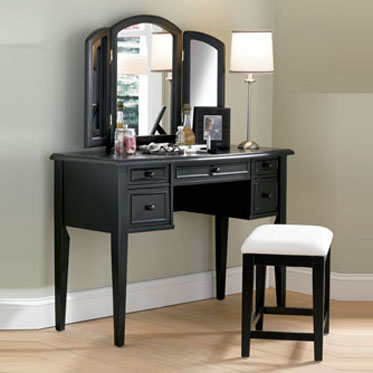 Dressing tables have a long and interesting history. In the early days, they were sometimes called the toilet table, as these tables were indeed used in the bathroom and not just for the application of make-up and the styling of hair but also for ritualistic and hygienic washing. These days, dressing tables are also called vanity tables. Like most inventions, it came about out of necessity. The basic piece includes a table with drawers, some of which are hidden, and a mirror. Variations and styles have evolved over time, but the dressing table continues to be a functional part of the bedroom or dressing room. An antique dressing table can add charm and elegance to that functionality.
This guide will give prospective buyers of antique dressing tables a clearer picture of what they should be looking for when making a purchase. It will go through the history of the dressing table, mention some factors that should be considered before making a purchase, and give a thorough outline of how best to search for an antique dressing table on eBay.
History of Antique Dressing Tables
Originally, only privileged women, or titled women, owned dressing tables. These tables were seen as luxury items. For this reason, early-period antique dressing tables are not as common as some other antique furniture items more commonly used. Its noble origin adds appeal to an antique dressing table. First appearing in the sixteenth century, carpenters and furniture makers designed the dressing table so as to conceal certain drawers. The drawers provided extra storage, but that was an ancillary benefit. The real reasons for the drawers were for secrecy and security. Here was a place where a woman could hide her most valuable items, be they jewels, gold, silver, love letters or other treasured items.
Discover Antique Dressing Tables
Antique dressing tables were usually quite large and extravagant pieces of furniture. They featured strategically placed candle-holders for optimum lighting, at least one large mirror, and sometimes side mirrors for enhanced viewing from an angle. These tables featured intricate detailing and sophisticated styles. As dressing tables came into more common use, manufacturers created more elaborate and expensive innovations to appeal to the rich. One of innovations was the inclusion of a wash basin beneath a folding top. However, over time, makers started to appeal to the masses with cheaper pieces. Dressing tables were still made to be decorative, but there was a general scaling down in the size of each piece.
Parts of Antique Dressing Tables
There are almost innumerable variations of antique dressing table types and styles, but the majority adhere to a basic form with similar constituent parts.
| Part | Description |
| --- | --- |
| Table top | Surface for placing items while in use. Some can be lifted up to reveal a wash basin. |
| Drawers | Visible from the front, often with ornate knobs or handles. |
| Basin | An option on some styles, located under the table top. |
| Main mirror | Positioned in the middle, attached to the table. Can be round, square or rectangular and are often moveable. |
| Side mirrors | On some pieces, side mirrors are extensions of the main mirror. |
| Hidden drawers | Can be completely out of sight or made to blend in. |
| Lighting | Candle holders or lights to illuminate the makeup process. |
| Seating | Usually a small stool or chair to be positioned in front of the table. |
Types of Antique Dressing Tables
Antique dressing tables can be found in many styles and shapes, but they all share some common features – a typically flat and horizontal surface that can be used for grooming and applying makeup and a large mirror.
| Type | Description | Advantages | Considerations |
| --- | --- | --- | --- |
| Console dressing table | Thin and bracketed against a wall. | Takes up less space. | Less imposing in the room. |
| Dressing chest of drawers | Chest of drawers style with mirror on top. | Extra storage space. | May not come with a stool or chair. |
| Writing dressing table | Narrow style with mirror that also contains a writing surface. | Often the writing area is hinged and hidden as part of the tabletop. | Originated in the reign of Louis XIV in France. |
| Cupboard dressing table | This style has one or more doors in the base that open outwards. | Can store larger items that are too big for regular drawers. | Often massive and very heavy. |
| Lowboy | Small table with one or two rows of drawers. | Multi-functional. | Mirror not necessarily attached or part of set. |
Factors to Consider When Buying an Antique Dressing Table
When you are looking at purchasing an antique dressing table comparing a table of interest to similar pieces will help to determine the value. Similarities might include design features, material used, overall size, or date of manufacture. Reading about the details and examining images can also reveal if the dressing table is in better or worse condition. Written documentation about the provenance of the piece can also add to the value. Shopping for an antique dressing table can be exciting and interesting, but a little research and knowledge will greatly assist in making an informed choice.
Materials – Consider the quality and usage of the wood. For example, is one type of wood used throughout the construction, or is a higher quality wood used on the outside but cheaper wood used on the back, underneath and inside for drawers?
Accents – Does the wood have any special inlays or detailed carving? These qualities will add value to a piece. Precious metal trim, knobs and handles also add value.
Condition – Check for the stability of a dressing table. Does it wobble? Slide the drawers in and out to check that they are in good condition. Examine the legs for any repair work that might have been done on them.
Originality – An antique dressing table is more valuable if it retains all the original features, especially the mirror. Drawer knobs and handles are also frequently replaced. Many all came with a matching stool.
Finish – The original finish should show some signs of wear, but not so badly that it affects the value of the piece.
Typical Features of an Antique Dressing Table
Below is listed some of the more common features of an antique dressing table.
Drawers - Used to store grooming items and personal mementos.
Mirror - Many antique dressing tables have matching mirrors that came with the same styling and craftsmanship as the table. Check the condition of the mirror for flaking of the backing as that can impact the value of the set.
Escutcheon - Decorative plate around keyhole to protect from abrasions and prevent lock cylinder from being removed.
Gilding - Gold or silver trim on corners and mouldings
Cabriole - A curved table leg where the knee faces out and the ankle faces in. The foot is often ornate, common to Queen Ann and Chippendale styles.
Ball foot - An early type of simple, spherical foot at the end of a straight table leg.
Bun foot - A flatter, squatter version of the ball foot.
How to Care for an Antique Dressing Table
Antique dressing tables are fragile and require care and attention. Direct sunlight can easily damage the wood, as can moisture. The main objective of cleaning any piece of antique furniture is to get right down to the original finish. The easiest and safest method to do this is to wipe down the wood with warm water and a mild dishwashing detergent. If more cleaning is required, mineral spirits or paint thinner can be used, but always apply it first to an inconspicuous area to see the results, then move on to the rest of the piece. The mirror on an antique dressing table should be handled and cleaned with extreme care. If in doubt, seek expert help.
Popular Antique Dressing Table Manufacturers
It is easiest to identify antique dressing tables according to furniture style. Below are some of the most popular:
Louis XV
Louis XVI
Early colonial
Gothic
Mission
Jacobean
Rococo
Chippendale
Hepplewhite
Rustic
Shaker
Sheraton
William & Mary
Windsor
Germanic
Federal
Empire
Revival
Eastlake
Accessories and Add-ons for Antique Dressing Tables
Antique dressing tables require special care, including products that can be useful for maintenance.
Refinisher
Antique furniture wax
Mild soaps or cleansers
Soft cloths or brushes
Glass cleaner
Finding Antique Dressing Tables on eBay
Once you determine the type of antique dressing table you want to purchase, visit the Antiques portal on eBay, click on 'Furniture', then 'Table&' and start searching item listings. The Categories list on the left-hand side of the eBay page helps to narrow the search.
Searching for Antique Dressing Tableson eBay
Search eBay listing titles for specific words when shopping for an antique dressing table. For example, to find a walnut antique dressing table, type 'Antique Dressing Table' into the search box, and then click on the Advanced button to customise the results. Also visit eBay's Search Tips page for more advice on searching for antique tables with keywords. If you can't find the exact antique dressing table that you want, try shopping eBay Stores..
Conclusion
Finding the right antique dressing table begins with knowing what style you want. The information on eBay can help assist in matching the right dressing table with the right bedroom decor. Once you have collected this information, you can buy an antique dressing table safely and securely on eBay..