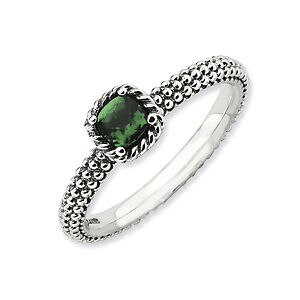 Antique jewellery often exudes beauty, and wearers also appreciate the style, craftsmanship, and history of bygone jewellery eras. Antique jewellery and other products usually must predate 1930. The Atlanta Antique Gallery specifies antique jewellery to be at least 100 years old. Antique engagement rings cover several jewellery eras, including the Late Georgian (1760-1837), Victorian (1837-1901), Art Nouveau (1890-1915), Edwardian (1901-1915), Art Deco (1920-1935), and Retro (1935-1950) eras. While diamonds are the most requested engagement ring stone, emeralds have become the second most requested gemstone because of their rich colour and beauty. The emerald is the birthstone of the month of May and it is the gem traditionally given on a 20th wedding anniversary.
Antique emerald engagement ring buyers can shop at jewellery shops to find a wide selection of rings. They can also go online to eBay, where sellers offer antique emerald engagement rings that can no longer be passed down as family heirlooms. Before shopping for antique emerald engagement rings, buyers should first learn about the types of emeralds, emerald characteristics, and the factors involved in choosing the right emerald, as well as understand how to buy an engagement ring.
Types of Emeralds
As one of the more popular gemstones, an emerald is an offshoot of the beryl mineral. Beryl undergoes a chemical transformation process when it turns green because of the presence of chromium and vanadium impurities within the stone. Engagement ring buyers must consider the types of emeralds, which are mostly classified by their country of origin. The following chart lists the primary types of emeralds, followed by brief descriptions of each type.
Emerald Type

Description

Colombian

Mined in Colombia

Known for exceptional quality

Brazilian

Mined in Brazil

Light green colour

Most common type of emerald found in jewellery shops

Cat's eye

Contains wide slit similar to a cat's pupil

Rare feature only found in pale green emeralds

Trapiche

Contains black impurities that form a six-ray star

Only found in the Muzo section of Colombia

Star

Rare occurrence of a rayed star that moves inside of the emerald
Since emeralds are extremely sensitive to pressure, some types of emeralds can alter in appearance when mined under high pressure conditions. They do not take on characteristics of other emeralds, but instead form unique features that make the gemstone even more valuable. The "emerald cut" reduces the amount of pressure placed on emeralds during the cutting process, and thus, ensures emeralds mined in specific regions retain that region's characteristics.
What to Look for in an Emerald
As with diamonds, consumers should analyse a few factors before making a purchasing decision. The factors do not include the type of cut, since most emeralds undergo the "emerald cut" to prevent pressure-induced alterations. However, diamonds and emeralds share two important features that engagement ring buyers must analyse.
Colour
Colour represents the most important factor in determining emerald quality. Emeralds that possess a rich bluish-green to solid-saturated green colour have the most value. The mineral beryl gives emeralds their green hue, but not every type of green beryl can be labelled as an emerald. South American emeralds differ from those mined in Africa, mostly because South American emeralds are lighter in colour.
Clarity
Emerald clarity is based on cracks and fissures, also referred to as inclusions, that occur during pressurisation. Jewellers rate emerald clarity on a scale that ranges from few inclusions to heavy visual obstructions. The value of an emerald largely hinges on its clarity rating, which is noted by observation using the naked eye.
Treatments
The presence of inclusions often leads to emerald treatments that include fillings and dyes to make the gemstones more appealing for buyers. Fracture fillings are the most prevalent emerald treatment, and this process involves using oils or resin to fill cracks and fissures. Fine ring buyers should avoid buying emeralds that possess high treatment levels, since this indicates numerous inclusions.
How to Choose the Right Emerald
Choosing the right emerald for an engagement ring requires thorough research, consultation with a gemstone expert, and abundant patience. Avoid impulse buying that can destroy a predetermined budget. Here are some steps to take to find the right emerald for an engagement ring.
Research Jewellers
Third-party customer reviews provide insight into jeweller reputation. Pay close attention to the spacing of reviews, as numerous reviews submitted during a short period may indicate jeweller bias or a personal vendetta. The reviews should discuss emerald variety, jeweller acumen, and customer service. Shopping for emerald engagement rings in person allows buyers to judge the business and the quality of merchandise.
Cut
While all emeralds undergo the "emerald cut", they can be cut into myriad shapes. There is not a consensus on which shape carries more value. Therefore, look for an emerald that possesses unique features that project the most colour.
Size
Emerald size has nothing to do with quality and everything to do with durability. Larger emeralds are more likely to bruise or crack because of the gemstone's brittle nature. Engagement ring buyers want emeralds that are not obscured by the ring setting. Larger emeralds require settings that may obscure the best features of the gemstones.
Authenticity
Reputable jewellers can provide emerald certificates of origin. The certificate of origin helps engagement ring buyers to look for specific regional emerald characteristics.
How to Shop for an Engagement Ring
Shopping for an engagement ring can be an emotionally draining process. Moreover, an engagement ring requires a considerably steep financial investment. Before choosing an emerald to adorn an engagement ring, buyers should sequence the following steps to ensure that they find the right emerald engagement ring.
Set Financial Limits
An emerald can comprise up to 90 per cent of the cost of an engagement ring. Set minimum and maximum limits on an emerald investment, and demonstrate the discipline that precludes impulse buying. The antique emerald engagement ring budget is the first thing buyers should mention to jewellers.
Ring Size
Engagement rings are typically presented as a surprise, which means obtaining an accurate ring size can be difficult. However, engagement ring buyers must present jewellers with accurate measurements to avoid costly refitting of a ring. Either find another ring to bring to a jeweller, or bring along the recipient. When buying an engagement ring online, it is imperative to know the accurate ring size.
Metal
The metal used to construct the band plays an important role in determining ring longevity. This is why antique emerald engagement ring buyers should consider sterling silver or titanium, instead of opting for more visually appealing gold metal bands. Gold can provide strength if it is mixed with the right metal alloys, but sterling silver and platinum are the best choices for resisting corrosion and tarnish.
Style
Study the antique emerald engagement ring recipient's wardrobe, other jewellery, and fashion accessories to determine style preferences. Women who wear vintage clothing are more likely to enjoy wearing antique jewellery. They may also have an antique jewellery era preference.
Negotiate
Treat buying an engagement ring in the same manner that consumers treat purchasing a car. Negotiate for discounts or bundled accessories. The best time to negotiate with jewellers is during the summer when jewellers experience a lag in sales. One of the best features of eBay is that many sellers bundle products or offer product discounts.
Buying Antique Emerald Engagement Rings on eBay
eBay offers buyers a wide selection of antique engagement rings, including rings set with emeralds. Utilise eBay's powerful search engine to find a seller who offers an antique emerald engagement ring that meets your shopping criteria. You should type specific keywords into the search engine, such as "vintage Edwardian ring" or "vintage reproduction rings", to reduce the number of search result pages. Once you find the right seller, navigate to the seller's product page to review accepted payment methods, delivery terms, and return policies.
You should only consider buying an antique emerald engagement ring from one of eBay's Top-Rated Sellers. These sellers have established reputations for selling high-quality products and offering generous return policies. The return time frame is an important consideration to ensure the proper ring fit. You can also review customer feedback that eBay compiles on seller product pages. Look for positive customer feedback over the past year, and preferably, some positive feedback for selling vintage fine jewellery. Once you build a business relationship with an eBay seller, ask the seller if he or she runs an eBay Store where you can buy products directly.
Conclusion
Now that the big decision has been made, the time has come to buy an engagement ring that represents the significance of a marriage proposal. Diamond engagement rings have historically been the most popular type of engagement ring dating back to medieval European royalty. However, a new gemstone has become a popular feature of engagement rings, and it requires as much diligence to buy as diamonds require. Emeralds project brilliant colour, and if cut correctly, perfect symmetry. In addition to colour, buyers must also consider emerald clarity and the treatment for inclusions before making a purchasing decision.
Some emerald engagement rings are considered antiques, meaning that they come from one of the antique jewellery eras. Because of the age issue, buyers should look for antique emerald engagement rings that are constructed with either sterling silver or platinum to reduce the possibility of corrosion or tarnish. They should also factor in a budget, ring size, personal style, and negotiation during the antique emerald engagement ring buying process. Above all, buyers should consult with certified jewellers during the buying process, regardless if they choose to shop in person or on eBay.