Case - Dex
This is one of many illustrated classic tractor guides I've created for the community. I hope you enjoy it and if you would like to find out more about the classic Tractor art featured in this guide please click here.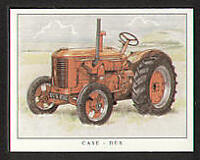 J.I. Case increased their production capacity by buying Rock Island Plow Co in 1937, the former makers of the Heider and Rock Island tractors. Then in 1939 they introduced the new streamlined D and R followed by S, LA and V ranges, with the identifying colour schemes of Flambeau Red. The three-plough capacity model D came with a number of options, such as row-crop (DC) and orchard (DO) and had a mechanical implement lift. Rated at 26-32hp with Case's own engine, it was joined by the smaller S and Continental-engined V in the early years of the war and by a new 4/5 plough model, the model LA, in 1941. The full range of Case D models were D, DC3 (tricycle), DC4 (wide axle), DEX (hybrid), DO, DV (vineyard) and DR (rice).
If you would like to see more guides on classic Tractors please click!
Thank you for reading my guide and I hope you found it interesting!