Fordson - Model N
This is one of many illustrated classic tractor guides I've created for the community. I hope you enjoy it and if you would like to find out more about the classic Tractor art featured in this guide please click here.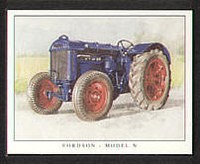 It was Henry Ford who made the real breakthrough with cheap mass-produced tractor power. Production of his Model F Fordson started in 1917 at Dearborn, Michigan and it became the most successful tractor ever built with the production totals reaching nearly 750,000 by the late 1920s, when the first major design changes were made. The Model N became the replacement for the Model F, production moving in 1928 to Cork, Ireland and shortly thereafter to Dagenham, Essex. At the start of WW2, tractor production in Britain was almost wholly Fordson, the N having a near monopoly since moving to Dagenham. Apart from imported tractors, the only possible competition were the Marshall M and the David Brown VAC-1, most of the others having ceased production.
If you would like to see more guides on classic Tractors please click!
Thank you for reading my guide and I hope you found it interesting!