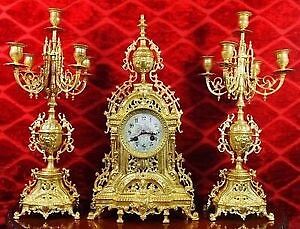 There is nothing more exquisite than an antique French bronze or brass clock or bronze garniture clock set standing elegantly on the fireplace mantel. The 19th century French models are very elaborate and extremely decorative. Not only are they beautifully cast in high quality but they are finished with a superb glint of sparkle.

Of course, most that are obtained have an aged patination of grime and dirt that has built up over the years and sometimes you may not even feel it has a decorative look for your treasured place on the mantel piece. But when lovingly and sympathetically stripped, cleaned and polished back to its original state it is little wonder that people attract to its beauty. Accompanied by the French brass 8 day movement, it is also very practical in the modern home for giving the time and if fitted with a bell it will remind you of the full and half hour counting the hours on a beautiful sweet strike.

The designs and styles of these clocks are very nice with fine details and they adorn the best of rooms and Palaces, even museums. There are all sorts of sizes and different designs and there is always something that compliments your fireplace.
Why not take a look through our variety of antique French bronze clocks in our store and see for yourself how these wonderful works of horological art display. We specialise in this sort of antique clock and we always have a selection that are very reasonably priced.

Please feel free to discuss anything with us even the finer details of how the clock was prepared for our showroom.