When people talk about antique furniture it can have many different meanings. 'True' antiques are items which are over 100 years old, but with many other retro and vintage pieces coming back into fashion, pieces younger than this are often referred to as antiques by the lay person.
The term 'furniture' covers an enormous variety of items. From the obvious, such as tables, chairs, dressers, sofas, desks and the like through to smaller pieces such as shelves, coat hooks, vintage suitcases and even the fixings for doors and light switches.
Antique and vintage furniture has, over the past decade or so, been at its lowest price in years. The savviest amongst collectors and people in general have taken the opportunity to purchase various quality items of antique furniture to both enjoy and use in their homes along with seeing it as an investment opportunity. It is only a matter of time before the pendulum swings and antique furniture prices once again begin to rise.
Good quality antique furniture is a joy to own. The craftsmanship and sheer amount of man hours which went into producing a quality piece is apparent from every angle. Items made from rich woods such as mahogany, oak and walnut just cry out to be appreciated; not only by sight but a gifted craftsman produces pieces which are tactile and almost decadent in their appearance.
Furniture antiques are one of the most popular types of antiques, not only because of their practicality but also because of their historical significance.
The most popular time for antique furniture was the Victorian period, which dates from about 1850 to 1910 and the most popular woods used to make the furniture were mahogany, oak, pine, rosewood and walnut.
Furniture produced in the Georgian, Regency, Victorian and Edwardian periods all differ in styles.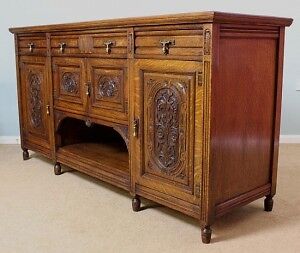 Georgian period furniture (1714-1811) saw mahogany become a very popular wood for construction. Georgian furniture tends to have dark rich reddish tones which proved a popular colour scheme at that time.
The Regency period (1812-1830) saw furniture become extremely handsome indeed, with intricate small carvings extending from slender, plain expanses of strikingly coloured wood. Cabinet makers sought inspiration from the ancient civilizations of Rome and Greece, meaning columns and neoclassical styles were reflected in this elegant period of furniture making. Regency furniture saw the introduction of such features as lion carved feet and the use of quality timbers like Rosewood.
Victorian furniture (1837-1901) was a melange of many older styles. In keeping with the people of the time, Victorian era furniture was designed to be imposing and titillated with much carved decoration and lots of ornament. However, despite this the furniture was also surprisingly comfortable and user friendly. Rosewood, Oak and Mahogany were the preferred woods of the period.
The Edwardian period (1901-1910) saw the introduction of mass produced furniture. Still of a good quality, this period saw shameless re-production of many of the older styles, mainly in Mahogany and Oak woods.
There is also a difference in pieces depending in which geographical location they were produced. Some people yearn for English crafted pieces whilst others adore the intricate, quality pieces created in various other European countries such as France.
Increasingly popular are vintage pieces from the 1950′s and 60′s. Retro is very much the in thing right now, with many people clamouring for originals with which to furnish their homes. You only need to glance in any modern furniture store's catalogue to see how this era has inspired today's current styles.
Whatever your favoured style of antique furniture, now is probably one of the best times in recent times in which to make purchases. With bank interest rates at virtually zero, the canny investor can not only put their money into something which is almost guaranteed to be worth more in the future, but will have a unique and beautiful pieces which can be enjoyed and appreciated each and every day.