Can surpass the beauty of antique glass. The translucent effect of light shining through the body of a delicate and fragile piece, the angles refracting the light through all the colours of the rainbow is stunning to behold. It's no wonder that glass has survived through the centuries with no other material coming even close to its sheer durability and allure.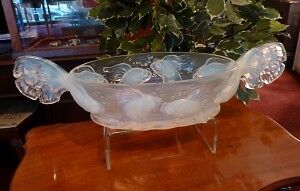 Because of the vast amount of different types of antique glass available, most collectors tend to specialise in either a particular era of glass, maker or style. Whatever type you lean towards, always remember that unless a piece is particularly rare then you should be looking for perfection. Whilst minor nicks can be ground out by a restorer, large chips and cracks should generally be avoided at all costs. Even ground out imperfections can have a great effect on the value of a piece, depreciating it by half or even more in price.
Glass has been around for over 3,500 years, but records show that production in the UK begun around the year 1226. The basic constituent of glass is sand mixed with an alkaline flux. This is heated into a molten form where it can be blown through a rod and then sculptured into the required shapes.
Glass blowing is a skilled and precise art which over the years has seen the production of the most beautifully intricate pieces. Not only is glass blown into the desired form, but etching, enamelling and engraving of the finished pieces created some truly stunning works of art.
In the later part of the 18th century, lead was introduced into the glass mix to create what we know as 'lead crystal.' This led to a much denser and clearer glass making process that was not only used in tableware but also mirrors and chandeliers.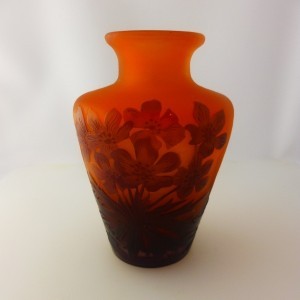 Pressed Glass
During the 19th century the technique of press moulding become popular, meaning that glass pieces could be produced far more quickly and at less expense. This brought quality glass within the realms of many more people, and some of the most famous names in glass production heralded from this era. Names such as Walter Crane, Rene Lalique and Louis Comfort Tiffany are now themselves engraved into the history of high quality and superb glass production.
Art Deco Glass
Whilst not strictly an antique (to qualify as an antique a piece should be more than 100 years old), Art Deco glass is an extremely sort after field of collection. The use of bold colours, stylised lines and geometric patterns make Art Deco glass extremely well suited to today's modern interior designs. Some of the major Art Deco glass designers were Daum, Orrefors and Sowerby with original sculptures being greatly prized and very often commanding high prices.
Collecting antique glass is extremely satisfying, both as a hobby and an investment. The thrill of finding a rare piece is matched only by the satisfaction of being able to feast your eyes upon it on a daily basis. The wonderful thing about decorating your home with quality pieces of antique glass is the extension of your own personal style. Whichever type you choose, you can be sure that your antique glass collection will provide a timeless and much talked about focal point.