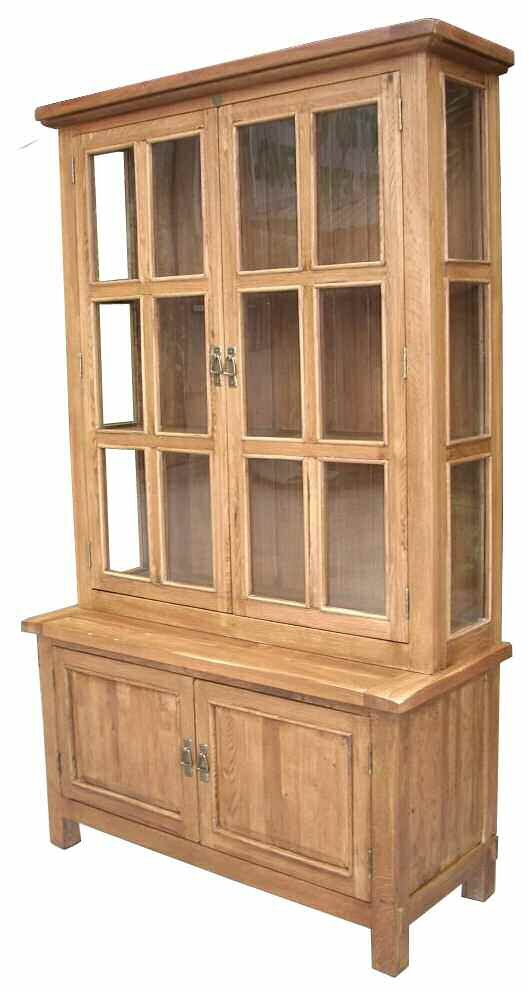 An antique glass cabinet is a beautiful home accent piece that complements so many different types of décor. They are great for displaying collectables such as fine China and ornaments, and they can make a lovely focal point in a room. There are many types of glass cabinets and certain types are more suitable for certain living spaces. Before purchasing a glass cabinet, it is important to determine its measurements to be sure it will suit the room in which it will be placed. A wide range of antiques can be found for sale on eBay. Understanding the history of these items, the characteristics that make them so unique and factors that should be considered will help make purchasing an antique glass cabinet an easy and rewarding experience.
History of Antique Glass Cabinets
Displaying trophies, ornaments, pictures or fine china in an antique glass cabinet can add personality to any room. Pre-1700, antiques were mainly made from oak, although mahogany and walnut were also popular materials. Antique furniture displayed authority and charm, and the expense of the item was reflected in the craftsmanship of the piece. The production of high quality furniture increased after the introduction of steam-powered tools. Pieces that were initialled and engraved were particularly valuable and still maintain their value today. Any item over 100-years old is considered a collectable antique.
Discover Antique Glass Cabinets
There are several advantages to buying antique furniture. Not only is antique furniture eco-friendly, but if cared for properly, it may be an item that will grow in value. An extremely old antique may have been originally crafted for royalty, or the piece may have an interesting story behind it. Buying an antique can be a worthwhile investment. A mass-produced glass cabinet will not have the same feel as a solid piece of hand-crafted furniture. Antique furniture blends well with contemporary furniture and a glass cabinet is a trendy centerpiece to include in the main living space. Many antique glass cabinets, such as those crafted by Edward and Robert or Thomas Chippendale are items that are highly sought after.
Materials of Antique Glass Cabinets
Antique furniture was made using mainly oak, mahogany and walnut, although mass-produced glass cabinets were made using other materials.
| Part | Description |
| --- | --- |
| Oak | This wood was predominantly used in antique furniture. It has a rich, dark speckled finish. |
| Satinwood | Used mainly for veneers, the light yellow shade made it a popular wood to paint on. |
| Rosewood | When cut, this wood delivers a delicate fragrance, hence its name. It was used in Victorian and Regency periods and its shade is dark, brown-red. |
| Mahogany | A rich golden brown shade of wood that is good for carving. |
| Beech | Popularly used in 17th century furniture, beech has a light shade. It was also painted during the Georgian period. |
| Ash | A useful material to line drawers. Ash was used to make country style furniture in the 18th century. |
| Chestnut | Available in a range of tones and is widely used to line drawers. |
Types of Antique Glass Cabinets
Having an antique glass cabinet in the home can be a good piece of furniture to display fine China, ornaments, pictures, or trophies. Below are some popular designs.
| Type | Description | Advantages | Considerations |
| --- | --- | --- | --- |
| 19th Century Antique Figured Walnut and Inlaid Display Cabinet | Contains three interior shelves and glass sides. | Perfect to display fine China or ornaments. | Circa 1860. |
| Mahogany Vitrine Glass Display Cabinet Gilt Metal Mounts | Curved design with a marble top interior. | The interior has two glass display shelves. | Circa 1910. |
| Edwardian Mahogany China Glass Display Cabinet | Fine China display cabinet. | The cabinet has three interior glass shelves. | There is an arch pattern on the centre glass panel. |
| Mahogany Chippendale Revival Glass Display Cabinet | Has a light feature in the top and lower sections. | Astragal glaze design on the front and side glass panels. | Includes a key. Dated 1900s. |
| Mahogany Inlaid Display Cabinet | In an attractive serpentine form with interior glass shelves. | Dates back to 1895. | Manufactured by Edward and Roberts. |
Factors to Consider When Buying an Antique Glass Cabinet
An antique glass cabinet can add elegance and style to any room. The buyer must first consider what items will be displayed in the cabinet and if there is sufficient space to house the item.
Items to display – Before the search to find an antique glass cabinet, it is useful to consider exactly what items will be displayed in the cabinet. Fine china, ornaments and trophies will generally require shelves, while artwork may require only a blank backboard. Removable shelves are also handy.
Cabinet size – A vast number of trophies will require a large glass cabinet, as will a collection of fine China. The buyer must consider where the glass cabinet will fit in their home. It is advised that any area planned for the cabinet is measured beforehand.
Style of cabinet – Will it be tall and slender, or stout and wide? Think about the items that will be displayed and which type of glass cabinet will best serve this purpose.
Measurements – Wood can shrink as it ages. An antique item of furniture may not have equal dimensions on each side.
Faded colour – An antique piece of furniture is prone to discolouration from ultraviolet rays.
Rarity – The rarity of the piece and whether or not the item has been handcrafted are factors to consider.
Condition – If an item is considered in 'mint' condition, it is in the best possible condition and will be a prized catch amongst collectors. General blemishes include wood discolouration, scratches, chips, cracks and dent. An item with these features will be classed as 'good'.
Typical Features of Antique Glass Cabinets
The material - Very old antique furniture was made of oak, mahogany or walnut.
Shape - When craftsmen made antique furniture, there were no tools in place that could provide an exactly symmetrical cut. This imbalance in measurements can improve the value of the cabinet.
The wood finish - A dated antique will have a shellac finish. It was not until the mid 1800s when lacquer and varnish were applied to furniture.
Uniformity - Look at a piece of antique furniture next to a contemporary item. There will be a difference in the symmetry because craftsmen had no such device available to cut wood in a precise line, so antique furniture will not have a uniform finish.
How to Care for an Antique Glass Cabinet
Antique furniture must be respected and treated very differently to contemporary furniture. As antique furniture is crafted through use of air-dried timber, it retains high water content and is therefore more prone to dryness. Antique furniture that is kept too close to a heat source can suffer damage to its exterior.
In addition, spray furniture polish may leave a nice sheen on furniture, but it is not recommended for use on antique furniture because the silicone can absorb some of the wood's natural oils. The patina is the coloured surface of the antique that takes many years of maintenance to build. Apply beeswax twice a year, preferably at night to allow the nutrients to penetrate the wood, and then buff well. It is also recommended that the antique glass cabinet not be left in direct sunlight, as this can fade the wood.
Popular Antique Glass Cabinet Manufacturers
Thomas Tompion
Thomas Sheraton
George Hepplewhite
Mayhew and Ince
Thomas Chippendale
Gillows of Lancaster
Howard and Sons
Robert H and James Simpson
Edward and Roberts
Thomas Hope
George Smith
Morgan and Saunders
Morel and Seddon
Thomas Hepplewhite
Accessories and Add-ons for Antique Glass Cabinets
Caring for an antique glass cabinet can be easy but in order to preserve the item it is necessary to have a few basic items in the home. Avoid using spray furniture polish, as it is contains silicon, which can absorb some of the wood's natural oils. Finally, keep the furniture away from ultraviolet light.
Curtains or blinds
Dehumidifier
Soft cloth
Paste wax
Finding Antique Glass Cabinets on eBay
Once you determine the type of antique glass cabinet you want to purchase, visit the Antiques portal on eBay, click on 'Antique Furniture' then 'Cabinets' and start searching item listings. The Categories list on the left-hand side of the eBay page helps to narrow the search.
Searching for Antique Glass Cabinets on eBay
Search eBay listing titles for specific words when shopping for antique glass cabinets. For example, to find Edwardian Glass Shelved Cabinet and Bow Fronted Lower Cupboard, type 'Antique Edwardian Cabinet' into the search box, and then click the Advanced button to customise the results. Also visit eBay's Search Tips page for more advice on searching for an antique glass cabinet with keywords. If you can't find the exact antique glass cabinet you want, try shopping eBay Stores.
Conclusion
Displaying your prized possessions in an antique glass cabinet can give your home personality and style. However, before you purchase an antique, it is imperative that you learn more about antiques and what to look for to ensure that you buy a genuine piece. Once you have collected this information, you can buy an antique glass cabinet safely and securely on eBay.