In 1675 King Charles II of England popularised the trend of using pocket watches, launching the accessories into markers of taste and luxury. Although continued innovation eventually led wearers away from these devices, collectors till seek out these antique pocket watches today. Although silver varieties exist, some of the most popular antiques are made from gold. When shopping for antique gold pocket watches, buyers should pay close attention to the product's brand, its condition, and characteristics indicating its authenticity.
Antique Gold Pocket Watch Brands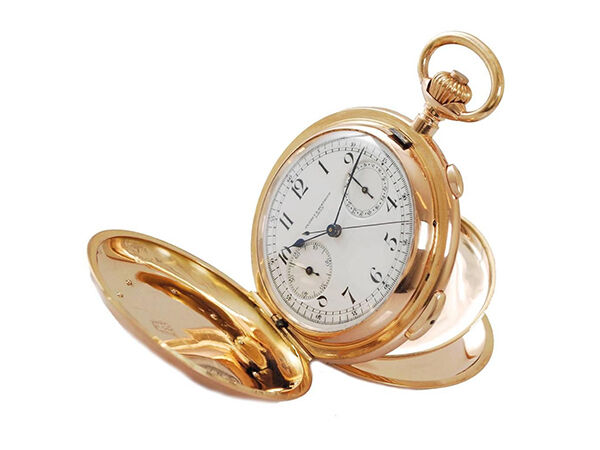 Top brands include Hamilton, Elgin, Waltham, Hunter, and Illinois. Targeted for railroad workers, the Hamilton Watch Company of Lancaster began producing in 1893 and stopped just before the start of the first World War. Although these watches did not achieve the same notoriety the Elgin and Waltham brands, those made before 1920 make valuable additions to pocket watch collections. The Elgin National Watch Company, on the other hand, obtained a contract with the army and made pocket watches well into World War II. The first to mass-produce mechanised pocket watches, the Waltham Watch Company, arguably gave Elgin its greatest competition. Waltham watches feature full and three-quarter encasement design. The latter allows users to view the device's inner workings. Hunter and Illinois watches also offer this difference in visibility. Half-Hunter watches, for example, do not include a closing shell as they were meant to be pulled out of pockets and read quickly.
The Condition of Antique Gold Pocket Watches

A gold antique pocket watch should show some normal wear from use, and may or may not function well. Standardised grades for pocket watch condition include mint, mint plus, and pristine mint. With each defect, a few points come off the G10, pristine mint, rating. A good quality pocket watch should fall between five and ten on the scale after subtracting all blemishes and accounting for functionality. When evaluating how well the piece works, pay attention to it adjustments and jewels. A well-adjusted pocket watch will keep consistent time no matter how it is held. Jewels, or bearings, help prevent the friction between the gears. Higher-end timepieces should have once jewel per gear.
Antique Gold Pocket Watch Authenticity
Research prevailing styles of the time period and compare the product to any available information. Also read any posted customer reviews regarding the seller for helpful feedback. Authentic antique gold pocket watches should include a mark indicating the year of origin, brand, and, often, a serial number. You may find these stamps on the inside of the case, on the back of the watch, and on the metal workings within the timepiece.