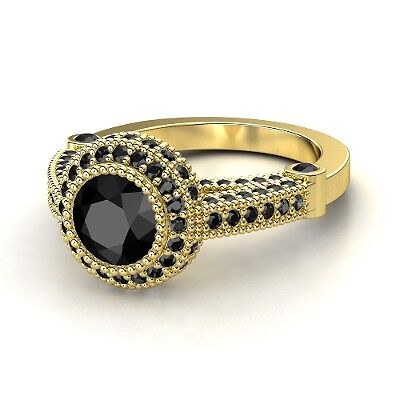 Currency devaluations across the world have created a booming gold market. With no end to the devaluations in sight, investors have moved their money out of paper assets and into tangible assets, such as gold. The surge in gold demand has pushed the price of the precious metal to record highs. This means jewellery made with at least some gold has never possessed higher value. Antique fine jewellery, once considered heirlooms by jewellery experts, have become vital cornerstones of investment strategies. No piece of antique gold jewellery has more value than antique gold rings, since rings made over 75 years ago were made with a purer form of gold and the rings contain more gold in their ring composition.
Consumers who want to wear antique gold rings, and investors who want to accrue wealth from owning antique gold rings can find them at antique shops, jewellers, and estate shops, with the latter being the riskiest venue due to buyer unfamiliarity with the seller. Consumers can also go online and find high-quality antique gold rings at the leading auction site, eBay. Before shopping for antique gold rings, consumers should learn about what defines antique jewellery, the antique jewellery eras, the types of rings, and what to consider before making an antique gold ring buying decision.
The Difference Between Antique Rings and Estate Rings
Antique jewellery is directly related to age. However, jewellers differ as to what age defines antique jewellery, and hence, consumers can find different prices for the same piece of jewellery. For years, the most accepted definition of antique jewellery were pieces older than 100 years of age. That age definition recently changed, as more jewellers began to define antique jewellery as being at least 75 years old. The confusion continues when jewellers define antique engagement rings. An estate engagement ring comprises any ring younger than 50 years old, which means an engagement ring purchased 49 years ago falls under the same class as an engagement ring purchased yesterday. Antique engagement rings, the engagement rings that possess higher values, are engagement rings older than 50 years. While defining antique rings by age may be confusing, an easier way to understand antique rings is categorising them by eras.
Antique Ring Eras
For the sake of simplicity, the best way to identify antique gold rings is by separating them into eras. Each of the following three eras is over 75 years old, which explains why a growing number of jewellers define antique rings beginning at the 75-year mark.
Victorian Era (1835-1900)
Antiques rings from the Victorian Era are typically set in yellow or rose gold. Designs range from elegantly simplistic to intricate patterns. The burgeoning wealth from this era allowed for the development of diamond mines in South Africa, which produced rings that contained stunning diamond rows on top of pure gold rings. Many Victorian Era rings include the integration of pearls.
Edwardian Era (1900-1920)
While the invention of the oxyacetylene torch increased the availability of platinum rings, gold still had a firm grip on the ring market. During this era, jewellers began to craft pierced shapes and filigree detail on ring mountings. Moreover, jewellers produced rings that were more durable, and thus, lasted longer than gold rings produced during the Victorian Era.
Art Deco Era (1920-1930)
The Art Deco Era inspired much of the costume jewellery that was produced during the 1960s and 1970s. Jewellers incorporated ring designs that reflected the era's signature streamlined geometric appearances. Gold rings from this era also reflect the more colourful fashion trends from the Art Deco era, with influences from the Egyptian, Asian, and Native American cultures.
Types of Rings
Consumers not only must consider antique gold rings from different eras, they also must decide on the type of antique gold ring. The following chart summarises the basic types of rings, regardless if they were produced yesterday or 100 years ago.
Ring Type

Description

Cluster

A group of gemstones that form a cluster

The gemstone cluster augments the value of antique gold rings

Cocktail

Large pattern of gemstones

Sometimes referred to as a dinner ring

One of the more collected types of antique gold ring

Eternity

Features a row of precious stones that encircle the entire ring band

Pipe

Flat surface and straight wedges

Spinner

Contains two bands, one set on top of the other

The top band spins and often features a beautiful geometric pattern

Stack

Two or more bands worn together

Three stone

Often found in anniversary and bridal rings

Sets gemstone in horizontal rows that include five, seven, or nine stones
The major types of antique rings vacillate in value, depending on the era referenced. Consult with a jeweller to determine which type of ring was worth more during each antique ring era.
What to Consider When Buying an Antique Gold Ring
Buying an antique gold ring from any era, in any style, requires consumers to perform considerable research and also consider five factors that ultimately determine the purchasing decision. To buy a vintage ring, consumers must consider the type of gold, number of carats, gem cuts, craftsmanship, and where to shop.
Type of Gold
While white and rose gold have become popular in recent years, many jewellers believe the popularity is a passing fad that should fade over time. Therefore, consumers should seriously consider antique yellow gold rings, which is the natural colour of gold and is recognised worldwide as being authentic gold. Yellow gold adds prestige to an antique gold ring, which means a higher intrinsic value that increases as a ring ages.
How Many Carats?
Antique gold rings typically come in 12, 14, or 18 carats. While a lower carat rating means a lower price, consumers must juggle cost with quality. Compare the weight of the gold content with the current spot market gold price. Many jewellers believe that 14-carat antique gold rings possess enough durability combined with enough gold content that presents great lustre. Consumers also must factor in the investment facet of an antique gold ring purchase before deciding on the gold content.
Gem Cut
How gems are cut and set into antique gold rings adds another factor for determining value. Consumers can find table cut and cabochon gems in some of the oldest antique gold rings, while old mint cut gems, especially diamonds, dominate rings from the 18th and 19th centuries. European and rose cut gems are also very popular antique rings that date back to the 1800s. The value of gem cuts depends on the amount of skill required for jewellers to make the cut. The more difficult gem cuts produce antique gold rings of higher value.
Craftsmanship
Until around the middle of the 19th century, a vast number of jewellery pieces were hand made. Jewellers implemented techniques, such as symmetry, to produce handmade pieces. They hand cut the precious stones used to adorn gold rings. Handmade antique gold rings possess smooth finishes on both the back and front of the rings. The rings do not catch fingers as they move over the ring surfaces. The handmade characteristics of older antique gold rings began to disappear with the introduction of mass-produced jewellery. Handmade craftsmanship signifies better quality and higher prices.
Where to Buy an Antique Gold Ring
Jewellers should provide antique gold ring buyers with comprehensive descriptions of each ring under consideration. Only shop at jewellery shops that provide a detailed description of the piece that includes age, condition, colour, carat, clarity, and gem cut. Reputable jewellers should have a certified gemologist on staff to verify gemstone quality. Shoppers can find antique gold rings at antique shops, jewellers, estate sales, and online. While some jewellery experts recommend that consumers shop for antique gold rings in person, there is one online retailer that offers consumers high-quality antique gold rings at reasonable prices.
How to Buy an Antique Gold Ring on eBay
While you can find myriad ring sellers on eBay, to find sellers who offer antique gold rings, you must type specific keywords into eBay's powerful search engine. For instance, type "Edwardian Era rings&" or "gold men's rings'' to reduce the number of search result pages. Once you find the right seller, navigate to the seller's product page to review accepted payment methods, delivery terms, and return policies. The length of time allowed before you can return an antique gold ring should be an important factor in your purchasing decision.
Consider buying your antique gold ring from one of eBay's Top-Rated Sellers. eBay designates top-rated sellers who have established strong records of selling high-quality products at reasonable prices. Top-rated sellers have electronic ribbon icons placed next to their product photographs. Moreover, review the customer feedback found on seller product pages. Look for antique gold ring sellers who have garnered positive reviews over the past years for selling jewellery. Once you form a business relationship with an eBay seller, ask the seller if you can buy products directly from the seller's eBay Store. This eliminates the need to participate in the auction process.
Conclusion
Gold jewellery has always been popular amongst both men and women. However, with the price of gold setting records, there has never been a better time to purchase gold jewellery. This is especially true for antique gold rings, which typically receive their antique status for being older than 75 years. Consumers consider antique gold rings from three prominent eras: Victorian, Edwardian, and Art Deco. Each of the three eras add unique characteristics to the gold rings made during the era. Each of the three eras exemplify how gold jewellery was made before jewellers began experimenting with melding different precious metals with gold.
Consumers have seven different types of rings from which to choose, in addition to deciding on the antique gold ring era. Each type of ring has historically come and gone out of favour, which explains some of the wild vacillation consumers see in ring prices. Other factors that determine the value of antique gold rings include the type of gold used to make the ring, the number of carats, the type of gem cut, craftsmanship, and where consumers choose to shop for antique gold rings. In addition, consumers must always accurately measure ring finger size to ensure that they purchase the right antique gold ring.