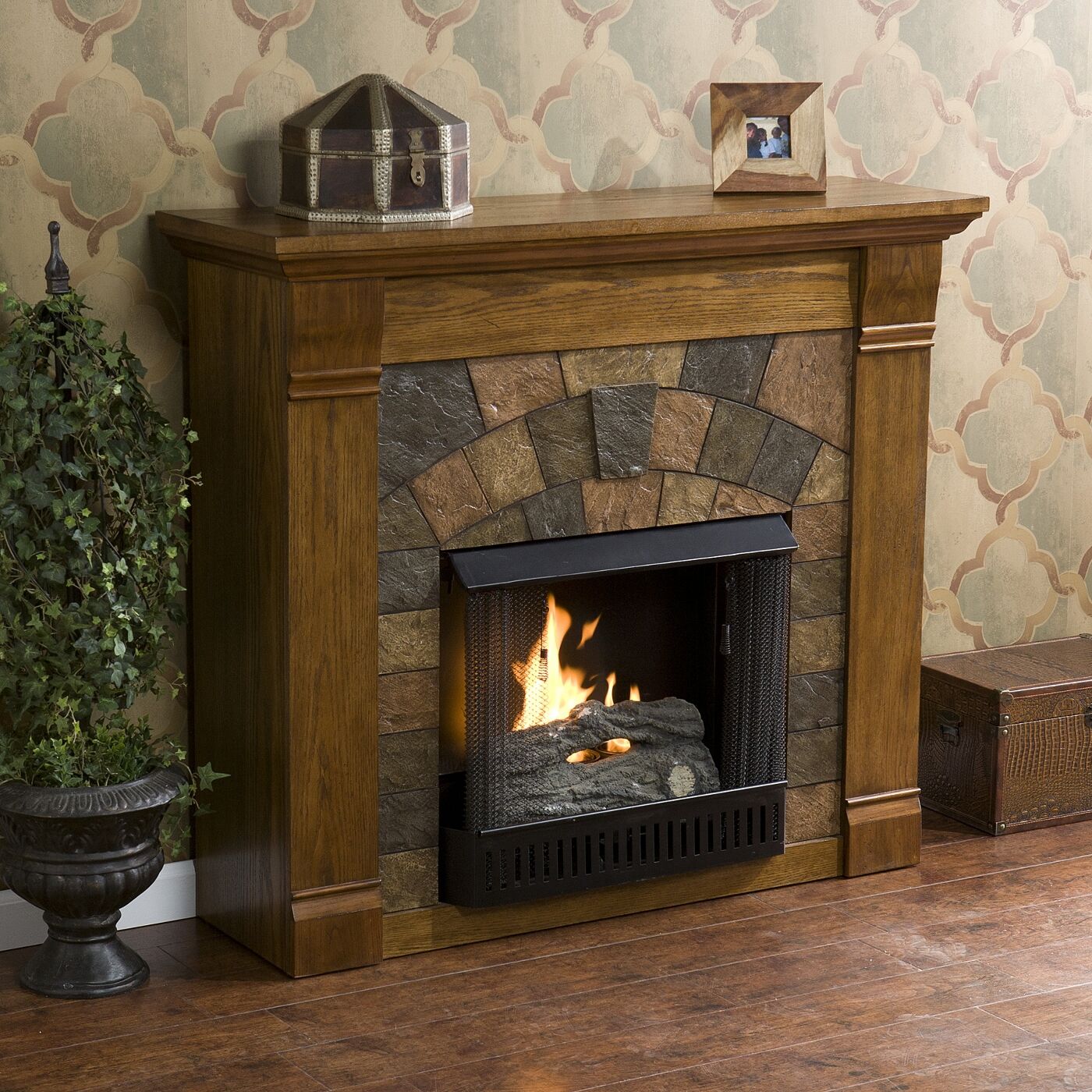 The mantelpiece, also known as the fireplace mantel or chimneypiece, came into existence in the twelfth century AD. Prior to this, fires occupied the centre of a room and smoke generally escaped through a hole or vent in the roof. Once the location of fires moved to the side of a room against a wall, chimneypieces were developed. These were originally simply hoods to catch the smoke and funnel it up the chimney. Over time the hoods became more elaborate until the word mantelpiece as we know it today includes the fire surround, mantel shelf and external accessories. In the fourteenth century, the width of fireplaces increased to such an extent that people could sit inside the fireplace in inglenooks positioned to either side of the grate. In these cases, the hoods were supported by enormous timber mantels and the fireplaces were so deeply recessed that they became an external architectural feature. Fires, once a means simply of heating and cooking, became with the mantelpiece an art form in their own right. The oldest surviving mantelpiece is in the King's House in Southampton and dates back to the first half of the twelfth century. Carved mantels survive from many periods of history and some of Europe's greatest architects, designers and sculptors were involved in producing mantels for palaces and great houses. Even the more modest antique mantelpieces available for sale today are genuine slices of our past.
Types of Antique Mantelpiece
The most commonly available antique mantelpieces these days are those from the Georgian (1714-1830), Victorian (1837-1901) and Edwardian (1901–1920) eras. Each era, although following on immediately one from the other, brought different ideas to styles of architecture, furniture and furnishings. This included the mantelpiece, which by the eighteenth century was the focal point of a room rather than a means solely to heat it.
| | | |
| --- | --- | --- |
| Georgian | Marble, oak | For the Georgians, proportion was everything, the most important aspect of their architecture and a feature introduced by the great architect Robert Adam. Consequently, fireplaces and their associated mantels had to fit into the geometry of the room, being in proportion to the windows, doors, furniture and the size of the room itself. The Georgians made the fireplace the focal point of the room, and could be decorated in the Neo-Classical style with chunky columns and intricate Grecian designs, or the Palladian style, which incorporated friezes of masks, shells, and animals into its decoration. |
| Victorian | Cast iron, heavy woods such as oak and mahogany, marble | In Victorian times, wealth and opulence were more on show, despite the severity of much of Victorian Britain insofar as dress and public behaviour were concerned. Mantels in Victorian times had at least one wide shelf or a series of tiered shelves for the display of ornaments. Carvings of flowers and the cornucopia were both popular, either as a frieze or cast into the hood of the grate, and the use of fluted columns was also common in Victorian mantels, which are large and sturdy despite their fine decoration. |
| Edwardian | Cast iron, wood | In contrast to Georgian and Victorian mantelpieces, many Edwardian mantels were very simple in design, relying on straight clean lines and minimal decoration. Instead, they sported columns of tiles either side of the grate, or sometimes the whole fire surround would be tiled. Tiles ranged from delicate Japanese-inspired flowers to bold geometric patterns. The Edwardian era also saw the invention of taller mantels incorporating mirrors over the shelf. |
Care should be taken when looking for an antique mantelpiece to make sure the product is a genuine antique. 'Antique effect' or 'Antique look' furniture does not mean it is genuine. Also, if an item is simply labelled 'Antique Mantelpiece', ask the vendor which era it comes from. If the vendor does not know, be wary about buying the item.
Other types of Mantelpiece
More unusual styles of mantelpiece can include reclaimed beam timber mantel shelves. These can be quite hard to source and often reclaimed timber is only sold in bulk, but if possible to find them sold singly, they can look fabulous set as floating shelves into river-stone chimney breasts above open hearths. Look for good-quality wood with lots of knots to add visual interest and ensure it is cleaned and varnished in keeping with the room's colour scheme. Over-mantel shelves can also be bought which come separate to the full fire surround which usually makes up a mantelpiece. These sit above a fireplace without support. Be careful when choosing one of these as they can look incongruous without the columns below framing the actual hearth.
Choosing a Mantelpiece to Suit the Home
More and more people are interested in reclaiming the past through their living spaces, and as such, may have rooms in their homes dedicated to a particular period of history. Mantelpieces are an essential aspect of this process, but care should be taken. In homes built since the 1930s, rooms are typically smaller and more crowded. Chimney breasts, if they exist at all, are a standard size that would not suit – or even fit – a large mantelpiece such as one from the Victorian era. In these cases, the smaller Georgian or Edwardian mantelpieces would suit the size and harmony of the room more effectively, with the Edwardian looking particularly suitable in a house built only a decade or so after the end of the period. Houses which were built during one of the eras discussed above may already have period fireplaces and mantelpieces in situ. In this case, cleaning and restoring may be all that is needed. This article will discuss this process below. However, many Edwardian houses have had their period trappings ripped out as owners have sought to put their own stamp on the property. It is only now that people are seeking to restore their homes to their original glory.
Wooden Mantelpieces
Wooden antique mantelpieces are by far the most common, appearing in all three eras discussed here. If making the fireplace the focal point of the room, ensure it is not crowded with other furniture, but allowed space to be appreciated. This may impact on size and style choices. If the furniture owned or will be owned is of a dark wood, then oak or mahogany mantelpieces, polished to a high sheen, will complement the furniture, but beware that in a smaller room, the total effect may seem rather overpowering. In this case, a light wood such as pine or cherry would fit better, but these woods were typically used to make Edwardian mantelpieces, not earlier styles. The colour and pattern of the tiles in an Edwardian mantelpiece can often dictate the entire style of a room. They can be bold and vibrant or delicate and pastel, and the soft furnishings should complement the tiles. Large houses and rooms will manage a large Victorian fireplace better than a small Edwardian one, which could well become lost in the space rather than dominate it. Dark wood mantelpieces flanked with chunky furniture will be more suited to a larger room, or a large white Georgian mantelpiece with complementary delicate-legged furniture.
Restoring a Wooden Mantelpiece
First of all clean the mantelpiece thoroughly, using a Wood Oil Soap to get rid of all the dirt that may have built up. Check over the wood and reseal splits or cracks with a clear-finishing wood glue. With a genuine antique wooden mantelpiece, the aim is to display it in its original state, but over the years it may have been re-varnished or even painted over. In these cases, think carefully about whether to strip and refinish it. Removing the original lacquer will devalue it as an antique. Consider employing a professional furniture restorer to bring out the best in the investment.
Stone Mantelpieces
A stone mantelpiece will certainly be the focal point of any room. Usually large and imposing, an antique mantelpiece will be a beautiful addition to any room. If choosing a Georgian mantelpiece, it is always best to adhere to the rules which made Georgian houses so beautiful, including making sure that the fireplace complements the size of the room, the windows and doors insofar as that is possible, and the furniture. Remember that Victorian fireplaces tend to be larger and sturdier despite their decorative aspects; will they over-dominate the room? Check the stone's surface for cracks that might weaken the mantelpiece. Consider buying some stone caulk for repair. Trisodium phosphate is a very good stone cleaner, but beware when using this chemical, as it can be very dangerous. Ensure the room is well-ventilated and put on rubber gloves, goggles, and a face mask before commencing work.
Cast iron mantelpieces
The best way to maintain a cast iron mantelpiece is by polishing it using wire wool (with gloves) and a metal polisher. Never use water, as the iron will eventually rust, causing more work. Scrub off the old polish and any existing rust using wire wool and then, using a new piece of wool, add a new layer of polish to bring up the shine.
Conclusion
An antique mantelpiece, of whatever material and from whatever era, is a beautiful addition to any home when it has been purchased with forethought, when it complements a room and its furnishings and is looked after with care. It is an item which will not only serve a purpose but which will be a piece of art and a topic of conversation for many years to come. It is also an investment and a significant contribution to the appearance and price of a property.