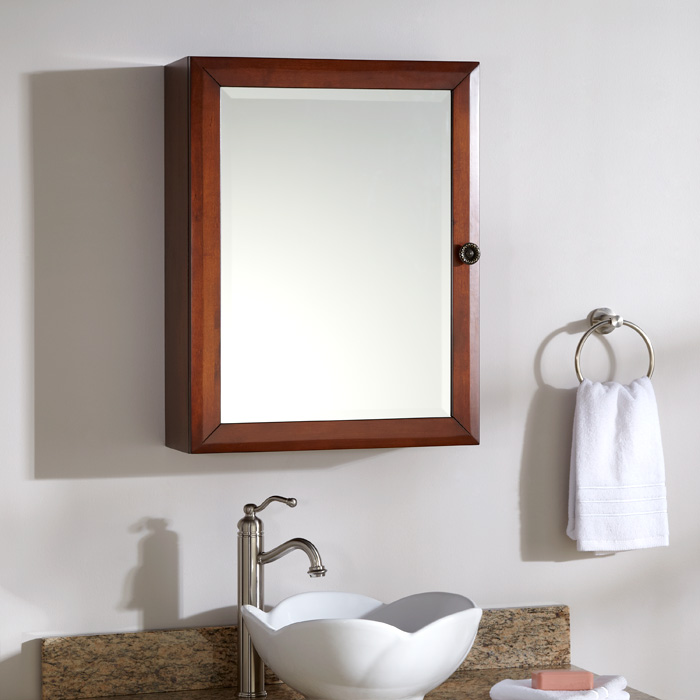 Having a medicine cabinet in the bathroom is a practical way of storing a first aid kit, painkillers, medications, a toothbrush, razors and skincare products. Antique medicine cabinets come in a variety of sizes and shapes, from oval or rectangular to a space-saving corner cabinet. Before looking for an antique medicine cabinet, it is useful to learn more about the subject of antiques. This guide offers helpful hints and tips on how to best choose an antique medicine cabinet for the home. It covers the history, the advantages of buying an antique, and how to care for the item.
History of Antique Medicine Cabinets
Centuries ago, medicines and cosmetics were stored in a chest to protect them from bug and rodent infestation, and to also protect the items from the curiosity of children. In the late 1800s to early 1900s, with the addition of hanging hardware added to the medicine cabinet, more and more people hung their medicine cabinets on the wall. Antique medicine cabinets were not decorative and had a simple design. They stored salves, toothpowders, aspirin and hair tonic. The medicine cabinets were soon available in an array of sizes and styles. Medicine cabinets were often made by the homeowner or a cabinet maker. Some are painted, while others have a varnished finish. Antiques look good when teamed with contemporary furniture, so pairing an antique medicine cabinet with a modern vanity unit could look especially stylish.
Discover Antique Medicine Cabinets
Buying an antique can provide several benefits. Firstly, it is a piece of history and it can offer something for the buyer's home that a contemporary piece cannot. They can be stylish and may well blend nicely with modern furniture. In addition, a medicine cabinet offers space saving features. There are various types of antique medicine cabinets, from the surface mount medicine cabinet that is wall hung, to the primitive medicine cabinet adorned with patterns. Popular antique cabinet-makers include William Kent, Thomas Chippendale, and George Seddon.
Materials Used in Antique Medicine Cabinets
The types of wood used to make kitchen cabinets are very similar to the types of wood that were used to make medicine cabinets. Some types include birch, maple, oak, cherry and alder.
| Part | Description |
| --- | --- |
| Cherry | Although a very dark wood, it will look especially distinctive when teamed with a basic white bathroom. Frequent exposure to sunlight can cause the wood to darken. |
| Birch | The shade of this wood varies from cream to red-brown. |
| Teak | An expensive hardwood whose shades vary from golden to dark brown. |
| Maple | Has a creamy white shade and often has a characteristic of mineral streaks. |
| Lyptus | A sustainable wood type that resembles mahogany. Varies in shade from mild pink to dark brown. |
| Knotty alder | Used in furniture for its rustic, casual appearance. The grain is similar to cherry and the colour ranges from light honey to red-brown. Sunlight can fade this wood type. |
| Mahogany | The shade of this wood varies from red to dark brown with a grained effect. |
Types of Antique Medicine Cabinets
Finding the perfect medicine cabinet for the bathroom can be a complicated process, which is why it is helpful to learn more about the different types of cabinets that are available.
| Type | Description | Advantages | Considerations |
| --- | --- | --- | --- |
| Surface mount medicine cabinet | Easy to install as they hang securely on the wall. | They average around 4 inches in depth, but this size can vary. | May have a stylish trim around its edges. |
| Recessed medicine cabinet | Although complicated to install, this cabinet provides a clean, custom look. | Can give a bathroom style. | Check the wall for any plumbing or ductwork blocking the space before fitting. |
| Corner medicine cabinet | It provides the ideal storage space for smaller bathrooms. | Tri-view cabinets have three mirrored panels, which open up for storage. | The cabinet may have fog proof mirrors. |
| Primitive medicine cabinet | Simple in design with decorative patterns. | Has internal shelving. | The primitive medicine cabinet has an antique feel. |
| Eastlake medicine cabinet | Victorian style cabinet | Includes carvings on its exterior. | A detailed antique. |
Factors to Consider When Buying an Antique Medicine Cabinet
Before buying an antique medicine cabinet, measure the space and note the size of the cabinet. Antique medicine cabinets were handcrafted. In each different type of cabinet there will be a different number of shelves and different internal dimensions.
Bathroom size – Take note of the sink and wall size and then decide on a medicine cabinet that will not be too small or large for the space. Take into account any windows, outlets or wall features.
Hand carvings – An antique medicine cabinet will be heavily carved and ornate. This type of cabinet will be a collectable item. Edwardian cabinets were decorated with floral designs.
Shelving – The internal elements of the medicine cabinet can be varied. Some shelves are suitable for dental floss, toothbrushes and toothpaste, while the larger shelving units can store skincare products and fragrance.
The finish – The finish on an antique will be thin and light. If the cabinet is in 'mint' condition this will be reflected in its price and it is likely to be quite expensive. But, antiques in 'excellent' condition can also hold significant value. Avoid buying an item that has marks and scuffs on its surface, as this can reduce its value.
Uniformity – Antique furniture was handcrafted because there were no machines in place to cut a precise line. An antique piece of furniture may not have a uniform finish, which differs from symmetrical modern furniture, but this can add value.
How to Care for Antique Medicine Cabinets
A bathroom can be light and spacious, but ultraviolet light is known to fade some varieties of wood, so consider removing this type of light if you are purchasing an antique medicine cabinet. Also, do not place the medicine cabinet directly over a heat source, as this can dry the wood. A dehumidifier can be useful to retain the moisture in the air. This will protect the furniture and reduce any shrinkage. Placing several small bowls of water on top of a heat source can also replace the moisture lost through central heating.
Avoid using a furniture spray, as they contain the waterproofing agent silicone, which is difficult to remove. In addition, household furniture sprays may leave a pleasant shine, but they do not preserve the patina. Use a dry duster, rather than a feather duster, and dust toward the grain. Broken feathers that come lose can damage the antique surface. Once or twice a year, use a paste wax on the medicine cabinet. Beeswax is also effective. Rub it into the grain of the wood until a deep-layered finish is achieved. Dust metal hardware gently, rather than polishing, as it could damage the wood beneath.
Popular Antique Medicine Cabinet Manufacturers
George Seddon
Thomas Chippendale
William Kent
Samuel Bennett
John Mayhew
William Ince
Gillow's
William Moore
George Heppelwhite
Thomas Sheraton
John Cobb
Accessories and Add-ons for Antique Medicine Cabinets
An antique medicine cabinet can be space saving and it can add style and panache to a room. The buyer can follow several steps to preserve an antique, and there are several inexpensive items that could prove worthwhile.
Cotton gloves
Small bowls
Beeswax
Cheesecloth
Soft cloth
Dehumidifier
Finding Antique Medicine Cabinets on eBay
Once you determine the type of antique bathroom cabinet you want to purchase, visit the Antiques portal on eBay, click on 'Antique Furniture' then 'Cabinets' and start searching item listings. The Categories list on the left-hand side of the eBay page helps to narrow the search.
Searching for Antique Medicine Cabinets on eBay
Search eBay listing titles for specific words when shopping for antique medicine cabinets. For example, to find a Chinese Antique Medicine Cabinet, type 'Chinese Antique Medicine Cabinets' into the search box, and then click the Advanced button to customise the results. Also visit eBay's Search Tips page for more advice on searching for antique medicine cabinets with keywords. If you can't find the exact antique medicine cabinet you want, try shopping eBay Stores.
Conclusion
Buying an antique medicine cabinet for your bathroom can provide an effective way to save space, while adding unique historical charm that will complement any modern decor. All of your personal items can fit on the various sized shelves, and it keeps the bathroom free of clutter. An antique medicine cabinet must be cared for, especially if it is bought in mint or excellent condition. Use paste wax or beeswax once or twice a year to preserve the patina, but avoid dusting the cabinet with a feather duster, as it can scratch the surface.
Popular antique furniture designers include Thomas Chippendale and Thomas Sheraton. An antique medicine cabinet will not have a uniform finish, unlike modern furniture that is perfectly symmetrical, but this can improve the item's value. Understanding the various types and styles of antique medicine cabinets will help make the purchasing process rewarding and easy. Once you have collected all of the relevant information, you can buy an antique medicine cabinet safely and securely on eBay.