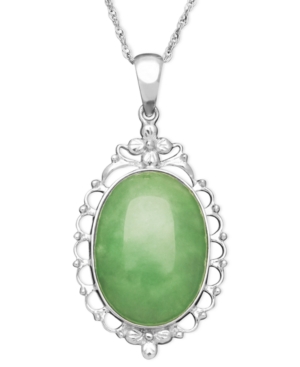 An antique necklace and pendant can be a wonderful addition to any jewellery collection. Each piece does not only look beautiful, but increases in value with age. There are many pitfalls when buying antique jewellery, which can be easily avoided if a buyer is aware of what to look for in a piece. The definition of "antique", according to many jewellers and antique dealers, is a necklace or pendant that is 75 years old and older. This is a flexible definition depending on which jeweller or broker is being asked.
When purchasing an antique necklace and pendant, there are several important things to look out for. There are many less-than-reputable sellers in the world of antiques. A good place to search for antique necklaces and pendants is a reputable antique shop or on eBay. Being able to identify antiques is something that is necessary. An antique necklace and pendant can be identified by its style, the wear on the piece, and any replacements or repairs that have been made.
Identify the Style
There are a variety of styles of antique necklaces and pendants. Many of the manufacturers of these antiques have a particular look to them. In many cases, the pendant and the necklace is very ornate. Even those that are for men have a specific look to them. The best way to identify an antique pendant and necklace is to look at those that are certified antiques. Compare the necklace and pendant to others that are definitely antiques, and specifically, look at the clasps and findings.
Push Lock Clasps
An antique necklace should have a sturdy clasp. Usually the clasp is a push lock clasp, which has a small piece that fits snugly inside a small box, and then lock together. This type of clasp often comes with a secondary lock that fits inside of a pin on the side of the full clasp.
Lobster Claw
A lobster claw clasp is one of the most common clasps. It is commonly used in modern, vintage, and antique jewellery. The lobster claw clasp is sometimes an indication that the piece is not a vintage or antique piece. Lobster claws are a very common replacement clasp.
Hook Clasp
The hook clasp is used for a lot of antique jewellery, and it is simple and uses the weight of the necklace to keep the clasp hooked. It consists of a simple ring and hook. Many of the heavier antique necklaces with pendants contain this clasp because of its simplicity.
Classic Antique Styles of Pendants and Necklaces
There are some classic styles of antique pendants and necklaces. These pieces of jewellery are timeless and there are many reproductions of them. Being able to tell whether each style is a vintage necklace, antique necklace, or a modern necklace becomes very important with each one of these styles.
Bayadere Necklace
The Bayadere necklace is a necklace that is composed of intertwined strands of small pearls. The antique variety of this necklace is relatively easy to distinguish. First, the clasp is most likely to be a hook and lock clasp. If the clasp looks to be the correct age then, although it sounds strange, clean the necklace. After the necklace is clean, a buyer should run his or her teeth over one of the pearls. If it is a real antique pearl, then it feels gritty against the teeth. This is one way to tell a real pearl from a fake without a jeweller or an expert to identify it.
Bib Necklace
A bib necklace is a necklace that is ostentatious. It is usually in the shape of a bib and is normally several layers thick. Many of the bib-style necklaces have multiple layers, and a look surprisingly like a jewelled bib. It wraps around the neck, beginning in a collar style, and then it moves into concentric rings outward to, or just below, the collarbone. There are bib necklaces that are worn at longer lengths, but the majority of the antique bib necklaces fall just below or across the collarbone.
Choker Necklace
The antique choker necklace is a classic style. It consists of concentric rings of chains, gems, or other stones that circle the throat. These are one of the most well-known styles of antique necklaces and pendants. A choker usually has one centre stone or pendant, which is the focal point of the style. Chokers can be made from chains of any type, for instance, they can be made of cloth or they can be made of leather.
Dog Collar
Although it is a strange moniker for an antique necklace, the dog collar is almost exactly what it sounds like. The standard antique dog collar is a very delicate necklace that sits wide on a woman's neck. It sits higher than the choker, and is less likely to hang below the throat, such as the choker. These necklaces were made popular by the aristocracy who often wore them to accentuate the neckline.
Lavalier Necklace
This necklace is one of the more delicate antique necklaces. The Lavalier necklace was named for the mistresses of Louis XIV. It is a long necklace that hangs down and terminates in a large pendant. This type of necklace was intended to accentuate the chest of the female wearing it. This particular style remained popular until the 1930s.
There are many other antique necklace and pendant styles. Each of these has its own unique properties and pendants. Many of the pendants were interchangeable, so only one actual necklace needs to be purchased, and then the pendants can be interchanged. By comparing the different styles of necklace that are classic with a necklace that may be antique, many of the reproductions are very close to the originals.
Signs of a Reproduction
There are several signs to look for when checking if a necklace is antique. One of the first things that is the most noticeable on an antique necklace is the clasp. Two things about an antique clasp tend to stand out. The first is the wear on the clasp. Most antique clasps are worn and have a patina on them from years of wear. The second thing that stands out is a maker's mark on the clasp. Most antique necklaces have a maker's mark on the portion of the necklace next to the clasp. Most antique artists signed their work and each maker's mark is different. This mark shows from where the necklace or pendant came and who designed the original piece.
Other signs of reproductions compared to antiques are the prongs which hold any gemstones. An antique necklace can have a prong that is thicker and sturdier. A reproduction usually has thinner, less sturdy prongs. The craftsmanship is generally much better on an antique necklace.
Buying an Antique Necklace and Pendant on eBay
When purchasing an antique necklace on eBay, a person needs to first navigate to the eBay website. After arriving at the website, input the search terms for the item you are looking for into the search box that is provided. After that, all that you need to do is click on the search button. This populates a list of the search results that match your search terms. These listings usually contain a small picture and a short description.
In order to view a more detailed description, click on the listing. This shows a long description of the item and a photograph of the product. From this page, you should read the description carefully to make sure that it is the item that you want. If there is any information missing, there is a button that allows you to ask the seller a question. Most sellers are more than happy to answer any questions that you may have about the antique necklace and pendant they are selling.
The listing page also contains the feedback that other buyers have left. Looking over this feedback allows you to get a feel for whether or not the seller is trustworthy. The eBay auction website also has a top seller rating, which designates the sellers with the best feedback and satisfied customers.
Conclusion
Purchasing an antique necklace and pendant does not have to be difficult. If the difference between a reproduction, a vintage, and an antique necklace is known, then it is relatively easy to judge an antique necklace. One of the best ways is to compare the amount of wear, the clasp, and the workmanship of a known antique necklace and pendant with that of one which you are considering for purchase.
There are many reproduction necklaces. Most of these contain poor craftsmanship and flaws in both the clasps and the prongs which hold the gems or stones. Most antique jewellery also contains a maker's mark or a hallmark near the clasp. This tells a person where the necklace is from and who made it. Reproductions rarely contain a maker's mark.
A good place to purchase an antique necklace is an antique shop or on an online auction website, such as eBay. On eBay, it is easy to tell if the seller sells antiques or reproductions through the feedback that other buyers have left on the listing page. Buyer feedback is not a luxury you have when buying at a jewellery shop.