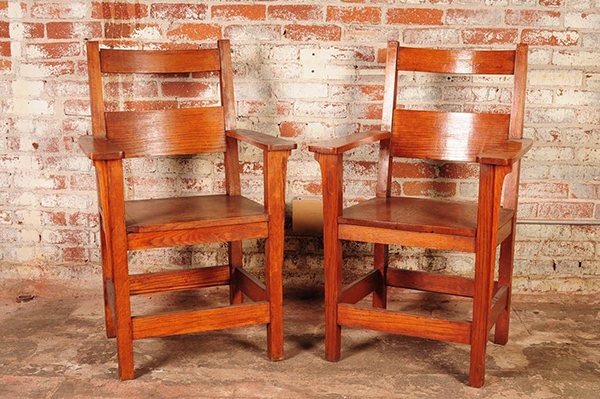 Whether looking to purchase for use or for collecting, antique oak chairs offer quality materials, superior hand craftsmanship, authentic styling, and the strength that comes with a hardwood like oak. Authentic antique furniture may be expensive, so it helps to know how to identify oak and understand its qualities and characteristics, to be aware of the different types of chairs and styles, and to identify particular characteristics of antique oak chairs.
Understanding Oak
A dense, strong wood, oak is resistant to insects and rot due to its high tannin content, making it an ideal material for making furniture. Oak furniture offers strength and durability, an attractive finish, and warm woody tones that complement any room in the home. Oak has been used to make furniture, buildings, flooring, and ships for centuries. Antique oak furniture is durable and hardy, and is held in high esteem today. Different types of oak exist, and are useful in differing ways, from French and European oak for wine barrels, Japanese oak for drums and musical instruments, and Mediterranean oak for bottle stoppers, or corks.
Different Types of Antique Oak Chairs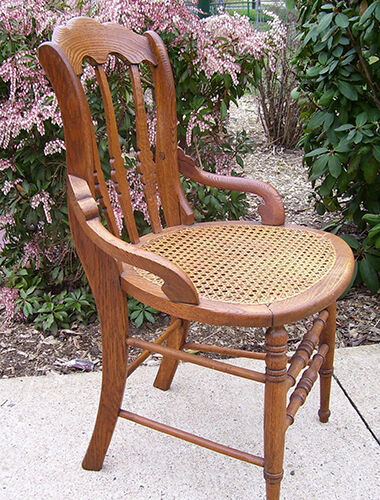 When it comes to buying furniture oak dining chairs provide exceptional quality, strength, durability, and a quality finish to last many years. When looking to purchase antique oak chairs, buyers must understand the different types of chairs available. Oak dining chairs feature a high back, usually with no arms. Rocking chairs feature a comfortable high back with curved wooden feet that allow the chair to rock back and forth. An antique hall chair, for use in a small space, is a narrow chair often with a wide, padded seat. Other types of antique oak chairs include desk chairs, throne chairs, mission chairs, and press back chairs.
Antique Oak Chair Styles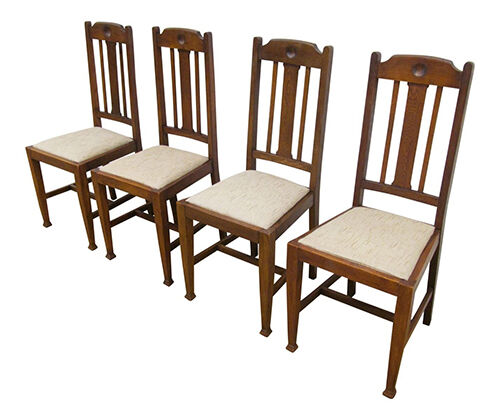 With antique oak chairs, several styles exist, depicting the common look, detailing, and style of a particular era. The Tudor era dates from 1485 to 1565, Jacobean styling dates from 1603 to 1625, Georgian furniture dates from 1714 to 1837, Victorian style dates from 1837 to 1901, and Edwardian style chairs date from 1901 to 1914. Each furniture style was influenced by the architecture, fashion, politics, and ruling families of each era. Some collect only one particular style of furniture, while others happily mix and match antique furniture from any of these styling eras.
Antique Oak Chair Features
With any antique oak chair, some features are common no matter the type or era of chair. Any type of authentic antique oak chair is heavy and has a solid feel. It is not hollow or flexible. Oak is a lighter coloured wood with warm, golden tones. Oak chairs are relatively expensive and highly sought after, and antique oak chairs usually have a lot of carved detailing in the wood. Many authentic antique oak chairs feature the maker's inscription or initials as an identification of its source and its creator.