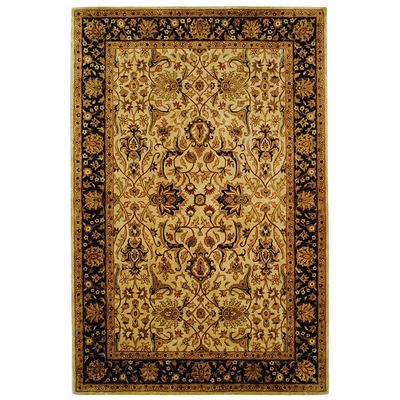 An antique Persian carpet is an item that can add character to any space. Thousands of years of history and advancement in the weaving process have left a wealth of different designs and styles of carpets to choose from. One ramification is that the sheer amount of options can be difficult to navigate without clear and concise consumer information. In an effort to provide that information, this buying guide will discuss a variety of topics related to Persian carpets: A history of Persian carpets, a discovery of antique Persian carpets as a contemporary consumer item, decorative parts of Persian carpets, a listing of commonly occurring motifs on Persian carpets, the different types of Persian carpets, factors to consider when purchasing an antique Persian carpet, and best practices to maintain an Antique Persian carpet. With these sections complete, consumers will be much better equipped to make purchase.
History of Antique Rugs
Iran has long been the world's epicentre of ornamental carpet production. During the Persian Achaemenid Empire (550-330 BCE) the first highly decorative carpets were created. Inside the tomb of Cyrus the Great, one of the Achaemenid Empire's great leaders, carpets adorned with narrative motifs and lavish details were found.
The golden era of antique carpet production occurred during the Safavid Dynasty (1492-1722). During this dynasty Persia took control over much of the Middle East with dominion over Iran, Azerbaijan, Armenia, Georgia, Afghanistan and large parts of Iraq. Within this empire rug creation flourished. New techniques of flat weaving were introduced that greatly increased the speed and the decorative complexity in the carpet making process.
Persian carpets, during the 17-18th century, were decorative items sought after by the nobility and aristocracy of Europe. Not until the rise of the Industrial Revolution, and the corresponding growth of the middle class in Europe and America, would antique carpets become a consumer item enjoyed amongst a greater section of society.
Discover Antique Persian Carpets
Persian carpets as a consumer item are still endowed with intrigue and a foreign allure. Reaching back to a deep history of motifs and weaving techniques, this attractive item is often the centre piece of a room. There are a variety of sizes and styles that can accommodate most rooms and spaces. Consumers are tasked with finding a rug that really resonates with them. The following sections will give some discussion of the most common design of antique carpet and the motifs that fill in that design.
Common Shapes and Types of Antique Persian Carpets
The following list includes the common shapes that occur in antique Persian carpets.
Rectangular Carpets – Most antique rugs are rectangular. Different dimensions available range from 2/1 to 4/3 length to width.
Runners –The length of this carpet is much longer than the width. Often used to decorate hallways.
Square Carpets – A square carpet has even width and length.
Area Carpets – Large rectangular carpet that takes up a good portion of a room and has furniture placed upon it.
Irregular Shaped Carpets – This outlier category includes hexagonal, octagonal and triangular shaped carpets.
Parts of Antique Persian Carpet
The following section lists some of the common design elements of Persian carpets.
| Part | Description |
| --- | --- |
| Main Border | The widest decorative border around the outside of the carpet. |
| Guard Border | The narrower decorative border that separates the main border and the field. |
| Field | The main decorative space of the carpet, inside both borders. |
| Medallion | The round, oval or polygonal design element that is in the centre of the field. |
| Corner Brackets | Designs in the corners of the field at the guard border. |
| Fringe | A decorative boarder of thread on the outside edges of the carpet. |
Common Motifs Found on Antique Persian Carpets
Antique Persian carpets have a number of motifs that decorate them. The following list details a few of the most commonly occurring.
Type

Description

Considerations

Zil-I-Sultan

A continuous motif that resemble a vase of roses.

Commonly woven in Qum and Abadeh in Iran.

Mina-Khani

Repeated daisies with interlinked circular lines and diamonds.

An exclusive design that only certain weaving guilds were allowed to create.

Shah Abbassi

A grouping of palmettes

in medallion design.

Used in the centre and bordering of designs.

Rosette

A circular design radiating from the centre medallion that resembles a petal of roses.

Often used in military award decoration.

Guli Henna

A diamond shaped bouquet medallion with plant like motifs, it has flowers and leaves around the diamond.

Guli Henna refers to the Henna Flower.

Herati

Repeated design of flowers within a diamond, surrounded by curved leaves that are parallel to each other.

This motif is available in either geometric or curvilinear designs.

Gul

Repeated octagonal patterns often with a floral theme.

Common in carpets originating from Turkman, Gorgan, and Khal
Factors to Consider When Buying Antique Oriental Carpets
When researching antique carpets the term 'carpet' is often used interchangeably with antique rugs. In many occurrences they are the same item although there are some differences that need to be taken into consideration. A rug is smaller than a carpet - it is 3.2 square meters or less. Conversely, a carpet is 3.2 square metres or larger. As a consumer it is important to be aware of this semantic difference.
The knots per square inch count –
A great test of a carpets craftsmanship is to complete a knots per square inch test. (KPSI). This test is done by counting the number of knots in one inch (2.5 cm) on the bottom of a rug. Complete this test as follows. With a tape measure, measure out one inch, then count the total number of knots that can be found in that inch. The more knots, the higher quality the carpet is. Lower quality wool may have a KPSI of 35-50 while high quality silk could reach 300 KPSI or more. A good handmade antique Persian carpet should have a KPSI between 150 -250.
Hand knotted versus machine woven carpets -
Hand woven carpets, as a rule, will be of higher quality than machine or loom woven carpets. A carpet that is knotted by hand is an item that is far more valuable. To test whether a carpet has been hand knotted look at the back side of it. A hand woven carpet will have some imperfections on the back side stitching. A machine, or loom, woven carpet will be perfect.
The colouring of the carpet –
When purchasing an antique Persian carpet it is important to assess its colouring. In the historic carpet production technique natural vegetable dyes were used. The dyes used did not possess the vibrant quality of contemporary artificial dyes. Vegetable dyes, and the authentic worn colouring they give antique carpets, raises the value of the carpet. As a consumer, be wary of a carpet that is listed as antique but has vivid, bright colouring on it.
How to Care for an Antique Persian Carpet
An antique Persian carpet is an item that requires some special considerations in its care. The following list will detail a few best practice tips to maintain an antique carpet.
Place a carpet pad under an antique carpet to help protect against wear, tear, and fading.
Vacuum the carpet regularly, using only a nozzle attachment with a carpet brush. Do not use an overly powerful setting. Extreme suction can cause damage to the carpet.
Clean spills immediately. Apply club soda and blot the spill.
Flip an antique carpet every year. Expose both sides of the carpet to foot traffic and varying sunlight exposures, this will even out fading.
Exercise caution when allowing children or pets near antique carpets.
Keep the carpet dry. Moisture and wetness can cause permanent damage.
Accessories for Antique Persian Carpets
The best accessories for Persian carpets include items to maintain them and furnishings that can complement them. A few possible accessories could include.
Carpet pad
Brush vacuum nozzle
Chains
Tables
Lamps
Desks
Finding Antique Persian Carpets on eBay
Once you determine the type of antique Persian carpet you want to purchase, visit the Antiques Portal on eBay, click on 'Carpets/ Rugs' and start searching item listings. The Categories list on the left-hand side of the eBay page helps to narrow the search.
Searching for Antique Persian Carpet on eBay
Search eBay listing titles for specific words when shopping for antique Persian carpets, to find antique Persian square carpets, type 'antique Persian square carpets' into the search box, and then click the Advanced search button to customise the results. Also visit eBay's Search Tips page for more advice on searching for antique Persian carpets with keywords. If you can't find the exact antique Persian carpet you want, try shopping eBay Stores.
Conclusion
Once equipped with more consumer knowledge, the task of finding and purchasing an antique Persian carpet becomes a manageable one. This buying guide has discussed the varieties and aesthetic looks of Persian carpets while providing tips on how to assess their quality. You are encouraged to use this information to search for Persian carpets on eBay or through other vendors. Once you have collected this information, you can buy an antique Persian Carpet safely and securely on eBay.