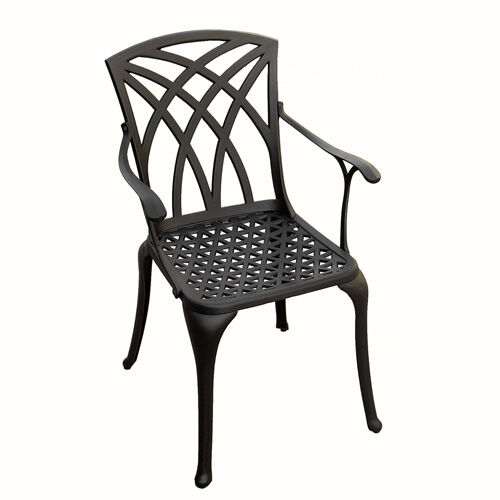 Adding an antique chair to a furniture collection can add a touch of class and elegance to any room in a home. While there are many different kinds of antique chairs to choose from, antique Regency chairs are beautifully ornate pieces that offer old-world charm and style. These amazingly crafted pieces come from a time of renewed beauty and grandeur and become an instant focal point in any setting. The Regency Era was a vast period in English history, and it can seem dauntingly large to inexperienced buyers. Learning more about the types of materials, parts, and history of these wonderful chairs can help buyers in narrowing down their choices to find pieces that work best for their particular tastes and décor. Understanding the elements of purchasing an antique Regency chair will help make the purchasing process easier.
History of Antique Regency Chairs
England's Regency Era occurred from 1795 to around 1837, and was named after the Regency of King George III. It ushered in a new era of British architecture, culture, and design. In terms of furniture, the Regency Era was focussed on the past, evoking the designs of Rome and Greece while maintaining a sense of simplistic elegance. Some furniture was directly copied from ancient sources, with styles that reflected an outward sense of wealth and ancient style. The focus of this style was sheer opulence, and it was quickly embraced by the aristocracy in an era of spending and indulgence. The chairs and other furnishings would all reflect this inherited design. This style remained popular until the Victorian Era, when the excess of the aristocracy was reigned in and Georgian Era came to an end.
Discover Antique Regency Chairs
The chairs of the Regency Era are perhaps some of the most splendid looking in history. These elegant pieces retain an historical grace and charm. Tall and slender, Regency chairs literally stand higher above the rest. The use of mahogany wood and brass decorations helped create a style that is sure to fit in any study or dining room, making them a valuable and attractive home furnishing piece.
Types of Regency Chairs
Though the Regency era was defined by a return to classical styles, Regency chairs could still be found in many different styles that had become popular in the previous Georgian Era of British history.
| Type | Description |
| --- | --- |
| Bergère | This eighteenth century favourite continued to be popular in the Regency period. It was an upholstered chair with closed sides and often reflected Rococo style. |
| Dining Chair | This simple, square-backed seat was a staple of the era and often came with upholstered seats. |
| Ribbon-Back Chair | This elegant chair is most notable for its ornate ribbon-backed splat that owes its design to the famous Chippendale style which continued on in this era. |
| Trafalgar Chair | This curved-back chair celebrated the life and death of Admiral Nelson. |
Factors to Consider When Buying Antique Regency Chairs
Prior to purchasing an antique Regency chair, several factors should be considered that will help in identifying, valuing and making the purchasing process a rewarding experience.
Small marks and limited damage should only be a small factor to be considered before purchasing an antique Regency chair. These marks occur over time and many of them can be easily fixed. They do not severely impact the structural stability of the chair.
Decide what style is most important and plan accordingly. Decide exactly what look and design of chair is needed so the search can be targeted to match existing décor and personal preferences.
Consider the option of buying sets one piece at a time to create a more unique or eclectic collection.
Consider the intended use of the chair, as well as how it will be used after purchase. Do not put undue pressure on the antique chair by deviating from its intended use. Select a chair that will fit well in the area or room in which it will be placed.
Some Regency chairs will be more expensive to purchase than others, depending on availability, age, condition, and style. It is important to determine budget limitations prior to searching for antique Regency chairs to help narrow down choices and make finding the right chair an easier process.
Typical Features of Regency Chairs
Chairs from the Regency era in England had a very specific style. This led to a number of unique features that were heavily relied on during this time frame.
Classic Inspiration - Much like previous periods, the Regency era drew heavily on inspiration from Greek and Roman designs to create intricate and complex designs. Mythological creatures and Roman laurels can be found imprinted in many pieces. Unlike other eras though, Regency furniture was often directly copied from old blueprints. Even Egyptian couches came into vogue during this period.
Heavy and Dark Materials - Mahogany wood was the preferred choice for furniture during this period. As such the items made tended to have a dark appearance and heavy feel. This also has made them more resistant to damage and aging. Brass was also a favoured material for inlays and these added details helped to further push the feel of antiquated beauty.
Paw Feet - Regency chairs are renowned for the paw-like feet that act as legs. These were directly influenced from Egyptian designs and are intended to evoke the feel of ancient structures and furniture.
Beautiful Upholstery - Antique Regency chairs, like most furniture from the Regency period, featured beautiful and elaborate upholstery. This promoted the standard of comfort and wealth that is often associated with the Roman designs they were patterned after.
How to Care for Antique Regency Chairs
Much like any other antique furniture pieces, the simplest way to protect and maintain these beautifully crafted chairs is to be respectful of their age and intended use. Avoiding unnecessary stress or damage can keep these chairs functional for years to come. The complex nature of any repair to antique chairs cannot be considered lightly. Seek the help of experienced professionals should anything more than minor maintenance be required. A simple dusting and waxing every few months can keep antique chairs looking fabulous. Avoid staining the chairs and use the proper wax and cloth designed for antiques to ensure proper care and avoid scratching. Don't place antique Regency chairs in direct sunlight, and keep them away from sources of heat such as vents and fireplaces. Maintaining an environment of consistent humidity works best to ensure antique chairs do not dry out. Taking a few simple precautions can help keep antique Regency chairs in great condition.
Popular Antique Regency Chair Manufacturers
While the changing styles of the Regency era led to bold new creations, the top manufacturers and designers were predominately established in the Georgian Period and carried on their high quality craftsmanship. Some popular manufacturers included:
George Hepplewhite (1727-1789). Though he passed on at the beginning of the Regency era, his wife's publication of his designs in 1788 was hugely influential on British design and manufacturing.
Thomas Chippendale (1718-1779) was another furniture maker from the Georgian. Chippendale designs adapted and flourish in the Regency Era and far beyond to make valuable and highly sought out collector's items.
Thomas Sheraton (1751-1806) saw his designs flourish during the era as he produced the thin lengthy pieces that Regency era buyers loved.
Thomas Hope (1757-1820) was an architect who supplied the furniture in those homes he designed; his designs were heavily influenced by the popular styles in the Regency Era.
Robert Gillows (1704-1772) created his furniture in Lancashire and was succeeded by sons in the Regency era.
Finding Antique Regency Chairs on eBay
Once you determine the type of antique Regency chair you want to purchase, visit the Antiques portal on eBay, click on the sub-category `furniture´, then on the sub-category `chairs´ and start searching item listings. The Categories list on the left-hand side of the eBay page helps to narrow the search.
Searching for Antique Regency Chairson eBay
Search eBay listing titles for specific words when shopping for antique Regency chairs. For example, to find King William IV Dining Chairs, type `King William IV Dining Chairs´ into the search box, and then click the Advanced button to customise the results. Also visit eBay's Search Tips page for more advice on searching for antique Regency chairs with keywords. If you can't find the exact antique Regency chair you want, try shopping eBay Stores.
Conclusion
The unmatched beauty and splendour offered by antique Regency chairs is just one of the many features that make them so popular. Rich with historical charm, and often valuable, these chairs are a wonderful accent piece that looks great in any room. A deeper understanding of the different styles, types, designs and unique characteristics that make these chairs so collectable can make finding the right antique Regency chair an easier process. Knowing how to properly care and maintain antique Regency chairs also helps purchasers keep their precious antiques in great condition. Once you have collected this information, you can buy antique chairs with your preferred style safely and securely on eBay.