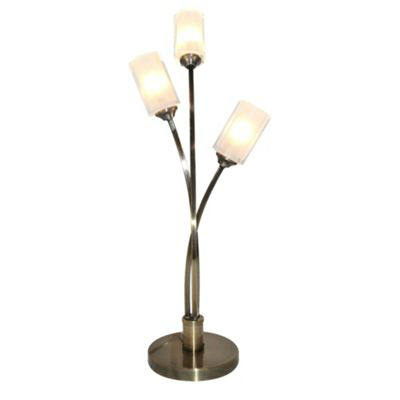 Regency period furniture dates back to the period between 1795 and 1837. Furniture makers gained inspiration from the difference styles that were going in design throughout the world. Buying an antique Regency lamp online or through a bricks and mortar store can add elegance to any home. Antique items can be pricy, but it is a worthwhile investment, since the longer the item is in an individual's possession, the greater it can be worth. Caring for such an item is important, as any piece of antique furniture or jewellery that has been well looked after will maintain its value and be a sought after piece by collectors. This guide goes into the history of the Regency period, what advantages an individual can gain in buying an antique Regency lamp, the popular style of lamps, a list of manufacturers, how to care for the piece, and how to find a piece on eBay.
History of Antique Regency Lamps
During the Regency period, the main types of lighting available were candles, oil lamps or rush lights. Candles were expensive but provided good light, oil lamps left soot on the walls and ceilings and were burnt with various oils, some of which harboured an unpleasant scent (fish oil), and rush lights were pieces of wood dipped in grease, placed into a holder and lit. The Regency era dates back to the period between 1795 and 1837 when King George the third was classed unfit to rule the country, and his son the Prince of Wales ruled under Prince Regent then George the fourth, after his father's death in 1820. The Regency period brought change in cultures, fashions, architecture, politics and literature, Regency furniture dates back to pre-Victoria times. The antique style of Regency furniture can add value. Antique pieces from Egypt, Greece and Rome brought inspiration to furniture designers, who sought to copy the designs. Mahogany was the choice of wood for many of the furniture makers, and brass decorated the item, while rosewood veneers made the piece look attractive.
Discover Antique Regency Lamps
There are many advantages to buying a piece of furniture from the Regency era. These pieces of furniture often have a look of wealth, which is why designers carefully studied the craft to re-create pieces. Regency lighting brought elegance, as simple clean-cut designs mixed with minimal decorations. Regency lighting utilised carefully proportioned shaped fittings incorporating acanthus leaves, decorative scrolls and garland motifs, to name a few. Popular lighting included oil lamps, lanterns, candelabras and chandeliers, with the large majority of Regency lamps manufactured from polished brass or silver.
An antique Regency lamp can be purchased for different reasons. Some buyers may buy one purely for decorative or functional purposes, seeing it as a great addition to their home. Others will buy an antique Regency lamp for investment purposes believing that it will be likely to increase in value over future years.
Components of an Antique Regency Lamp
A popular type of antique Regency lamp is the chandelier. Detailed below are the components of this delicate piece.
| Part | Description |
| --- | --- |
| Candles | Some chandeliers feature candles, which can be purchased in an array of colours to suit the design. Alternatively, some candles can fit a candle tip bulb. |
| Ceiling cones or plate | Ceiling cones or plates are ideal for covering unflattering hooks and electrical connections on the ceiling. |
| Drops and buttons | There is a wide variety of drops and buttons to craft a unique antique Regency lamp and secure it on the ceiling. |
Types of Antique Regency Lamps
In the Regency era there were only three types of lighting – candles, oil lamps and rush lights. Since the Regency era, the antique styles have remained, and the preservation of such pieces makes them highly collectable.
| Type | Description | Advantages | Considerations |
| --- | --- | --- | --- |
| Chandeliers | Add elegance to any room. | Attract light into the home. | Delicate and must be handled carefully. |
| The Argand lamp | A new type of oil burner with a cleaner flame. | Invited by Swiss scientist, Aime Argand. | Provides ten times more light than earlier oil lamps. |
| Traditional antique brass pendant | Has a dimming feature. | Makes a great centerpiece. | Important to ensure that it is secured firmly to the ceiling. |
| Berkeley | Features a crystal glass base. | Various sizes and designs available. | An elegant table lamp. |
| Candelabra | Beautifully designed holder for candle. | Secures candles. | May require regular cleaning. |
Factors to Consider When Buying an Antique Regency Lamp
There are so many varieties of antique Regency lamp. The genuine article will date back to the early 1800s, but if maintained and looked after, it will become a prized item by collectors worldwide.
Style – There are a wide number of antique Regency lamps available, from table-top lamps and floor lamps to chandeliers and candelabras. Before buying the item the buyer should decide on exactly where the item will feature in the home.
Age – If the item in question dates back to the Regency era it will be more expensive than a mass produced lamp that may have been produced as a replica. If buying from eBay, ask the seller further questions if and when necessary.
Chandeliers – Although one of the most expensive antique Regency lamps, a chandelier may feature a compartment for candles, but wax could drip down onto the drops and buttons and require regular cleaning. The buyer should decide whether the item will be used in a functional and practical way, for the purposes that it was originally designed, or if it is to be used for purely decorative purposes.
How to Care for Antique Regency Lamps
Cleaning any style of antique Regency lamp can be simple but it is important to ensure that the product is maintained at least once a year, especially a chandelier. A table lamp can be effortlessly maintained by wiping away dust with a damp cloth. Before taking apart a chandelier to clean, make a slight sketch of where the parts fit. Alternatively, a digital camera can trigger the memory when the time comes to reassemble the pieces.
The owner should dust the chandelier with a soft cotton flannel, or apply the cool heat of a hairdryer to blow off the dust. Then they should use a comforter underneath the work area to catch any falling pieces and prevent their breakage. Move around the chandelier to clean the piece, rather than twirling it around. Carefully remove the pieces and place into a container before adding mild detergent and hot water. Rinse each piece under hot water. Alternatively, mix ammonia with vinegar to add an incredible shine on each piece.
Cleaning a chandelier in the winter can help the bulbs and pieces to air dry rapidly, or alternatively, place them on a towel and allow to air dry. To clean the body of a crystal chandelier, spray glass cleaner onto a soft flannel and wipe over. Avoid spraying glass cleaner directly onto the chandelier. Carefully place each piece back into its original place, and work from the inside out.
Accessories and Add-ons for Antique Regency Lamps
Many of the pieces disclosed here are listed in the part of the guide listed 'how to care for antique Regency lamps.' Use the digital camera to take a picture of where the crystal fits into the chandelier, or sketch it on a piece of paper. Always use the mildest heat on the hairdryer when blowing dust off of the chandelier.
Soft cotton flannel
Vinegar and ammonia (to clean crystal chandelier)
Hairdryer
Digital camera
Mild detergent
Container
Pencil and paper
Comforter (to catch any parts of the chandelier)
Finding Antique Regency Lamps on eBay
Once you determine the type of antique Regency lamp you want to purchase, visit the Antiques portal on eBay, click on 'Lamps' then 'Victorian' and start searching item listings. The Categories list on the left-hand side of the eBay page helps to narrow the search.
Searching for Antique Regency Lamps on eBay
Search eBay listing titles for specific words when shopping for antique Regency lamps. For example, to find Tiffany style tea lamps, type 'antique Regency lamp' into the search box, and then click the Advanced button to customise the results. Also visit eBay's Search Tips page for more advice on searching for an antique Regency lamp with keywords. If you can't find the exact antique Regency lamp you want, try shopping eBay Stores.
Conclusion
Regency lighting has come a long way from the early days of candles, rush lights and oil lamps, however, an antique collector can still purchase lanterns and oil lamps. Candelabras are pleasant pieces of furniture to fit in a home, as are chandeliers, although both can be take a lot of time to maintain due to the many hundreds of fixtures and fittings. In the early 1800s, all Regency furniture was deemed valuable and it became an inspiration to many future furniture designers. Browse through an online store like eBay, and if you are ever unsure about the item, always ask further questions to the seller.
Once you have collected this information, you can buy an antique Regency lamp safely and securely on eBay.