Before the advent of modern communications such as telephone, email and twitter the only option for long distance communication and indeed day to day record keeping was the written word, ink on paper. Even the humble pen is some what taken for granted in modern times however in times past a pen required certain accompanying articles such as ink wells, quills and blotter paper in order to function efficiently. Of course all these accessories were invaluable to their owners and as such needed suitable furniture to house them all together as well as provide a soft writing surface, storage for various letters and papers and finally creating a clean work space so that one might not become distracted from the important task of putting ink on paper. Occasionally the furniture was even required to conceal papers and there is a lot of fun to be had in trying to locate secret compartments and hidden drawers with the hope that maybe something special will be contained within.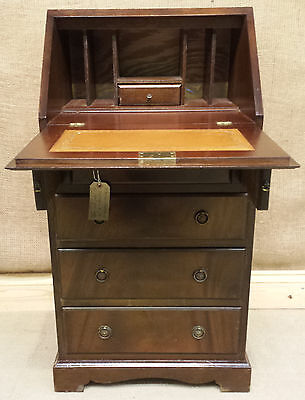 Drop Flap Bureau
"bureau (ˈbjʊərəʊ)
n, pl -reaus or -reaux (-rəʊz) 1. (Furniture) Brit a writing desk with pigeonholes, drawers, etc, against which the writing surface can be closed when not in use." from the Free Dictionary.

The defining feature of the typical bureau is the drop flap which conceals the writing surface when closed and the fitted interior gallery providing letter racks and trays. Nearly all examples will contain drawers below the writing surface for extra storage which in turn requires the drop flap to extend over the drawer fronts in order to accommodate the writers legs. The writing surface of the drop flap is most commonly inlaid with leather or felt of various colours to help the ink take to the paper. The drop flap is often supported on two extendable arms. In some cases secret compartments and hidden drawers were incorporated into the designs adding value and character to the piece.
In older examples the leather or felt inlay may require replacement, small drawers from the fitted gallery may be missing or damaged when dislodged during transit. Finally it is always worth checking if there is a key available with a bureau as nearly all were lockable to prevent unwanted eyes reading private correspondences.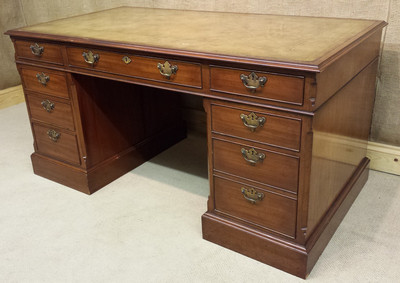 Twin Pedestal Desk
Twin pedestal desks are identified by the two pedestals which support the writing desk top. The pedestals most commonly contain drawers on one side and a cupboard door on the opposite side or another bank of drawers. The desks are usually finished front and back and can be placed in the centre of an office with out needing to be placed against a wall. From the mid-Eighteenth Century many of the pedestal desk featured inlaid leather writing tops and a larger central drawer located in front of the writing position. Most of these desks come in three sections allowing them to be transported more easily. There are many incarnations and sub-types of twin pedestal desks which will feature in a later guide.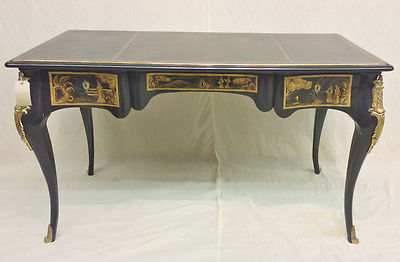 Writing Table
The writing table is a simpler version of the pedestal desk in that it retains the often leather inlaid writing surface but stands on legs rather than pedestals. This make for a less dominating piece of furniture and cannot provide the storage options of the examples above.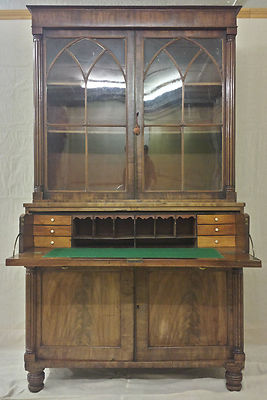 Secretaire
secretaire (ˌsɛkrɪˈtɛə)
n
1. (Furniture) an enclosed writing desk, usually having an upper cabinet section
[C19: from French secrétaire; see secretary]Collins English Dictionary – Complete and Unabridged © HarperCollins Publishers 1991, 1994, 1998, 2000, 2003
A secretaire is very similar to the bureau as described above however they more often feature a vertical drop flap rather than the angle drop flap seen on most bureaux and will have a top section bookcase with glazed doors. The example shown above is somewhat unusual in that below the writing gallery the are two cupboard doors however most commonly a bank of drawers would be found instead such as
this
example from our eBay store