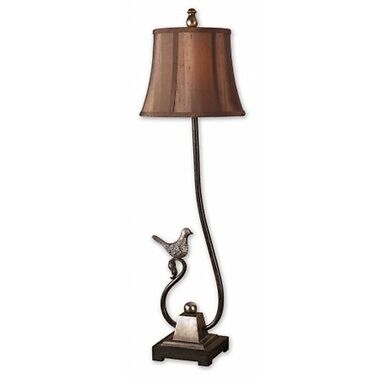 Rustic furniture tends to be very appealing to many because it reflects a lifestyle that was simpler and more in tune with nature. Makers of rustic furniture used simple designs on different woods and incorporated other items found naturally or that reflect the origins of the piece. Lamps were one of the future pieces that were also made in this vein. Rustic lamps were crafted with a variety of different materials, including glass, iron, oak, steel, mahogany, beech and walnut. Rustic lamps also come in a variety of styles to suit a range of different purposes. Antique lamps are generally considered to be 100 years and old, where vintage lamps are often considered those 50 to 100 years in age. This buying guide will provide consumers with information so they can make an informed choice when looking to purchase an antique rustic lamp. The following areas will be covered: a history of rustic lamps, common parts of lamps, types of antique rustic lamps, factors to consider when buying an antique rustic lamp, and best practices to clean and maintain antique rustic lamps.
History of Antique Rustic Lamps
Rustic furniture was developed in the mid- to late-nineteenth century. The rugged wilderness of America provided the inspiration for this style of design, which looked to the land for both materials and creative ideas. The Adirondack Mountains of upstate New York is credited with being the birth place of rustic furniture. Caretakers of large manor houses and cabins made furniture during the winter, while maintaining the properties for wealthy owners. These pieces of furniture would often incorporate logs, twigs and other softwoods. It was during one such winter that the most iconic type of rustic furniture was created by Thomas Lee – the Adirondack chair. The Adirondack chair was a simple wooden chair that is still seen at camp sites, cottages, and lakes the world over today.
Rustic furniture is sometimes associated with the great depression and hard economic times. Rustic furniture was crafted from nature and provided for people during tough times. Some find that it is this philosophy that still makes this style of furniture popular now. Rustic lamps made from simple materials epitomised the rustic style and are a great example of home furnishings that are popular today. Rich with historic charm, antique rustic lamps are a wonderful complement or accent piece for any home.
Discover Antique Rustic Lamps
Rustic furniture was well-crafted from strong materials, and it was designed with a focus on quality that was built to last. The category of antique rustic lamps is an example of an item that was made to show human resilience in the face of hardship. It has developed into a very popular type of style that offers simplistic and natural design that complements many different decors. It is important to remember that items that are 100 years and older are generally considered antiques, as opposed to vintage or retro. Many new lamps have been constructed in similar styles of the past, making it imperative to conduct a little research beforehand when considering the purchase of an antique rustic lamp.
Materials Commonly Used in Antique Rustic Lamps
Below is a list of materials that are used regularly to make antique rustic lamps that are available on eBay.
| Part | Description |
| --- | --- |
| Glass | Material that can be easily formed into different shapes, colours and styles to use as lamp shades. |
| Iron | A strong, durable metal used occasionally in the bases of antique lamps. |
| Oak | A strong, light-coloured, hardwood that is also resistant to fungi. Historically used to make furniture. |
| Steel | An extremely strong material that forms a near impermeable base for antiques. |
| Beech | A hard, strong, heavy wood that resembles maple. |
| Mahogany | Noted for a trademark reddish-brown colour. |
| Walnut | A strong, hard and durable wood that is not excessively heavy. Often used in furniture construction. |
Types of Antique Rustic Lamps
The table below lists a few of the common variations of antique rustic lamps available on eBay. Choosing a particular type or style of lamp often depends on the intended function and purpose of use.
| Type | Description | Advantages | Considerations |
| --- | --- | --- | --- |
| Floor Lamp | A raised base lifts the light fixture to various heights above the floor. | Does not have to be elevated on a table. | Cumbersome to move. |
| Table Lamp | A lamp placed on a table to provide light. | Light weight and portable. | Needs a table to be placed upon. |
| Bedside Lamp | A small lamp placed on a bedside table. | Convenient to use while in bed. | Does not provide as much light as most other lamps. |
| Desk Lamp | Lamp used on a desk or work space. | Small and portable. | Generally smaller in size. |
| Oil Lamp | Lamp with a chamber for burning oil. | An authentic, antique lamp. | Not as convenient as electric lamps. |
Factors to Consider When Buying an Antique Rustic Lamp
There are several factors that should be considered before purchasing an antique rustic lamp.
Is the item an antique?
A bit of wear and tear on a rustic lamp, specifically slight discolourations on the paint, could be evidence that the lamp is legitimately an antique. However, be wary that some items can be made to look antique. Find out more about the origin of the lamp, and establish if there are any maker's marks present.
Wear is okay, damage is not.
Signs of some wear are positive for an antique. However, this should not be confused with outright signs of damage. When purchasing an antique lamp, be sure to keep an eye out for damage. If there are worm holes or rotting on the lamp's surface, visible saw marks, or cracks and deep scratches in the original material, it is probably a good idea to look for another item. Structural damage on any antique will greatly devalue the item.
Size/ style/ lighting requirement.
Things to be considered when purchasing an antique rustic lamp include: where it will be placed, how much space it will require and what other furniture will be complementing it. Bear in mind lighting requirements for the room it will be placed in too.
Study what you intend to buy.
Going to museums to look at antiques and learning as much as possible about rustic antique table lamps, and the entire rustic furniture tradition, can provide much needed context to potential buyers.
How to Care for an Antique Rustic Lamp
Clean the base of an antique lamp by removing the lamp shade and wiping it down with a slightly damp cloth. The procedure for cleaning a lamp shade depends on whether the shade can be submerged in water or not. If the lamp shade can be submerged, place it inside a tub of water that has a few drops of laundry detergent in it. Use a cloth and scrub the dirty areas as required while the lamp shade is submerged. Rinse afterwards and leave to dry. If the shade cannot be submerged, first dust it with a dry cloth. Next, concoct a "dry cleaning" solution of ¼ a cup of water with a few drops of mild soap in it. Dab this solution, gently, on dirty areas of the shade. After this is completed, remove excess soap with a dampened sponge. Reapply the lamp shade back to the base of the lamp when done.
Accessories for Antique Rustic Lamps
A few suggestions for accessories include items to maintain the lamp, and items that perhaps could complement it.
Cleaning cloths, sponges
Mild soap
Desk, tables, chairs
Light bulbs, lamp fuel
Finding an Antique Rustic Lamp on eBay
Once you determine the type of antique rustic lamp you want to purchase, visit the Antiques portal on eBay, click on 'Lamps' and start searching item listings. The Categories list on the left-hand side of the eBay page helps to narrow the search.
Searching for an Antique Rustic Lamp on eBay
Search eBay listing titles for specific words when shopping for an antique rustic lamp. For example, to find an antique rustic table lamp, type 'Antique Rustic Table Lamp' into the search box, and then click the Advanced button to customise the results. Also visit eBay's Search Tips page for more advice on searching for an antique rustic lamp with keywords. If you can't find the exact antique rustic lamp you want, try shopping eBay Stores.
Conclusion
A rustic lamp can bring a rich sense of character to a home. With its natural designs and construction, these lamps are wonderful accent pieces to any room. There are a wide variety of different types of lamps to suit different purposes. Antique rustic lamps are also made in a range of different materials and styles, sure to complement any room in the house. It is important to understand the different characteristics and features that make these antique pieces so unique. This guide provides some basic information on antique rustic lamps that can help make searching and purchasing these heritage pieces and easier process. Once you have collected all the information you need, you can buy an antique rustic lamp safely and securely on eBay.