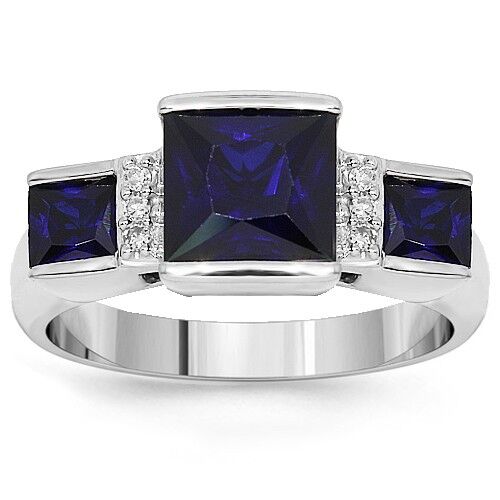 It is that special day, and the time to pop the question has arrived. Before getting down on one knee in front of the London Eye, one needs to buy a ring that is both beautiful and affordable. Diamond rings can be quite expensive, but many people believe other gemstones seem tacky or inelegant as engagement rings. One exception is the sapphire. Sapphires come in all different colours, from white to deep blue to cognac. The beauty of the sapphire is that it can make an engagement ring cost hundreds of pounds less while adding character and personality to the ring for one's future spouse.
Purchasing a more affordable stone also opens up the possibility of having a little more money available for the design of the ring itself. Antique sapphire engagement rings are beautiful, rare, and not outrageously expensive. Antique rings can be simple in design or elaborate in detail. No one knows how to make an impressive sapphire ring look better than the jewellery artisans of the past. There is no better way to say, 'Marry me', than by giving a future fiancé an antique sapphire ring that is reminiscent of history's most romantic eras. Buyers need to consider the different types of antique sapphire engagement rings and the various time periods when considering the perfect ring to buy for such a momentous occasion.
Historical Periods and Antique Jewellery
Before entering an antique shop or browsing online, it is first necessary to decide which specific time period is of interest for antique jewellery. Engagement rings have changed in style throughout the years, and some time periods appreciated the sapphire ring more than others. Signature trends varied in many of the popular historical eras, including Victorian, Edwardian, and Art Deco.
Victorian Jewellery
Ranging between the years 1835 and 1910, the Victorian era produced wedding jewellery with distinct character. The traditional Victorian wedding features two spouses exchanging plain wedding bands made of rose gold or silver, although it was also common to signify eternity through repetitive design along the surface of the wedding band. Another characteristic of the time includes engraving the date of the wedding and the initials of the married couple. Diamonds can be found on Victorian wedding rings, though they are not common. Because of these trends, finding a sapphire ring from the Victorian era is highly unlikely.
Edwardian Jewellery
The Edwardian time period coincides with the Industrial Revolution that occurred between 1890 and 1910. Platinum is the staple metal of Edwardian wedding jewellery, and the popularity of Art Nouveau at the time led to elegant designs for engagement rings. Thanks to the feminine and ornate style of the time period, gemstones or diamonds are in every Edwardian engagement ring. Blue sapphires are the most popular colour of choice for this time period, and the classic look of a blue sapphire set in an Edwardian engagement ring echoes the timelessness of love.
Art Deco Jewellery
The influence of Art Deco on engagement rings is what shaped the notoriously glamourous style of the Roaring Twenties. Geometric patterns, unique decorative style, and bold shapes and colours are the signature trends in antique engagement rings from the years 1915 to 1935. Due to this ode to bold colour, Art Deco engagement rings showcase unique patterns of colourful stones and diamonds, surrounded by Art Deco's signature filigree metalwork. As white gold is the most popular metal of the period, buyers may want to consider looking at blue or yellow sapphire rings from this time period for a beautiful and complementary pairing of metal and stone.
Retro or Mid-Century Jewellery
Many of today's family heirlooms descend from the era of jewellery that was created between 1935 and the 1960s, which is generally referred to as Retro or Mid-Century. Many of today's grandmothers and great-grandmothers grew up in this time period, which means many present-day brides have a sentimental tie to this era and its engagement rings.
The most common style of engagement ring from the Retro era is the solitaire diamond ring with an illusion head to increase the apparent size of the stone. The influence of the silver screen during this era is reflected in engagement rings, with rose gold rings with gemstones and diamonds in floral-patterned arrangements being another popular style. While emeralds are the choice gemstone of the period, sapphires also appeared in many rings. White sapphires, in particular, make beautiful accessories to coloured gems.
Estate Jewellery
The most commonly found type of vintage wedding ring is known as Estate jewellery. This word is used by jewellers to describe jewellery that comes from the 1960s to the 1990s. This time period is certainly not as 'antique' as the other time periods, but it still offers distinct styles that may be of interest. For instance, 1970s wedding jewellery is known for its cluster rings, which consist of several diamonds, sapphires, or other stones clustered together as the centrepiece of the ring's head. The 1980s brought back the look of marquise sapphires. The 1990s reverted back to the classic solitaire diamond ring, which is still popular today.
Much like the solitaire diamond ring, sapphire rings have also become a timeless look for engagement jewellery. It is easy to find sapphires in various colours that stem from the Estate period. Yellow, blue, pink, cognac, and other choices are up to the taste of the buyer. Another benefit of buying an Estate sapphire engagement ring is that it may be more affordable, as it is not as old and, therefore, not as rare as sapphire jewellery from other time periods.
Different Sapphire Colours
Sapphires come in all shapes, sizes, and colours. Below is a quick list of the different colours that are typically available from antique time periods.
Colour

Description

Time Periods

Blue

Most popular sapphire and also the most rare

Commonly found in royal engagement rings

Classic, elegant look

Edwardian

Art Deco

White

Good replacement for diamonds

Can be used as side stones with a colourful gemstone in the centre

Oval shape for a classic look

Edwardian

Art Deco

Retro

Estate

Yellow

Truly antique look

Fun and classic when used in a marquise shape

Looks great with filigree detail

Edwardian

Art Deco

Green

More brilliant and affordable than emeralds

Art Deco

Retro

Estate

Cognac

Romantic, classic, and smooth

Chocolate in appearance

Art Deco

Retro
While the classic blue sapphire is often the favourite of many buyers, some of the other common sapphire colours mimic the look of much more expensive stones, such as diamonds and emeralds. This makes these stones a popular buying alternative.
Where to Buy Antique Sapphire Engagement Rings
Depending on the rarity of the sapphire or the desired antique time period, shopping for an antique sapphire engagement ring could be a daunting task. Interested shoppers can look through selections at antique jewellers and antique shops, but the problem with browsing through brick and mortar antique shops is that not every antique store owner is an expert in antique jewellery, and he or she may not know much about the pieces. Not to mention, the selection of antique engagement rings may be very limited in antique shops. Selection may even be limited in a particular geographical area. Additionally, a potential buyer could accidentally purchase a mere reproduction of a vintage style, rather than the real thing. For these reasons, shopping on safe online sites could be a much better alternative.
Buying Antique Sapphire Engagement Rings on eBay
Buyers can research and browse through an abundant number of antique ring options on eBay. With the help of eBay's search engine, finding the perfect antique sapphire engagement ring could be just a click away. After doing some research and deciding on the style of antique jewellery that is perfect for that special someone, simply enter related keywords into the search bar on the homepage. Possibilities might include 'Art Deco sapphire engagement ring' or 'marquise yellow sapphire ring'. The results of the search include all the relevant items that are for sale through the site, and then you can review the listings to determine what you like and what you can afford.
It is important to research the reputation of sellers on eBay before committing to a purchase. By looking at the feedback comments left by previous customers, you can be more confident in your purchasing decision. Once you have completed your own transaction, you can leave your own feedback, as well.
Conclusion
Finding the perfect antique engagement ring is so important, but it is also important to stay within a set budget. While proposing marriage may be a once-in-a-lifetime opportunity, the finances of marriage can weigh heavily on the mind. Luckily, antique sapphire rings are not quite as harsh on the checkbook as diamond rings, but they are still quite beautiful. Many different time periods are considered antique, including Victorian, Edwardian, and Art Deco, and each period has its own signature trends. These trends vary in colour, shape, size, metal, and use of the sapphire.
Antique engagement rings can be found in brick and mortar antique shops as well as online through retailers and auction websites like eBay. Choosing the one piece of jewellery that you and your spouse will cherish forever can be fun and exciting, especially when browsing through the decades of antique wedding jewellery. Finding the perfect antique sapphire engagement ring could be the first step on a beautiful and exciting adventure of a lifetime.