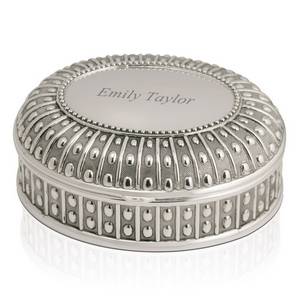 Finding an antique solid silver box has never been easier thanks to the vast quantity of boxes that can be found online. However, it is important to learn as much as possible about these unique antique silver boxes so as to fully prepare oneself for making the correct purchase. This guide helps to prepare potential buyers by arming them with any and all relevant information about these antique silver boxes. Learning the exact history of both solid silver and the popularisation of the silver box can help a potential collector understand the historical value of these pieces. It is also important to learn about the various types of boxes and the features they may have, to help determine what may be the ideal item that will suit each individual buyer. Finally, learning about popular antique silver box makers, the accessories and even about tips for caring for these unique pieces, can help with ensuring purchasers find great value in their investment. This guide is intended to serve as a good introduction to the world of antique solid silver boxes, and help potential buyers feel more confident in finding the exact piece that they've been looking for.
History of Antique Solid Silver Boxes
The history of solid silver boxes begins in 1327 when English Assay offices created the 'sterling standard' that demanded that all solid silver items produced in England be at least 92.5 percent silver. This standard helped prevent lower quality items from being produced and sold as solid silver. Though the correct standards were in place from the early 14th century, the English love affair with silver did not truly begin until the late 16th and early 17th century. In this period of colonial expansion, vast silver mines were found in both the Americas and Asia. These large quantities of silver were quickly exported back to Europe for smithing, which led to a boom in production that has helped solidify silver as a valuable metal ever since. This boom in production helped usher in a wave of solid silver items that have now become sought after as collectors' pieces. During this time, a variety of solid silver boxes were produced to serve a variety of functions in people's personal lives. Theses boxes were used for everything from jewellery storages to portable snuff containers and even musical devices. The popularity of these items has ensured that a great number of them still remain and can be acquired relatively easily. Today, finding a well-crafted solid silver box is a simple process that can add a unique item into any home.
Discover Antique Solid Silver Boxes
Antique solid silver boxes have been used in a variety of functions since the 16th century, most commonly used as storage devices for valuable materials such as silver cutlery, jewellery and other knickknacks. As they evolved, silver boxes also began to be used to protect portable tobacco products such as snuff and cigarettes. The reason that silver boxes became more popular than wood or other materials is due to the unique properties of silver. Silver cases were less porous than wood, and they worked to preserve tobacco products and protect matches and other materials from the elements. Solid silver boxes were also an indication of status, owned by only those who could afford them. Solid silver boxes were also very durable, as dropped cases are unlikely to break or even open, protecting whatever is placed within. While the majority of these boxes were meant for jewellery and tobacco products, their handcrafted simplicity and style lend themselves well to almost any function imaginable. This durability and versatility has helped keep solid silver boxes a top collector's item throughout the ages.
Types of Antique Solid Silver Boxes
A great variety of antique solid silver boxes were produced for a large variety of purposes. Each of these types of solid silver boxes come with its own advantages and provides many possible uses. Many of these products were meant to store valuables or tobacco products, but most of the boxes are multi-purpose. Some of the most popular types of antique solid silver boxes include:
| Type | Description | Advantages | Considerations |
| --- | --- | --- | --- |
| Jewellery Box | This large decorative box was used to store jewels and other valuables. | Large enough to house important items without damage. | Often comes with a lock and key. |
| Snuff Box | Creating during the height of snuff tobacco's popularity, this small container easily fits into a pocket or coat. | Useful for both tobacco and other small items. | Usually very ornate with a variety of styles and designs. |
| Strong Box | A large, solid box that predates the modern safe. | Houses a complex lock that is extremely difficult to pick. | Not quite as secure as most modern safes. |
| Bible Box | A casing used to house a family bible. | Can easily protect other books and important items. | Often decorated with impressive religious imagery. |
| Cigarette Case | A case for protecting cigarettes that became popular in the 19th century. | A slender carrying case that is perfect for protecting cigarettes. | Often bears a unique engraving. |
| Vesta Case | A protective case for matches that appeared along with cigarette cases. | Airtight and able to protect matches from water. | Smaller than a snuffbox, but slightly more secure. |
| Music Box | Ornate and complex boxes capable of producing beautiful music. | A rare and beautiful item for any home. | Very sought after and can be very valuable. |
Factors to Consider When Buying Antique Solid Silver Boxes
Before purchasing an antique solid silver box, there are several important factors that should be considered. These factors can have a dramatic effect on the price of these antique boxes. Some of the most important to factors to keep in mind are:
Genuine hallmarks – The simplest way to gage the value of any solid silver item is with the hallmark. Any item sold online should showcase the unique hallmark that was printed on it when it was created. Using a hallmark guide can help easily identify the exact date of manufacture as well as the crafter who made it. If the hallmark is not an exact match, it is best to find a more reliable piece.
Condition – These boxes have been changing hands since they were created and can often show signs of damage. Do not be frightened away from minor markings as these merely add to the antique nature of the box; however, try to ensure that no major damage has occurred.
Purity – Real sterling items, or solid silver, are made up of no less than 92.5 percent silver. These are easily identified by their hallmark. Avoid any pieces that have no hallmark but still claim to be of sterling quality.
Typical Features of Antique Solid Silver Boxes
Each antique solid silver box has a few unique features that are worth examining before making a purchase. Certain features that can be found on any solid silver box are:
Hallmark
A hallmark not only serves as a way to verify any piece of solid silver but can also be a selling point in itself. Certain rare hallmarks can dramatically increase the value of an antique silver box.
Padded interior
Jewellery boxes and other decorative antique boxes can come with amazing padded interiors that can help protect valuables and other items.
Locking mechanism
Strongboxes and jewellery boxes offer unique locking mechanisms that range from simple to complex. These locks offer a certain level of value to any piece.
How to Care for Antique Solid Silver Boxes
When looking after a newly purchased antique box it is important to treat it with care. For smaller items, simply washing in warm soapy water can prevent tarnishing. A larger box needs hand polishing whenever possible and should ideally be polished once a week. If tarnishing does occur, the application of silver polish can return its healthy shine. For more serious damage, including dents and scratches, consult a metal expert and avoid self-repair that could further damage the box.
Popular Antique Solid Silver Box Manufacturers
There were many popular producers of solid silver boxes that are worth noting. These manufacturers can be identified by their unique hallmark. A rare maker can sometimes be worth a great deal. Some of the most popular antique solid silver box makers were:
Adey Bellamy Savory
Charles Adam
F. Boyton and Co.
Edward Farrell
Elly Issac Miller
Marmaduke Daintrey
James Wilks
Charles Elay
John Edwards II
John and Henry Lias
Thomas Kendrick
Thomas Lamborn
Accessories and Add-ons for Antique Solid Silver Boxes
To properly maintain an antique solid silver box there are a few items that are indispensable. These items include:
Silver polish
Polishing cloth
Protective case
Replacement lining
Finding Antique Solid Silver Boxes on eBay
Once you determine the type of antique solid silver box you want to purchase, visit the Antiques portal on eBay, click on 'Silver' then sub-category 'Solid Silver' and start searching item listings. The Categories list on the left-hand side of the eBay page helps to narrow the search.
Searching Antique Solid Silver Boxeson eBay
Search eBay listing titles for specific words when shopping for an antique solid silver box. For example, to find antique silver snuffbox, type 'Antique Silver Snuffbox' into the search box, and then click the Advanced button to customise the results. Also visit eBay's Search Tips page for more advice on searching for antique solid silver boxes with keywords. If you can't find the exact solid silver box that you want, try shopping eBay Stores.
Conclusion
Gaining a deeper understanding of the history, quality, types and styles of antique solid silver boxes helps in making searching for and purchasing them an easier process. Once you have collected this information, you can buy an antique solid silver box safely and securely on eBay.