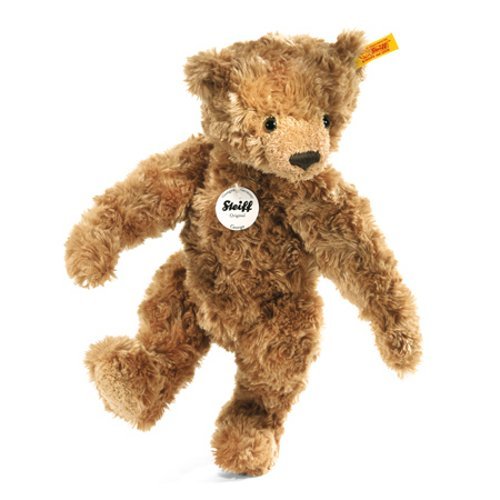 Steiff are a classic brand, starting up in the late 19th Century and in 1902 being one of the creators of the teddy bear as we know it today. There are many antique Steiff bears for sale on eBay, and this guide will assist the buyer in identifying the ideal bear for them in terms of price, condition and age from the many available.
Introduction to Steiff Bears
Steiff was started in 1880 with the sale of Margarete Steiff's fabric elephants but it truly made its mark in 1902 with the birth of the mohair plush bear. With jointed arms and legs it was the template for all Steiff bears since then – and adopted by the American public as teddy bears after President Theodore 'Teddy' Roosevelt, and sold under that name from 1906 on.
With the trademark Steiff Button In Ear joining it two years later to ward off cheaper imitations Steiff as we know it established itself as a premier maker of cuddly bears for both adults and children.
Buying Antique Steiff Bears
When buying something as timeless as an antique teddy bear, the buyer should consider the several factors which will affect their purchase, such as:
Age – the age of the antique bear will affect its current cost as well as its future value, along with condition and size. With very few pre-1950s bears left the value of them has soared, with prices declining the closer towards the current day they are.
Condition – all antique bears fall under 'used' but they will all vary in condition, in terms of how well they have been cared for and how old they are. Condition will affect price dramatically.
Type – Steiff bears come in various different types, from miniature bears to large, to special editions and one-off runs that have now ceased. The type of the bear will affect their cost.
Size – Steiff bears vary in size because of different types and also because of changing designs, with teddy bear arms and legs shortening over the years. Early bears were quite large, and this will affect cost for both purchase and shipping.
Price – with a commemorative 1912 Titanic Mourning bear fetching £91,750 at auction in 2000, the value of antique and old limited edition Steiff bears in huge, with prices changing due to condition and age in particular.
Antique Steiff Bears
With the huge value placed on antique Steiff bears, it is not surprising that there are a huge amount of replica bears in the market – some have been produced by Steiff themselves as reproductions of their more popular bears. However there are many replicas sold at market to cash in on the popularity of antique bears.
When buying antique bears on eBay, it is important that the buyer makes sure that what they are buying is a genuine antique. However, there are many ways to check:
Steiff button – the classic way the Steiff marks out its bears, a gold button and ribbon, usually in the ear, is a good sign of a genuine antique. There have been slight changes to the button through the years (the button will say 'Steiff', or feature the original elephant logo), and if unsure the buyer should check the age and button of the advertised bear against online lists and pictures. A yellow ribbon means a regular bear, a white ribbon with red writing indicates a limited edition and a white with black writing ribbon is a replica of an older bear.
Materials – Steiff uses alpaca and more frequently mohair in its bears, with felt or velvet paw pads. Alpaca and mohair both have a distinctive look and colour (when dyed) and buyers can check the look of the advertised bear against pictures.
Condition – with antiques, particularly those made of degradable material like bears, they are unlikely to be in excellent condition, particularly the older bears. The fur will likely be worn and thinning and the paw pads faded or scuffed.
Design – it sounds odd given the enduring teddy bear template, but early Steiff teddy bears were far more 'bearlike' in look and design, with longer snouts and squatter heads. Many pre-1940 bears have this look, and it is a good way to judge age.
Articulation – Steiff bears are almost always have fully articulated legs and arms, which cheaper imitations cannot always recreate.
Online Catalogues – antique bear collectors are a dedicated group who often keep detailed online catalogues and lists of bears. If the buyer is uncertain about a particular bear advertised, bear collector forums are a great place to ask advice.
With the aid of this advice, buyers should be able to identify genuine Steiff bears and furthermore tell the difference between Steiff antiques and Steiff reproductions. Many sellers may not realise the value of what they own and may sell for far less than market value, and even knowledgeable sellers post competitive prices on eBay to ensure a quick sell. It is important for buyers to be confident in their understanding of the look and manufacture of Steiff bears before buying, and it is always a good idea to ask an expert.
Caring for Antique Steiff Bears
Antique bears take some caring for due to their age, and it is important to preserve them and ensure that they last as value decreases the more damaged they get. Since they are made a degradable material – wool, in particular, they buyer should remember to:
Keep the bears out of direct sunlight, as sunlight causes dyes to fade and fabric to rot.
Beware of moths – they damage the fur of the bear and if the bear is not on display the buyer should keep them in a safe sealed bag or box.
Keep the dust away – it clogs on the fur attracting pests. If the near is being displayed, underneath a glass case is ideal.
Do not handle the bears too often, as the antiques' fur can be very delicate and breakable.
Clothe the bear if possible – this disguises patchy areas of the bear, and protects the fur underneath from damage.
Pot pourri or lavender can be used to deter pests and moths, and do not have the unattractive lingering smell of moth balls.
If bears show signs of infestation (e.g. small holes in the fur and pads) then put them in a watertight bag and in the freezer for 4-7 days, the cold will kill off any pests.
By following this advice, buyers can ensure that their antique bears endure for many years yet, and with the oldest known bear surviving from 1904, Steiff bears do have the potential to last a long time. If unsure of any particular points about care, the buyer should consult online bear collector's forums or seek the advice of a specialist restorer.
Buying Antique Steiff Bears on eBay
Now that the buyer has read the advice about Steiff, they have to know how to search eBay for what they would like. When searching eBay, the buyer should keep in mind these points:
Price – the deciding statement in any purchase, prices on eBay are very competitive and the buyer may wish to narrow down prices to within their budget. This can be done in the search options bar, and with bears available at Auction or Buy It Now purchasing an antique bear is quick and easy.
Condition – checking the pictures of any bear is an important way to determine value and whether is equals the price asked. Buyers may wish to ask for more details about the bear before purchase.
Type – with all the various Steiff bears, there is an equal range available on eBay, and buyers may wish to specify type, colour and the name of the bear they are looking for.
Size – Steiff bears come in miniature through to oversize, and even little antique bears are very highly sought-after. The buyer should bear in mind that while size may not have a bearing on cost it will have an effect on shipping prices.
Local Sellers – looking for local sellers is a great way to keep costs down, particularly with high shipping prices for large objects such as bears.
If searching for a particular bear they may have discovered elsewhere, buyers are able to search for bears by name or date through the search bar at the top of the site – for example Steiff's Robby Seal can be found by name. For more advice on eBay searches buyers may wish to look at the Search Tips page, which has a wide range of advice from widening or narrowing searches, shortcuts and a host of information on how to find precisely what is wanted.
When buying something as valuable as an antique, it is important that the buyer is certain and confident in what they are purchasing. Buyers should not hesitate to Ask the Seller any questions they may have about the item or its history.
Conclusion
Antique bears not only make charming decorations in any house but they also command a huge about of value in their own right. As with any antique, Steiff bears come in a host of prices and it is up to the seller to decide what is right for them. With the aid of this guide to antique Steiff bears buyers should be able to judge the bears listed, check price and condition and most importantly choose the most ideal antique bear.