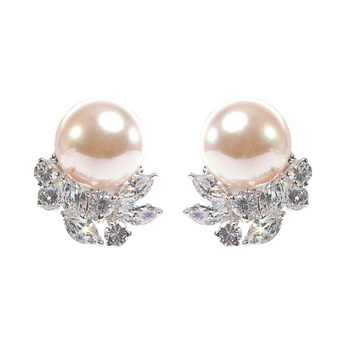 Stud earrings are a particular type of earring in which the earring covers the hole in the pierced ear or, if clipped on, covers the front part of the earlobe. Antique stud earrings are earrings that are at least 100 years old or older. They reflect jewellery fashions of certain periods in history. A primary factor in determining whether earrings are antique as opposed to retro or contemporary is the cut of the stone. Each time period, ranging from the Late Georgian period to the Art Deco Period can be distinguished based on the cut of the stone, the materials used to craft the stud earrings, and the popularity of particular decorative motifs.
eBay offers a wide selection of antique stud earrings at affordable prices. When shopping for antique stud earrings at an antique store, estate jewellery store, or on eBay, there are several important factors to consider before making a purchase. The buyer should determine if the stud earrings are antique by examining the materials used, and the craftsmanship. The buyer should also consider how to properly clean and care for the earrings.
Types of Stud Earrings
Stud earrings are fastened to the ear by clips, pierced screw posts, or screw backs, depending on the style of earring. Stud earrings are differentiated by the fasteners used to secure the stud to the wearer's ears.
| Type of Fastener | Description |
| --- | --- |
| | Gently clamped to the earlobe by a hinge against the back of the earlobe |
| | Gently fits against the earlobe and is securely tightened against the back of the earlobe |
| | Requires a permanent hole in the earlobe; metal pole inserted, and then fastened |
Clip-on and screw back stud earrings are detachable and do not impart a permanent mark or hole in the earlobe. Stud earrings can be simple with either a silver, gold, or gemstone ball in a metal setting or more decorative with a design such as a flower, peace symbol, or skull. More fashionable stud earrings may have a decorative part that attaches or dangles from the main stud or ball. Larger stud earrings are also more ornate and elaborate than smaller stud earrings.
Identifying Antique Stud Earrings
The cut determines the quality and brilliance of the gemstone. An antique cut for a diamond such as the Old Mine Cut is usually unevenly shaped, not fully symmetrical on all sides, yet still brilliant under moderate to poor lighting conditions. Up until the 1800s, gemstones were handcut rather than machine cut, contributing to these irregularities evident in gemstones of the period. The back and front of antique earrings are decorative and smooth, revealing their precise, intricate craftsmanship. Designers use colourful gemstones surrounded by delicate enameling in their jewellery styles. Animals, nature, and love symbols are also popular designs elements for antique stud earrings.
Time Periods for Antique Jewellery
To be described as antique, jewellery must be of a certain time period that predates the 1920s. The different time periods include the Late Georgian Period, the Victorian Period, the Art Nouveau Period, the Edwardian Period, the Art Deco Period, and the Retro Period. These six different periods reflect different fashion styles, jewellery materials, and craftsmanship.
Late Georgian Period
The Late Georgian Period occurred between 1760 and 1837. Antique jewellery and antique earrings, especially stud earrings, from this period are very limited and hard to find. Collectors usually locate jewellery from this time period at antique stores or estate sales.
The designs of this period tended toward smaller, lighter jewellery. Pieces from this time period were crafted from silver, yellow gold, and pinchbeck, which is an alloy made copper and zinc. Diamonds during this period were very expensive, and only royalty and the upper-class could afford them. A popular cut of diamond during this period was the rose cut diamond.
Victorian Period
The Victorian Period occurred between 1837 and 1901. Antique jewellery from this period is considered highly-sought after, especially by collectors. Most collectors frequent antique and estate jewellery sales looking for coveted Victorian antique stud earrings and jewellery pieces from this period.
This period ushered in a greater demand for jewellery. Jewellery of the time was more affordable due to the advent newer jewellery techniques. The trends of the time tended towards more delicate, tailored designs and motifs that included hearts, bows, and flowers.
Gold became more affordable after 1854. During the Victorian Period one could choose from 12-karat, 14-karat, or 18-karat gold. Colourful semi-precious stones such as garnet, amethyst, coral, opal, and turquoise were often set in yellow or rose gold. Diamonds also became more affordable during this period, allowing more people to purchase diamond jewellery. Some of the popular diamond cuts of the period include rose cut, Old Mine Cut, cushion cut, and Old European Cut. Jewellery techniques such as engraving and filigree were also introduced during this period.
Art Nouveau Period
The Art Nouveau Period occurred between 1890 and 1915. Antique jewellery and antique stud earrings from this period focused on the design of the jewellery as opposed to the materials used to make the jewellery. Many non-precious materials such as bone, copper, ivory, and glass were used during this period.
Natural motifs such as butterflies and flowers were frequently employed in the jewellery designs of this period. Semi-precious stones such as pearls, amethysts, opals, and moonstones were popular. New enameling techniques such as cloisonne, champleve, and plique-a-jour were also introduced. Most stud earrings of this time are screw back earrings.
Edwardian Period
The Edwardian Period occurred between 1901 and 1915. This period of history was a time of high fashion where there was emphasis on elegance. Edwardian jewellery and earrings are notable for their lightness and delicacy in design.
Amethyst was a popular choice of stone during this time as were diamonds and pearls set in platinum. Diamonds cut in the Old Mine and Old European styles were fashionable along with the filigree technique that give earrings a lacy, delicate appearance. Platinum and white gold alloys were used as jewellery settings, exhibiting a white-on-white effect by coordinating light-coloured stones and settings together. This popular style continued into the Art Deco Period.
Art Deco Period
The Art Deco Period occurred between 1920 and 1935. This period of history was notable for tremendous changes in clothing, jewellery, and earring design. Platinum and diamonds became available to a broader swath of the buying public during this period.
The white-on-white effect, popularised during the Edwardian Period, continued during the Art Deco period with the addition of gemstone accents such as sapphires, emeralds, and rubies. Old European Cut and Asscher Cut diamonds along with cuts like baguette, emerald, triangle, shield, and calibre saw a shift from the traditional to modern cuts. The Art Deco period was also notable for the Egyptian and Oriental influences on jewellery design. This was evident in the use of lapis lazuli, ivory, jade, and carnelian.
The Retro Period
The Retro Period occurred between 1935 and 1950. While retro earrings are not strictly antiques, this period is when stud earrings were popularised. Yellow gold and multi-coloured jewellery was very popular during this period and is considered highly-sought after by collectors today.
Rubies, sapphires, aquamarines, and other brightly coloured stones were popular with the buying public during this period. Bows, flowers, birds, scrolls, cornucopias, and cameos were popular stud earring designs. Most stud earrings from the Retro Period have screw back, clip on, and pierced screw post fastenings.
The following table highlights the basic differences between the different time periods. These differences are in the areas of jewellery styles and materials.
| Time Period | Jewellery Style | Jewellery Materials |
| --- | --- | --- |
| Late Georgian, 1760-1837 | Smaller, lighter | Silver, yellow gold |
| Victorian, 1837-1901 | Delicate, newer techniques and designs | Gold, semi-precious stones, diamonds |
| Art Nouveau, 1890-1915 | Design was more important than materials | Semi-precious stones, non-precious materials, enameling was introduced |
| Edwardian, 1901-1915 | Elegance, lightness, delicacy, filigree | White-on-white effect, diamonds, amethysts, pearls |
| Art Deco, 1920-1935 | Radical changes with new diamond cuts, Egyptian and Oriental influences | White-on-white effect, diamonds, platinum |
| Retro, 1935-1950 | Stud earrings, multi-coloured jewellery, design symbols | Brightly-coloured gemstones |
The table above illustrates the basic differences in the six different time periods in the areas of jewellery styles and materials. The buyer should be familiar with the different periods when shopping for antique stud earrings. This helps the buyer in determining if the earrings are genuine antiques and the approximate age of the earrings.
Styling Stud Earrings
For formal events such as dances and weddings, larger antique diamond and natural pearl stud earrings are considered very elegant. Natural pearl antique stud earrings may show signs of cracks or dulling with age. This is normal for this type of antique earring, and evidence of cracks helps a buyer distinguish genuine antiques from modern reproductions. Large diamond and natural pearl antique stud earrings are best displayed with a hairstyle that pulls the hair away from the face and ears, to ensure that the stud earrings are always on display. Smaller antique diamond, silver, and gold stud earrings are used in semi-formal settings and can be paired with more casual clothing such as jeans, slacks, or casual shoes. They can also be worn in a professional office settings with more casual hairstyles.
When choosing antique stud earrings, the buyer should not only consider one's individual style, but also how the earrings complement the buyer's natural skin colouring and facial features. Yellow gold is a good choice for light-haired individuals, whereas silver complements wearers who have dark hair. The colour of the gemstone can also reflect and enhance the colour of the wearer's eyes too.
Cleaning and Storing Antique Stud Earrings
Some antique earrings can only be cleaned by professionals. While other pieces can be cleaned at home with a soft brush and soap and water. Ultrasonic jewellery cleaners should be used with soft, porous stones such as pearls to prevent damaging them. Before cleaning antique earrings at home, always inspect the earring's setting and stones to ensure that none are loose.
Antique stud earrings should be stored in the original jewellery case, if possible. If this case is not available, then one should store the earrings in an airtight, flat, lined box to prevent damage and exposure to the elements. One should also store the earrings' backs with the earrings in the same box and not separately.
Buying Antique Stud Earrings on eBay
eBay provides a large selection of antique stud earrings to complement any wardrobe. They are also more affordably priced and eBay offers listings for many hard-to-find styles. The listings for antique stud earrings come in many different sizes, gemstone colours, settings, and designs.
To shop for antique stud earrings on eBay, the buyer should go to the eBay homepage and type in 'antique stud earrings&' into the search bar. This directs the buyer to a page of listings for antique stud earrings. If the buyer knows the particular time period for the antique stud earrings, such as the Victorian Period, the buyer can enter that information in the search bar. They can also select and deselect the search filter found on the results page to sort the listings by metal, gemstone, including the cut of the gemstone, the purity of the metal, and the time period. One can also sort the listings to only show those posted by sellers who have earned the status of 'Top-Rated Seller'. Such sellers have earned the highest feedback scores from other buyers.
Conclusion
Whether collecting them to preserve a legacy or simply wearing them to an office party, antique stud earrings make a stylish statement in any setting. Their beautiful colours, materials, and designs appeal to a wide variety of buyers. Their prices range from inexpensive to expensive, depending on the setting and gemstone. Larger diamond stud earrings cost more than smaller diamond stud earrings or other types of gemstones. Antique stud earrings, although more expensive, do appreciate in value based on the time period the item dates from the quality of the craftsmanship, or the rarity of the design.
Antique stud earrings should be properly cleaned and stored to preserve them for years to come. In order to enjoy these beautiful jewellery pieces, the buyer must determine the type of jewellery material and the condition of the piece before they commit to a purchase. By researching these features carefully and examining the large selection of antique stud earrings on eBay, the buyer can make a well-considered decision when it comes to selecting a beautiful pair of antique stud earrings.