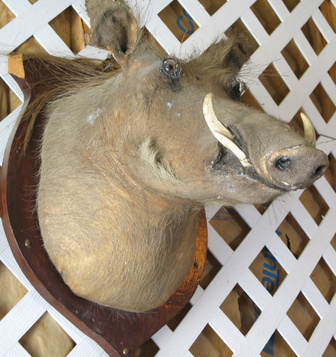 An Art Form
The term 'taxidermy' is used to describe the processes of reproducing or recreating a lifelike representation of an animal, such as a bird or deer, for display purposes. This eBay guide gives you a good idea of what to look out for.
A person who practices taxidermy is called a 'taxidermist'. As taxidermy incorporates a variety of crafts, a taxidermist must be very talented. Some of the crafts involved in taxidermy are:
carpentry
woodworking
tanning
moulding
casting
Considered by many to be an art form, taxidermists also need to be creative, possessing artistic talent with the ability to sculpt, paint, and draw, which are required as part of the taxidermy process.
The term taxidermy is derived from two Ancient Greek words. The first "taxis", meaning movement, and the second "derma", meaning skin. Loosely translated, taxidermy means the movement of skin.
How Taxidermy Works
In many cases, a taxidermist will take the actual skin of the animal, including fur, feathers or scales, preserving them, and mounting them on an artificial armature, which is a framework in place of the skeleton. In other cases, the specimen that is recreated or reproduced is completely of man-made materials.
Some taxidermy mounts, most notably saltwater fish, do not contain any parts of the animal, and are completely recreated with man-made materials. This is ideal for catch-and-release anglers who, with the aid of good coloured photo and measurements, can release their game fish unharmed, and still have a life-sized trophy produced by a professional taxidermist.
Taxidermy pieces are often displayed in museums and educational institutions for educational purposes. Works are also found in businesses, restaurants, and homes where they are owned by collectors and enthusiasts.
The Golden Age of Taxidermy
Believed by many to be the golden age of taxidermy, the Victorian era proved to be a very popular period with people displaying mounted animals as part of interior design and decor.
As people began to travel to exotic destinations more frequently, their desire to keep mementos from their travels increased. During this period, the homes of the affluent were decorated with wild animals from around the world.
During the Victorian era, the vast majority of towns had a tannery business. In the 19th century, those who hunted began to bring their 'trophies' to tannery shops, where they would be stuffed with materials such as rags and cotton, and then sewn up.
As a result of these crude early methods, the terms 'stuffing' and 'stuffed animal' evolved; however, modern day professional taxidermists prefer the term 'mounting'.
Due to the popularity of taxidermy during the Victorian era, mounts of a variety of animals, including mammals were produced. Many of these are still around today, including:
birds
fish
reptiles
amphibians
eBay is a great place to search for antique taxidermy if you're looking to start a collection; however, before making any purchases, there are a few things you should know about keeping and caring for antique taxidermy mounts.
Antique Taxidermy – Highly Dangerous Materials Used
During the Victorian era, taxidermists mixed arsenic with:
white soap
camphor
salt of tartar and lime
This formed what was known as arsenic soap which was used as a preservative. Not only did arsenic soap protect the skin and prevent the decay of remaining flesh, it was used as a preventative against insect attack.
However, arsenic soap was highly dangerous to use, and many taxidermists at the time opted to use safer materials such as corrosive sublimate. Rowland Ward and Montagu Browne, taxidermists during the era, developed their own patent formula borax which is non-toxic. Although it is not as effective as arsenic, borax is still widely in use today.
Antique Taxidermy – Taking Care of Your Trophy
When an animal is preserved and mounted, that doesn't mean that it won't require further care. Mounts that exhibit better quality workmanship tend not to require much maintenance compared to those of lower quality workmanship, but all taxidermy needs to be taken care of. If you're aware of the types of things which cause a mount to degrade over time, it is possible to avoid the most common types of damage.
By keeping antique taxidermy in a climate controlled area, well away from dampness and out of sunlight, you will preserve the mount better.
Mounts are best stored in cool, dry places, without exposure to bright light.
Excessive dampness can lead to mould
Hot conditions can cause the mount to crack or split.
Bright light exposure can lead to the fading of fur, feathers or scales.
Ideally, mounts should be placed under low light, ideally 50 Lux, and out of reach of children and animals. When choosing where to locate your mount, you should avoid:
direct sunlight
fluorescent lighting
air ducts
fireplaces and direct heat
When it comes to cleaning your mount, you should do so at least once a month, using a feather duster. Whilst cleaning, you should inspect your mount for any signs of insect damage, especially during the late spring and summer months.
Silverfish and Moth Larvae are insects which can, given the opportunity, destroy a mount. If you detect an inspect problem, place the mount inside of a plastic bag, and then freeze it for several weeks.
Once you have done this, you should allow it to thaw so that any remaining eggs hatch, and then repeat the process again, leaving the mount to freeze again for another couple of weeks. This process can be repeated as many times as you so wish, and will not harm your antique taxidermy mount.
Antique taxidermy mounts may contain toxic materials, and therefore should be handled and dusted whilst wearing a dust mask and gloves. Before attempting to clean any type of antique taxidermy mount, you must determine whether it contains arsenic.
The older the antique taxidermy mount, the more likely it is to contain arsenic compounds, which will have been applied to the inside of the skin of the animal during preparation. If this is the case, the arsenic compounds are likely to have migrated to the outside of the skin.
Before you begin cleaning the antique taxidermy mount, you should give it a thorough inspection to see whether a white microcrystalline substance is present.
As well as arsenic, compounds of mercury may well be present as they were used on some antique taxidermy. Used as general pesticides during the preparation stage to limit insect damage, both arsenic and mercuric compounds constitute health risks. If present in your antique taxidermy, you must take steps to protect yourself: a fume hood, gloves, and a respirator should all be used when cleaning the mount.
Why Choose eBay for Antique Taxidermy?
eBay is a popular place for users to purchase antique taxidermy, mainly due to the diverse selection of animals available, and low prices not found elsewhere.
How to Search for Antique Taxidermy on eBay
Now that you've found out about antique taxidermy and how to care for it, you can begin your search on eBay. To start your search, go to the All Categories link on the homepage of eBay. Click Collectables, select Animals, and then click Taxidermy under Item Type.
Keyword Search
Search eBay listing titles for specific words. For example, if you want to find antique bird taxidermy, type the keywords "antique bird taxidermy" (without quotation marks) into the Search box. Click, "Search title and description" to expand your results. Visit eBay's Search Tips page for more tips on searching with keywords.
If you can't find exactly what you want, try browsing eBay Stores or tell the eBay Community what you're looking for by creating a post on Want It Now, or save a search on My eBay and eBay will email you when a matching item becomes available.
Buy Antique Taxidermy on eBay with Confidence
Make sure that you know exactly what you're buying and understand how eBay and PayPal protect you.
Know Your Item
Read the details in the item listing carefully.
Remember to add delivery costs to your final price. If you're buying a high value item, check that the seller will insure it until it is delivered to you.
If you want more information, click the "Ask seller a question" button on the seller's profile or the "Ask a question" link at the bottom of the item listing page.
Always complete your transaction on eBay (with a bid, Buy it Now or Best Offer) otherwise you will not be covered by eBay Buyer Protection.
Never pay for your eBay item using an instant cash wire transfer service like Western Union or MoneyGram. These are not safe ways of paying someone you do not know.
Know Your Seller
Research your seller so that you feel safe and positive about every transaction.
What is the seller's Feedback rating?
How many transactions have they completed?
How many positive responses do they have?
What do buyers say in their Feedback?
Are they positive about the seller?
Most top eBay sellers operate like retail shops and have a returns policy.
Do they offer a money-back guarantee?
What are their terms and conditions?
Buyer Protection
In the very unlikely event that you do not receive your item or it is not as described, eBay Buyer Protection your purchase price plus original delivery cost.