I have been an Antique Dealer for many years now. I am glad that there has now been an upturn in people looking for Antique and Vintage Furniture, shabby chic or otherwise. However, there's always two sides to the coin. That is, there are an awful lot of people trading on Ebay now who clearly think it's fine to 'murder' beautiful antiques by slapping on a coat of whatever paint they have available and calling it Shabby chic. Clearly there is another term for their efforts, the first word being Shabby and the second word being not quite so polite starting with S and ending in E with HIT in the middle! There has been a huge upturn in the amount of people on Ebay selling this type of furniture, clearly without knowing what they are doing, and also being quite incapable of actually doing it. The increase in numbers of people doing this is probably as a direct result of the recession and people trying to make extra cash. We cannot knock anyone trying to help themselves, however, when they are selling items that pertain to be of a certain calibre for the same prices as the rest of us that actually have been doing this for a living for many years and are qualified to do so, then it becomes the responsibility of the buyers to do their bit and know what they're buying and to say NO to the sellers that are out for a fast buck. BEING ABLE TO TAKE PRETTY, ARTY PICTURES DOES NOT MAKE FURNITURE A STURDY, USEABLE ITEM. Also, the using of key up to date 'Buzz words' does not mean they know what they're talking about, it's just another way to lure you in! ' French Style' and 'Farrow & Ball'.
I bet Farrow and Ball's sales of fancy paint have rocketed through the roof thanks in the most part to Ebay. Let me tell you, Farrow & Ball is extortionately over priced, it's for people with more money than sense, does not give a superior finish for people that know what they're doing, is totally pointless if you have painted the item correctly and are lightly sanding before waxing as the final finish is dictated by the sanding and waxing. Professionals would not BY CHOICE use Farrow & Ball, we only use it if the customer asks for it specifically. There are a whole host of paints out their that in my opinion is far better quality and price, it's a shame that DULUX just doesn't sound trendy enough
!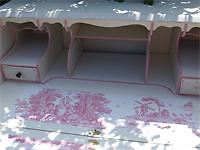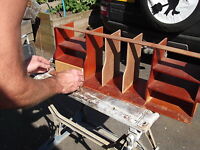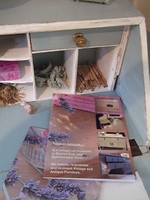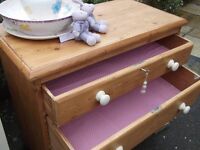 Buyers must beware & have a responsibility on three levels:-
Firstly, please research your items carefully. Any seller worth their salt will take close-up photographs of their finished artwork. Shabby Chic furniture, which has re-aged correctly should look like it was painted many moons ago and not just last week. There is an art to this and it starts with completely stripping the items by hand, removing all metalwork and restoring the faults on the furniture. Most Antique or Vintage furniture will have faults and sometimes many faults. Faults need to be fixed otherwise the furniture is not useable and has not been restored. RESTORED DOES NOT MEAN SLAPPING PAINT ON!. After the item has been restored, it will require sanding, priming and then painting. Properly aged Furniture should have layers of paint on it that, when rubbed back in the proper 'USE' areas will show the layers that have 'built up over the years'. Buyers..........do ask lots of questions, Antique dealers like to show that they know what they are talking about, it is their job to do so. Knowledge should be passed on and that way the buyers are educated and can make proper informed decisions.
Secondly, I would urge the buyers to not make quick decisions based on the pretty pictures alone, read the descriptions carefully, look out for things that might be missing in descriptions, has the seller described how the item was sanded and painted. Do they actually sound like they know what they're doing or not. If you are not 'clued up' then why expect the seller to be?? If people keep on buying rubbish items then they will promote the selling of rubbish items. There is a place for rubbish and that's the bin outside your house not pride of place in it!
Lastly, Feedback...........that terrible word that a lot of people seem to be afraid of. Again......if it's rubbish, do not be polite, stand up and say so. If you put your truthful feedback on and the seller doesn't like it, they would have to open a case to even get it looked in to. Stand up for yourselves and let others know that the seller sells rubbish and doesn't know a Chippendale from a male stripper!
People ask me quite often what I think of items that are being sold by others, I never have a problem with that, I am more than happy to pass on advice, if I think the item is beautiful and totally worth the money, then I'll say so. ANTIQUE DEALERS HAVE SHOPS OR WEBSITES, THEY HAVE PHONES, ARE CONTACTABLE, WILL OFFER ADVISE AND WILL SOURCE ITEMS FOR YOU.! We have a published book on the subject, if anyone would like a link to it, just contact us.
First and foremost I sell Antiques because I am passionate about them. I love my work and frequently work 7 days a week, 8-12 hours a day because for me it's not just a job, it's a hobby and a lifestyle choice.
Get educated everyone, don't buy rubbish, ask loads of questions, and don't be easily parted with your hard earned cash.
Make a stand, banish the DIY painters and murderers of our best loved Antiques and Vintage items.