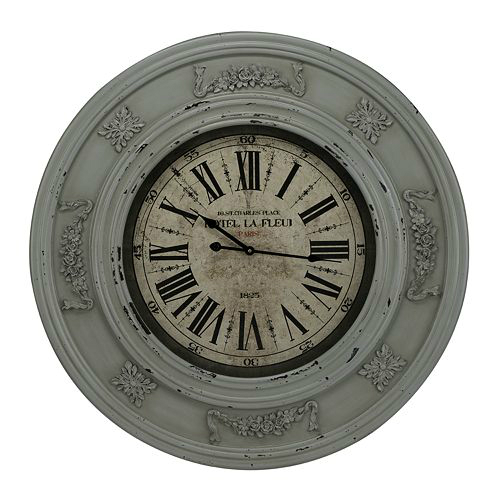 Decorative and functional, there are a variety of antique wall clocks to suit the style of almost any rooms in a modern home. These timeless classics make a wonderful focal point and are often highly collectable. An antique wall clock can be seventeenth-century Lantern clock, or a beautifully crafted Victorian-era hanging cuckoo clock. To qualify as an antique; however, the clock should at least be 100 years old. Whether it's a mass-produced or hand-crafted by a traditional guild member, a quality antique wall clock brings a sense of history and beauty to any room. This buying guide will provide an overview of different types of antique wall clocks, the typical parts of a wall clock, and a short history to gain a sense of the development of this fascinating timepiece.
History of Antique Wall Clocks
Timekeeping has always been an important activity for people in society. Before the seventeenth century, most people relied on the tower clocks of local churches to track the hours of the day. After 1620, brass-made Lantern clocks became the first popular household clock in homes across Europe, to the extent that guilds were formed to maintain the clocks' standards. The Lantern clock hung on the wall with a loop and typically only ran for 24 hours or less before needing to be rewound. This clock was quite inaccurate until the invention of the pendulum in the 1670s – a concept initially discovered by the astronomer Galileo in 1580. Gradually, the pendulum feature was added to other styles of wall clocks, notably the grandfather clock, and the Lantern clock became obsolete in the 1800s. Wall clocks came about in the 17th century. In the Victorian era, wall clocks reached the height of fashion and were efficiently made through mass production rather than handcrafted by traditional clockmakers.
Discover Antique Wall Clocks
Starting from the early seventeenth century, there have been a wide variety of antique wall clocks made, following an impressive tradition of craftsmanship and art design. Depending on the movement, an antique wall clock can be as accurate as most modern timepieces. Often the most coveted aspect of an antique wall clock is the beauty of the design and the complexity of the craftsmanship. However, with gentle care and regular maintenance, an antique wall clock can bring a charming look and functional purpose to any room. With some models going back over 400 years, antique wall clocks are a great collector's item and a valuable antique that can appreciate over time.
Components of an Antique Wall Clock
Antique wall clocks are made with many intricate parts inside the case, which are often not present in simplified digital or mechanised clocks made in factories. Here are some basic components that make up most antique wall clocks.
| Part | Description |
| --- | --- |
| Face | Typically a round plate with numbers or Roman numerals inscribed on it, upon which the clock's hands rotate. |
| Case | Encloses and protects the movements, usually made of wood or metal. |
| Movement | The internal mechanism of a clock. Most antique clocks are either weight-driven (pendulum) clocks or spring-driven. Both antique weight-driven clocks and antique spring-driven clocks are usually wound by a key or crank through the dial at the front of the clock. Many wall clocks are made to just tell time, so they do not strike the hours. Time-only clocks have just one winding hole through the dial, usually located in the centre of the dial just below the hands. |
| Hands | The number of hands on an antique wall clock can vary, although there are hands for hours, minutes, and seconds available on some as well. These are usually made with metal and can be curved or decorative to add another level of detail. |
| Pendulum | An often stylised, heavy rod that swings back and forth for great timekeeping accuracy. Since 1656, weight-driven clocks have used a pendulum to keep time. Typically, pendulums swing once per second on a regular wall clock, possibly twice per second on smaller cuckoo clocks, and once every two seconds on larger grandfather clocks. |
Types of Antique Wall Clocks
While there are many types of antique wall clocks in many styles, these are some of the more popular or historically known types.
| Type | Description | Advantages | Considerations |
| --- | --- | --- | --- |
| Lantern clock | The original domestic clock popular from 1620 to the 1800s, shaped like a lantern. Weight-driven, it may or may not use a pendulum for greater accuracy. It hangs from the wall with a loop at the top and uses two spikes to space it from the wall. Usually only lasts 24 hours or less. Often made of brass. | The oldest wall clock available, this is a valuable collector's item and interesting historical timepiece. Very popular for a time, there are styles ranging from more formal to simpler designs to conform to a room's decor. | Finding a lantern clock with its original movement is very difficult. This is because interest in lantern clocks revived in the Victorian era, where they replaced the original movement with a more 'modern' internal system. |
| Vienna regulator wall clock | A hand-crafted, weight-driven clock with a long pendulum. A popular style, it conformed to many popular contemporary styles in Europe and America. | Can be quite formal and ornate, as well a valuable collector' item. | Casual-styled rooms or bedrooms might not match the more elaborate style of this antique wall clock. |
| | A German clock, which at its most basic has a clock face with a cuckoo that announces the hours. Can be highly stylised with different characters. | Unique and ornate, a cuckoo clock is a charming addition to more public rooms like the living room, hall or dining room. | The sound of the cuckoo is not the best choice for private, quiet rooms like the study or bedroom. The intricate characters require extra cleaning. |
| Drop dial clock | A round dial clock with a window or non-visible compartment underneath where the pendulum is housed. | Readily available in a variety of styles, this clock is generally simple and easy to match with a room's decor while still having the comforting sound of a pendulum's movement. | More decorative rooms may require a wall clock with more stylised elements. |
| Norwich wall clock | A weight-driven clock that follows the design of the grandfather clock, although generally smaller and encased in a veneered mahogany case. | The same beautiful, dramatic style of a grandfather clock in a more manageable size. | Can be hard to maintain, and this clock has a formal appearance that doesn't work as well in private bedrooms and kitchens. |
Factors to Consider When Buying an Antique Wall Clock
Antique wall clocks are an interesting contradiction – they have delicate, intricate interiors that are encased in sturdy, long-lasting exteriors. As such, there are quite a few factors to consider when deciding to purchase an antique wall clock.
Condition - while the case may look like it's in good shape, try to take an antique wall clock to a special technician to get a proper assessment of the internal movement.
Originality - the Victorian era was also a time of revivals, including an interest in the original Lantern clock. As such, many renowned clock makers stripped these Lantern clocks of their original movements and replaced them with modern winding movements.
Style - there are many different styles of antique wall clock available, spanning different periods of clock-making history and contemporary designs. Choose a style that complements the decor of the room it's to be placed in and follows a particular period of history of interest.
Typical Features of Antique Wall Clocks
With over 400 years of history, there are plenty of styles and designs of antique wall clocks in existence. Here are some standard features that may (or may not) be present in any antique wall clock.
Wood or metal case
In contrast to the modern plastic case used for most wall clocks, antique wall clocks are usually solidly built with wood, or a metal-like brass, for increased wear and beauty.
Weight-driven or spring-powered mechanism
An antique clock uses a weight-driven or spring-powered mechanism rather than the battery or AC power line of modern clocks.
Contemporary style trends
Antique wall clocks tend to follow the popular style trends of the period in which they were made. For instance, a Vienna regulator wall clock could have a simpler 'Empire' style or opulent 'Baroque' appearance.
How to Care for Antique Wall Clocks
The exterior wood of an antique wall clock is relatively easy to maintain and should be dusted regularly with a soft cloth. About once a year, gently rub a light coat of beeswax on it to preserve the surface. Avoid putting an antique wall clock in a room with significant temperature changes as this can rust the metal from condensation; also avoid direct sunlight, as this will bleach the wood over time. An antique wall clock will require periodic cleaning of the movement as frequently as every seven to 12 years. This is because the movement inevitably gets dirty and the lubricant dries up, which requires special cleaning and re-lubricating to work effectively. Consult a specialist for this kind of care, as it requires a delicate knowledge of the internal workings of the antique wall clock. If at all worried about disrupting any mechanisms then do not attempt to do any intricate cleaning and instead take it to a professional.
Popular Antique Wall Clock Manufacturers
Antique wall clocks have been made by meticulous, well-trained clockmakers over the course of history. Here are some notable crafters.
Allam & Clements
John Clement & Son
William Barrow
Robert Bryson
Thomas Bullock
Thomas Cartwright
John Fernhill
Thomas Hackney
Edward Harrison
John Harrison
James Howden
Thomas Johnson
William Lassell
Alexander Miller
John Wyld
Luman Watson
Simon Willard
Accessories and Add-ons for an Antique Wall Clock
The most important accessories for an antique wall clock are involved in its maintenance and care. These include:
Soft cloth for dusting
Beeswax to maintain the wood
Glass cleaning solution for the face, if applicable
Mounting accessories such as screws, hinges, wire, etc.
Finding Antique Wall Clocks on eBay
Once you determine the type of antique wall clock you want to purchase, visit the Antiques portal on eBay, click on 'Clock', then 'Wall Clocks' and start searching item listings. The Categories list on the left-hand side of the eBay page helps to narrow the search.
Searching for Antique Wall Clockon eBay
Search eBay listing titles for specific words when shopping for antique wall clocks. For example, to find a fusee antique wall clock, type 'Fusee Antique Wall Clock' into the search box, and then click the Advanced button to customise the results. Also visit eBay's Search Tips page for more advice on searching for an antique wall clock with keywords. If you can't find the exact antique wall clock you want, try shopping eBay Stores.
Conclusion
There are many styles of antique wall clocks available, which may also have significantly different internal mechanisms. As such, it is important to have enough information to choose an antique wall clock that fulfils the requirements of a room or collector's item. This guide described some of the most popular antique wall clock models and provided tips on proper maintenance and care. Once you have collected this information, you can buy an antique wall clock safely and securely on eBay.