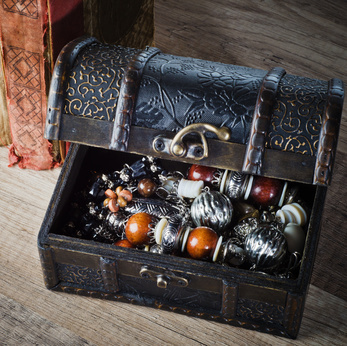 The jewellery box has long been a prized possession. It is a keep-safe for precious stones, chains, pendants, earrings and even personal, private letters. For these reasons, jewellery boxes are some of the most beautifully-crafted and valuable antiques on the market today. Age, craftsmanship, condition, maker and type of wood are all factors that affect the value of the box. This buying guide will provide information about the history, types and styles of antique woodenware jewellery boxes. It will also provide tips to help with the selection of one and instructions for care and maintenance after purchasing.
History of Antique Woodenware Jewellery Boxes
Today, the jewellery box is known as storage for trinkets and jewels, but in earlier periods it was also used for keeping a lady's important letters, documents and other valuable items. The early-period boxes were quite modest-looking in design – they were often simple wooden boxes covered in leather, and sometimes lined with satin.
Craftsmanship and innovation improved during the Regency period. Ring compartments appeared, with cushioned grooves to set the rings into and hold them upright. Also the necklace compartment appeared as an upright panel with hooks to hold and display the necklaces. Multi-purpose drawers for bracelets and brooches were also added, as well as secret compartments in the back, top or bottom.
The exterior of the box was just as important as the interior, often veneered with beautiful exotic woods like mahogany, satinwood and rosewood. Edging, banding, inlay, stringing and other techniques were used to enhance the appearance. Hand-painting, pen work, chinoiserie and decoupage were also techniques that were used to decorate these boxes. By the early Victorian era, the standing jewellery box had come into fashion. This version stands upright with swing-out doors and pull-out drawers, and is often larger and more elaborate than the earlier jewellery boxes.
Discover Antique Woodenware Jewellery Boxes
The collector's market for antique woodenware jewellery boxes is thriving, with some items selling for thousands of pounds. But their value extends far beyond any monetary or investment benefit. An antique woodenware jewellery box is an elegant and ornate work of art. It signifies heritage and sophistication, and can enhance the beauty of its precious contents. It is unsurpassed as a cradle for precious jewels, necklaces, bracelets and other valuable treasures. And perhaps more importantly, it can also accentuate the decor of a woman's bedroom, just as it did her boudoir in times past.
Parts of Antique Woodenware Jewellery Boxes
Antique woodenware jewellery boxes were often of a very elaborate design. Many components are common to most boxes, but different designers found unique combinations for their employment.
| Part | Description |
| --- | --- |
| Lid | Usually hinged at the back. |
| Hinges | Usually ornate or stylised, the use of brass and silver is common. |
| Body | The main part of the box that holds its contents. |
| Doors | A feature of standing jewellery boxes and jewellery armoires, the doors open outward to reveal drawers and other features. |
| Drawers | Lower and/or side drawers slide outward to reveal various contents. |
| Lock | Main lock secures the lid or doors, though individual compartments may have their own lock. |
| Panels | Can drop forward or lift up to reveal more contents. |
| Cantilevers | Unfold to reveal contents of several drawers. |
| Silk or Satin | Common materials used as inner linings. |
| Mirror | Often located inside the lid on sitting jewellery boxes, or flipped up via hinges on standing boxes and armoires. |
| Handles | Often brass, affixed to the side and folded into a recess when not in use. |
Types of Antique Woodenware Jewellery Boxes
There are many different types and styles of antique woodenware jewellery boxes. Below are some of the most popular.
| Type | Description | Advantages | Considerations |
| --- | --- | --- | --- |
| Sitting jewellery box | Sits on a dressing table, opens at the top. | Compact and portable for travel. | The classic original style of jewellery boxes. |
| Standing jewellery box | Sits on the dressing table, doors open outwards. | Can hold more contents than the sitting style. | Larger size may take up too much space on dressing table. |
| Jewellery armoire | Large, stands on the floor, doors open outwards. | Can hold the most contents. | This style is more a piece of furniture than a jewellery box. |
| Wall-mounted jewellery box | Affixed to wall, one or two doors open outwards. | Saves space, can be hidden behind mirror. | Least amount of storage space. |
| Travel jewellery box | Compact with handles. | Sturdier construction. | A jewellery box case can perform the same function. |
Factors to Consider When Buying an Antique Woodenware Jewellery Box
Finding the right antique woodenware jewellery box can be a challenge. Consider the nature of the jewellery collection it will house, along with décor of the bedroom. Below are a few tips to assist the selection process.
Match the collection - Examine the jewellery collection for a common theme or colour. Is there more gold than silver? If so, select a box colour that won't clash with gold. Are there more bracelets than rings? If so, select a box with enough large storage compartments suitable for bracelets.
Avoid clutter - Select a box that has enough room for each piece of jewellery. A box that is too small could cause jewellery to get tangled up.
Two boxes or one - Separating a collection will allow for two different 'looks', rather than trying to find a box that matches everything. One option is having a separate box for gold and a separate box for silver. This will also address the issue of clutter and over-crowding.
Typical Features of Antique Woodenware Jewellery Boxes
Drop front
Some antique boxes have a front that drops down to allow access to the drawers and inner contents.
Concealed drawers
These are different from hidden drawers or compartments. A concealed drawer simply resides behind a panel or drop front.
Hidden compartments
Long a favourite feature of the antique jewellery box, hidden compartments are often found in the bottom, back or sides of the box.
Cross-banding
This refers to a border of veneer with a grain at right-angles to the grain of the adjoining veneer. Kingwood, rosewood and calamander were always considered a great choice.
Dovetail joints
This feature consists of a series of interlocking pins at the box's corners. It makes the box extremely strong, though the hand-carving practice is very delicate and still considered quite an art form.
Moiré Silk
Often used for the interior wall lining, this effect is called calendering. It involves folding the silk and passing it under rollers at high temperatures and pressures. The result is an attractive and wavy pattern.
Velvet ruching
Ruching is a French term meaning to gather or ruffle. Most often seen in the lid and panels, ruching gathers up the velvet or silk to form patterns of ruffles. The panels would be softly padded to hold decorative pins and brooches.
Parquetry
Parquetry involves the use of wood pieces to form a geometric, decorative mosaic. Sometime used on the top or front of larger antique woodenware jewellery boxes, parquet patterns are entirely geometrical and angular, and can include squares, triangles and lozenges.
Marquetry
Marquetry refers to the art of applying pieces of veneer to form decorative patterns, designs or pictures on a jewellery box.
How to Care for Antique Woodenware Jewellery Boxes
The finish of an antique woodenware jewellery box is often as important as the box itself. Polishes, adhesives, fasteners and finishes should not be used. Sunlight can bleach wood, turning clear finishes yellow or opaque. Curtains or shades should be used to block out sunlight or make sure the jewellery box is kept away from sunlight. Antique wood does not need to be nurtured with oil to keep from drying out. Oils will temporarily enhance the finish, but could leave a residue that can attract dust and dirt over time. It is best to use a high quality paste wax which is long-lasting and which offers protection from moisture and dust. A thin coat of wax applied annually will suffice. In between waxing, dust the box with a soft, lint-free cloth on a regular basis. Dampen the cloth slightly and turn frequently as a dry rag can cause scratches. Wax may not be appropriate for surfaces with a deteriorating finish. Consult a furniture restoration specialist if unsure how to proceed.
Makers of Antique Woodenware Boxes
Asprey
Betjemman & Sons
Bramah
Chubb
Edwards
Hancock
Howell James and Company
Jenner & Knewstubb
Leuchars
Lovegrove and Flint
William Lund
Accessories and Add-ons for Antique Woodenware Jewellery Boxes
A jewellery box could be easily damaged during travel. A common accessory was the bespoke protective outer case. These durable outer cases were made from thick leather hide and lined with soft sheepskin to prevent abrasions to surface of the box.
Travel case
Antique furniture wax or paste wax
Mild soaps or cleansers
Soft cloths or brushes
Finding an Antique Woodenware Jewellery Box on eBay
Once you determine the type of antique woodenware jewellery box you want to purchase, visit the Antiques portal on eBay, click on 'Antique Furniture', then 'Boxes/Chests' and start searching item listings. The Categories list on the left-hand side of the eBay page helps to narrow the search.
Searching for an Antique Woodenware Jewellery Boxon eBay
Search eBay listing titles for specific words when shopping for an antique woodenware jewellery box. For example, to find a standing antique woodenware jewellery box, type 'antique woodenware jewellery box' into the search box, and then click the Advanced button to customise the results. Also visit eBay's Search Tips page for more advice on searching for antique woodenware jewellery boxes with keywords. If you can't find the exact antique woodenware jewellery box you want, try shopping eBay Stores.
Conclusion
This guide provides much of the information necessary to search for antique woodenware jewellery boxes on eBay. Once you have collected this information, you can buy an antique woodenware jewellery box safely and securely on eBay.