Paint is one of the best ways to protect metal doors, furniture and fixtures from the corrosive effects of moisture, as well as add a touch of colour and class. If you're planning a restoration project or want to jazz up some old Christmas decorations, read on for expert tips...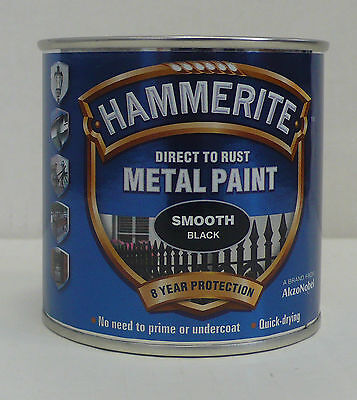 Add a caption
Hammerite metal paint is a popular option
Click to edit caption
Types of metal paint
Oil-based
Oil-based paints
are probably the best choice. They may take some time to dry, but are durable, easy to clean and resistant to chips, marks and stains. Oil paints may be applied direct without using a primer coat and can cover surface imperfections relatively easily. They come in a range of finishes from flat matt to high gloss.
Acrylic paint
Acrylic latex paint has acrylic, vinyl or rubber-based compounds added to it to protect the metal surface, though it is not always suitable if applied directly because it often has a water base and may cause rust. At times it may not stick well on glossy or smooth surfaces. On the plus side, it is fast-drying, can be cleaned or washed easily, is non-flammable and easy to re-touch.
Powder paint
Powdered paint
is more expensive and must be applied by a specialist. The surface is heated and this causes the powdered paint to melt and fuse onto the metal. Powder-coated surfaces are more durable and last longer than liquid paint when applied by a professional.
Enamel paint
Enamel-based metal paints give a tough, glossy finish and may be oil or latex based. The paint can also be spray applied rather than brushed or rolled on, using an aerosol or spray gun – electrical or air-powered. Spray paints come in oil based, latex and enamel formulas.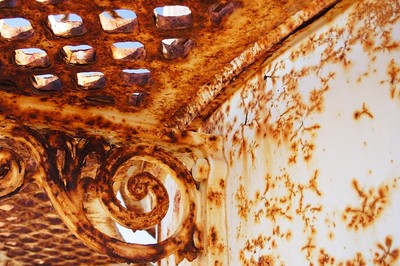 Add a caption
Remove rust and loose material before painting
Click to edit caption
Preparing the surface
Clean off loose dirt, grime and grease from any new metal as paint will not adhere properly to dirty surfaces. Oils on the surface may not be visible but will affect how well the paint sticks, so use white spirit and a cloth to give it a proper clean. Sand or use a scraper and wire brush to remove rust or cracked and chipped paint from an older or previously painted surface to take it back to bare metal. Rougher surfaces will help paint to stick but mend any holes, cracks or open joins using an appropriate exterior filler.
Old iron
Ferrous, or iron-based metals, such as steel, steel alloys, stainless steel and iron are prone to rust and a thin layer of rust is generally fine to apply paint to, just gently sand as much of the rust off as possible. If necessary, use rust remover, especially on soft metal surfaces such as brass, aluminium, copper, magnesium, zinc and zinc alloys.
Rust strippers
Acidic
rust strippers are based on phosphoric acid and dissolve rust on ferrous metals to replace it with a layer of iron phosphate. Rust strippers come in a number of different types – liquid that you dip your metal parts into or gels. They all work on similar principles and are available in non-acidic forms, replacing rust with a protective layer
Galvanised surfaces
Metal surfaces that have been pre-coated to prevent rusting – galvanised surfaces – must be treated slightly differently. They can shed oil and latex paints due to the action of the protective layer, though they may seem to stick at first. For example, zinc content in the galvanised coating can react with the paint's binder creating a film that causes paint to peel. Primer for galvanised surfaces will often need to be applied after sanding and cleaning the metal. Read the paint manufacturer's instructions carefully to determine how to prepare the surface then apply primer first then paint.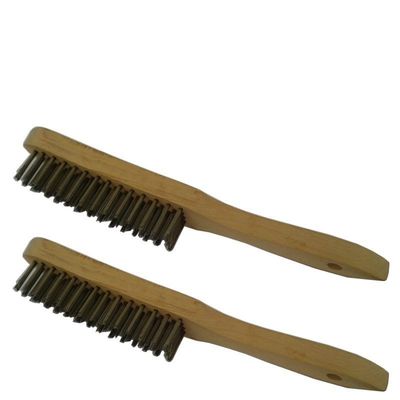 Add a caption
Wire brushes may be used to remove dirt and rust
Click to edit caption
Stripping paint from metal
Removing paint from metal using chemical paint removers is a quick and easy process. Do consider the item to be stripped when choosing a paint remover. Liquid removers dry quickly and are best for small pieces of hardware. Aerosol sprays can cover a larger surface area in a short time. Most require that you cover the metal with the solution and wait for it to activate before removing. Paint will blister off and can be removed using a scraper and a rag dipped in white spirits.

Avoid letting the surface come into contact with water as rust can form almost immediately on a stripped surface. If rust spots appear then sand them off before repainting. Use goggles, rubber gloves and a face mask as chemical paint removers can contain hazardous materials and give off fumes. It is better to work outdoors where possible to avoid fume build-up in a confined space, where flammable fumes or liquids may accidentally ignite.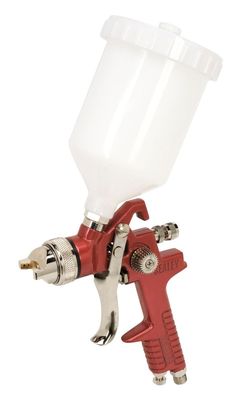 Add a caption
A spray gun may be used for metal paints
Click to edit caption
Using primer
Priming the metal is a good idea where it is exposed to the elements as it provides an extra protective layer and base for your paint top coat. Wrought iron and aluminium in particular do not take paint well without using a primer. Apply evenly using a brush, roller or spray, just like paint. Do not apply too thickly as it may run or stick to the metal unevenly. Allow it to dry thoroughly before applying another coat. Some primers have rust resistant properties and add an extra layer of protection to the metal surface.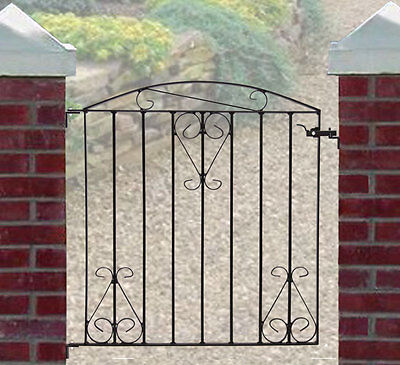 DIY projects
Painting a metal gate
You will need a wire brush, paintbrush, dust sheet, latex gloves, white spirit, primer and paint. Spread out your dust sheet underneath the gate to catch particles and paint drips. Scrape any paint and loose rust off with the wire brush. Put on gloves and de-grease and clean the surface with white spirits. Depending on the paint choice primer may need to be applied first, though brands like Hammerite can be applied to surfaces with light rust and without using primer. Surfaces like zinc, galvanised metal and aluminium may need a special metal primer so read paint instructions carefully.

Cover the gate completely using paint and paintbrush, making sure to work paint into any decorative areas like scrollwork and awkward corners. One coat may be sufficient but on bare metal or rusty surfaces it may need two. Do not apply too thickly as paint may drip or sag. Allow time to dry and your gate will be renewed and rust free for years to come.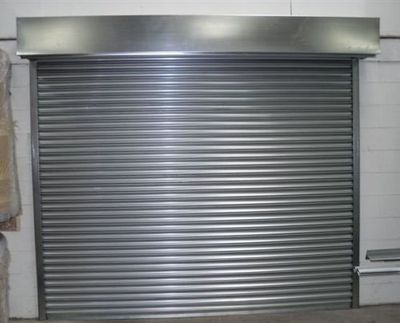 Add a caption
Garage doors may need priming
Click to edit caption
Garage doors
Most metal garage doors are galvanised to stop rust. When overcoating a previously painted door then rub it down well using sandpaper to remove any loose paint. De-grease the door using white spirits. Use a primer on the metal – two separate primers may be required or primer plus an undercoat (some companies provide primer mixed with undercoat). Paint the garage door using a paint brush or a roller (preferably one with natural fibres rather than man-made material) and then for a quality finish use a dry brush to run over the paint, smoothing out any roller marks and buffing the paint for a shiny finish.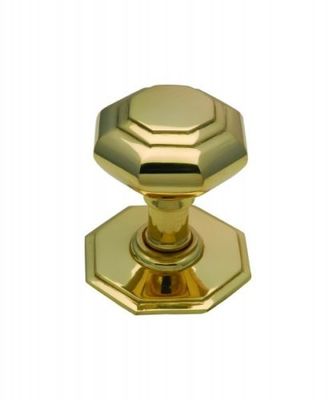 Add a caption
Smaller metal items may be spray painted
Click to edit caption
Home fixtures and hardware
Items like drawer handles, doorknobs and other hardware like coat hooks can be quickly and easily painted using spray paints. Depending on the metal surface it may need to be brushed or sanded to remove any paint or rust. De-grease using white spirit and a clean cloth. Use a well ventilated area and put fixtures on a dust sheet, cardboard or wooden surface to catch any loose droplets. Apply a primer and allow about an hour to dry – items like brass door knobs may not need primer.

Shake the paint can for at least a minute to mix it well and then test it on scrap material to make sure the nozzle is clear and paint is coming out evenly. Hold the can approximately 12 inches (30cm) from the metal surface and apply using a sweeping motion top to bottom or side to side, making sure to paint the surface evenly and avoiding drips and runs. Allow paint to dry for a few hours and then apply a second coat, again allowing a few hours to dry. Bring fixtures into the house and let them 'prove' for 24 hours before re-attaching them.