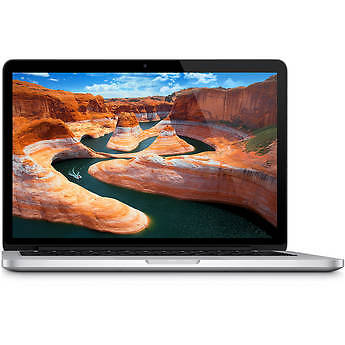 The biggest decision to make when buying a laptop is between an Apple Mac and a PC. Although PCs have dominated the commercial computer market traditionally, innovations in design and technology have made Apple Macs the computers of choice for many modern users. There are several reasons to upgrade from a PC to an Apple laptop. Macs are less susceptible to viruses than PCs, and they are designed with a metal casing that makes them durable and resistant to physical damage. Apple also offers excellent customer service for its products, so problems with a laptop can often be resolved in a swift and straightforward manner.
There are two primary types of Apple laptops on the market. The MacBook Pro expands on the capabilities of the original MacBook and provides high levels of performance for all types of users. Buyers who need a compact and lightweight laptop can also choose the MacBook Air. Although the MacBook Air cannot match the performance of the larger MacBook model, its lower price and easy portability make it an excellent alternative.
Apple laptops can be purchased from Apple Stores, department stores, and electronics retailers. They are also available online from marketplaces like eBay. Buyers can shop for a wide selection of accessories for their Apple laptops, including keyboard covers, carrying cases, and anti-theft locks. Do some research to find the best prices on Apple laptops and accessories, and choose items to improve the enjoyment and ease of using a laptop.
Types of Apple Laptops
There are two types of Apple laptops available: MacBook Air and MacBook Pro. Both have their own advantages and are designed to match the needs and budgets of different buyers. Learn more about each one to choose the most suitable product.
Apple MacBook Air
MacBook Air is Apple's ultra lightweight laptop model. It weighs less than 1.4 kilograms and comes with two screen sizes: 13.3 inches and 11 inches. It features an internal microphone, speakers, and a camera. As it is small, the MacBook Air is a bit slower than other MacBooks; it is also less expensive.
Apple MacBook Pro
The MacBook Pro is the more advanced version of the original MacBook, which was replaced by the MacBook Air. It has several advantages over its smaller counterpart, including screen size and processing power. There are two screen sizes available, including 13.3 inches and 17 inches. MacBook Pros can be built with a retina display, which has a 2560 x 1600 resolution. These screens have two to three million more pixels in the image than a 60 inch 1080p television. This provides incredible high-definition imagery.
MacBooks are built with flash technology, which improves the speed of the processor, graphics, and I/O operations. The flash technology also allows the MacBook to be thinner than PC laptops. MacBook Pros have customisable hard drives, optical disk drives, and processor speeds. Like the smaller MacBook Air, they are equipped with an internal microphone, stereo speakers, and camera.
Factors to Consider when Upgrading From a PC Laptop to an Apple Laptop
There are several reasons that buyers choose to upgrade from a PC laptop to an Apple laptop. These include protection against viruses, applications, and the high level of customer service.
Virus Protection for Apple Laptops
Apple laptops are less likely to be targeted by malware than PCs, which means that users can enjoy their computers with greater peace of mind. Although they are not completely immune, most users are able to operate their laptops safely without any security software installed. This is due to the lower number of Macs in use. Hackers target the largest groups possible and therefore focus their efforts on PCs. Mac buyers who would like the added comfort of a security suite can find several options available.
Applications for Apple Laptops
The Apple laptop operating system is equipped with several built-in applications. These can be stored on the iCloud server provider by Apple and picked up again by the user's other devices, such as iPhones and iPads. This accessibility alone makes Apple laptops the ideal choice for many buyers.
Metal Casing for Apple Laptops
Apple MacBooks are designed with an aluminium casing that makes them resistant to scratches and scrapes. The material also protects internal components in the event that the laptop is dropped.
Customer Service for Apple Laptops
Microsoft allows third-party brands to build PCs. Although this creates competition and results in lower prices, it also means that troubleshooting any problems encountered on a PC can be frustrating. Compatibility with software programs is also hit-and-miss, due to the enormous number of PC models on the market. Apple, on the other hand, is the only manufacturer of MacBooks. This means there are relatively few models on the market, so identifying the source of a problem can be quick and easy. In addition, Apple operates retail stores across the UK, and laptop owners can use these to get advice and simple repairs. If the repairs cannot be performed in-store, the staff can send the computer to a specialist.
Accessories for Apple Laptops
Buyers of Apple laptops have a wide range of accessories to choose from. The following table lists some popular items that can help buyers get the most from their Apple laptop.
Accessory

Description

Can help users to transport their laptop

Protects the laptop from damage

Choose items that are designed to fit a specific laptop

Keeps dirt and food from entering the keyboard

Greatly extends the life of the unit

Prevents keys from sticking

Choose different colours to customise a laptop

Helps users enjoy their music and videos

Choose products that are a suitable size for the available space

Helps to secure a laptop and prevent it from being stolen

Inexpensive

Allows users to walk away briefly from their laptop in cafes and other public places
When shopping for accessories, look for items that fit the specific type of Apple laptop being used. In most instances, a product clearly states the compatible models on its packaging.
How to Buy Apple Laptops on eBay
All types of Apple laptops can be purchased from the sellers on eBay. To find these products, initiate a search from the home page. You may do this by entering keywords into the search field and then refining the results by clicking on links to eBay's categories. For example, type "macbook pro" into the search field to see all items tagged with those keywords. You may introduce new terms on the search results page to refine listings further.
Item Listing
Click on the name or image of an Apple laptop in the search results to see its full listing. There you can find detailed information about its price, delivery charges, and the payment methods accepted by the seller. You can also check the delivery methods that are used. Read the description of the Apple laptop provided by the seller, and compare it with available photos to understand the specific item being sold. Many listings also include a specification sheet from the manufacturer that details the processor, ram, and other aspects of the computer's design.
Seller Feedback
Research sellers on eBay to feel confident about your purchase. Feedback ratings indicate the percentage of buyers in the past 12 months who were satisfied with their purchase, while the number of completed transactions represents the seller's level of experience. You can also read comments from previous buyers for more detailed information about past transactions. Once you have received your item, leave feedback about the experience to inform future buyers.
Conclusion
Apple laptops are popular for their durability, user safety, sleek design, and high levels of performance. There are two types available: MacBook Air and MacBook Pro. All models are available with a 13.3 inch screen, while the MacBook Pro also has a larger 17 inch screen, and the MacBook Air is available with a smaller 11 inch screen. MacBook Pros can be built with a retina display, which has millions of pixels in the screen for crisp, high-definition images. Apple laptops are also created using flash technology, which improves the speed of their I/O processes, processor, and graphics. It also allows the computers to be thinner than PC laptops.
In order to decide whether to upgrade from a PC laptop to an Apple laptop, consider the following. Apple laptops are generally safer than PCs because they are less likely to be attacked by a virus. Their hard metal casings adds physical protection to the computers, so they can withstand more damage from bumps, drops, and scratches than PCs. The largest benefit of owning an Apple laptop rather than a PC laptop is the high level of customer service provided by Apple. As third party manufacturers are not allowed to create the laptops, service for an Apple product can be quick and easy.
Apple laptops are sold on marketplaces like eBay, which has a high number of listings. Research the products and compare prices to find models with the desired features. Also, consider the many types of accessories available to protect and personalise an Apple laptop.