The headlines are made with top-end, cutting-edge phones - and we've already seen the
iPhone 5S and Galaxy S5
square up - but there's a separate battle occurring a little further down the price scale. Last year, Apple took the unprecedented step of launching the cheaper
iPhone 5c
and in price terms it's a close match for
Samsung's Galaxy S4
. If you don't need the absolute best or don't want to pay premium prices, which of these two phones is the best deal? David Bayon, Contributing Editor at PC Pro, finds out.
---
Display
Apple upped its screen sizes when it first launched the iPhone 5, but there's no denying Android phones feel more spacious and usable. The Galaxy S4 has a beautifully vibrant 5in screen with a Full HD resolution, and although it's hard to fault the quality of the iPhone 5c's 1,136 x 640 display, its 4in size feels a bit limiting by comparison. That said, iOS7 is designed for this smaller and narrower screen size, and everything still works brilliantly. The size issue isn't going to go away, but it remains a matter of personal opinion.
Build
The quality of materials and construction has always been an area where Apple soared ahead of the crowd, so the introduction of a cheaper, plastic iPhone 5c was a surprise. Both of these phones come in a variety of colours, and both feel nice and curvy – but the iPhone 5c feels a little sturdier and more solid in the hand. That said, there's not a lot between them, and they'll both be fine in your pocket for the duration of a 2-year contract.
Features
The feature list is where the real differences become apparent, and the cameras highlight that. The iOS camera app offers HDR and a few filters, but it hasn't been given much attention over the years; the S4 offers oodles of options by comparison. And the cameras themselves are uneven too: the iPhone's 8-megapixel sensor can't match the S4's 13 megapixels, the latter producing images with that little bit more detail and accuracy of colour. The same applies to video, with the Samsung capturing a sharper, more vivid look.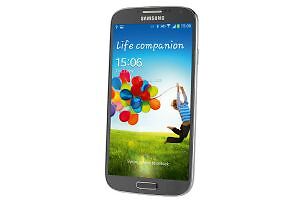 Both phones offer 4G compatibility, 802.11bgn Wi-Fi and Bluetooth 4, although the Samsung goes one better by also including NFC – a nice extra, even if the usefulness of that is currently limited. Storage-wise, the 5c comes in 8GB, 16GB and 32GB models, whereas the Samsung offers only 8GB or 16GB with further storage available through a microSD slot. We like the flexibility this offers, particularly as it allows you to save your money until it becomes clear you need that extra capacity.
Performance
Ignore the processor and RAM specs in that table, as they simply aren't comparable here. While Samsung's Qualcomm processor has four cores and a faster clock speed, that doesn't automatically make it superior; in fact, the custom design of Apple's dual-core A6 chip together with the optimisation of iOS mean it's also lightning-fast in use. The 5c actually feels smoother with daily functions than the S4, with the latter actually getting quite choppy when jumping between home screens. It's not something that's going to put you off using the phone, but it's certainly noticeable.
Software
There's no two ways about it: even with its big update last year, iOS is feeling a bit old next to the ever-evolving Android. It's vastly more customisable, with the Samsung TouchWiz experience offering all sorts of features, and you can replace the look and feel entirely with any of the available launcher apps. You also get a lot more of it on that bigger Samsung screen.
As for the app stores, the old advantage Apple used to have – apps would release on the App Store long before Google Play, if they ever arrived there – is much less common these days, and both platforms have all the big titles locked down. We still prefer the App Store, however, if only for Apple's stricter app submission process that cuts down the amount of low-quality bloat.
The verdict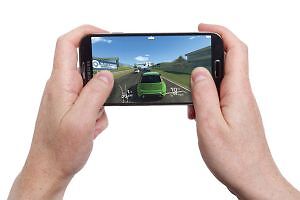 These two phones aren't going to empty your wallet like the
iPhone 5s
and
Galaxy S5
, but you still want the best possible quality for your money.
Both have plenty to offer and have strengths in different areas, and neither will disappoint a discerning smartphone user, but we have to say the Samsung Galaxy S4 has the slight edge overall. It's better equipped on the features front, it has a larger and more vibrant screen, and you can generally find it a bit cheaper than the iPhone 5c, especially on contract where you'll save around £5 a month. That said, there really isn't an awful lot between them, so it may come down more to your choice of platform rather than hardware. If you already own an iPhone and have built up a collection of apps, the quality gap simply isn't wide enough to warrant jumping ship and starting again on Android.
---
Cpmparison table
| | Apple iPhone 5c | Samsung Galaxy S4 |
| --- | --- | --- |
| SIM-free price | From £429 | From £350 |
| Display | 4in, 1,136 x 640 | 5in, 1,920 x 1,080 |
| Storage | 8/16/32GB | 8/16GB (microSD up to 64GB) |
| Processor | Dual-core 1.3GHz | Quad-core 1.9GHz |
| RAM | 1GB | 2GB |
| Cameras | 8mp rear, 1.2mp front | 13mp rear, 2mp front |
| Connectivity | 4G, Wi-Fi bgn, Bluetooth 4 | 4G, NFC, Wi-Fi bgn, Bluetooth 4 |
| Dimensions | 124 x 59 x 9mm | 136 x 70 x 8mm |
| Weight | 132g | 130g |
| OS | iOS 7 | Android 4.2.2 (upgradable) |
---