A Guide to Aquawave Aquarium LED lighting - a solution for every type of aqaurium

Available at www.aquariumledlighting.co.uk
Which Led light should I use?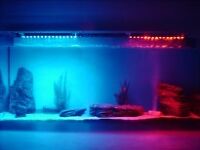 Aquawave Fusion:
Ideal for additional effect lighting or mid level lighting in small & medium size aquariums, sumps and nursing tanks. Many size options to fit into all size hoods or inside the tank the tank itself. Incudes unique blednded colours to create perfect sunrise, deep blue lagoons and a stunning moonlight blue. Share multiple tubes from one low voltage power supply. Compatibale with Aquarwave controllers.
Aquawave Brilliance:
Enhanced powerful every day led lighting. first level power leds give amazing clarity of colour and create spectacular glitter lines to transform your aqaurium. Enjoy amazing effects with Brillliance sectional control - the only tubes to give you teh ability to create passing clouds, storm brewing and lightning storms using a range of controllers.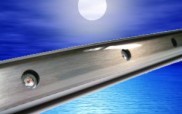 Brilliance K2:
K2 floodlighting for tropical& Marine aquariums is the exciting answer to replace your fluorescent tubes. Brighter tehna the Brilliance with more colour options it ofers real life simulation, stunning glitter lines and advanced digital control.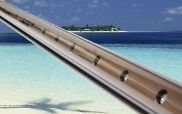 How many Brilliance white lights do I need?
Decide if you want to light the whole length of the tank. Some prefer to leave shaded area at the sides for the fish to rest in.
Select a light that will cover the length comfortably (see the Brilliance info charts). A 450 Brilliance will light up to a max of 1 metre but if you have a 1 metre tank you may be better advised to have a 590 to ensure the light is balanced right across.The light is influenced by many outside factors such as the colour of your sand, lots of plants, very dark backgrounds etc so the figures are for guidance only.
A ratio of two LED tubes to every current fluorescent tube is a god guide although you may find that 3 LED tubes to two fluorescent tubes is sufficient.
K4 High Power Lighting

the ultimate in strength, control and brightness delivered in a cool, inspired, striking light
A thrilling blend of advanced thermal dynamics and raw light energy mixed with a fusion of aluminium, acrylic and microprocessor technology to give stunning performances on every level.
With the metalic cut edges of modern heat dissapation creating a truly awsome design blended with slick, cool, gloss black acrylic low profile design the K4 is a light engine in a legue of its own. Up to 4 times the brightnes level of a K2 this is tru Metal halide perfomance.
What about adding colour?

Blue is very important in all aquariums. It gives a more natural light cycle and encourages spawning. Corals benefit from blue all day hence the Ocean Brilliance to combine white and blue and the Reef version of the K4..
Each type of led light has a blue option with the Fusion giving a powerful ambient colour and the Brilliance & K2 a high energy ultra bright actinic blue. Personal choice is the main factor when selecting which one and again the light will spread according to the length of the tube. Being able to mix and match the lights to create the exact look for your aquarium is one of the many benifits of Aquawave lighting: all are compatible with the same controllers so you can have ultimate K4 lighting with sunset Fusions giving true life sunrise colour.
Red is offered in the Brilliance range to help with colour balance in reef aquariums and also to show off nocturnal habits and encourgae growth in low sited plants.
The Fusion range also offers a gorgeous blue lagoon to transform your aquarium at anytime.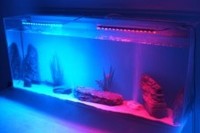 Information taken from www.aquariumledlighting.co.uk