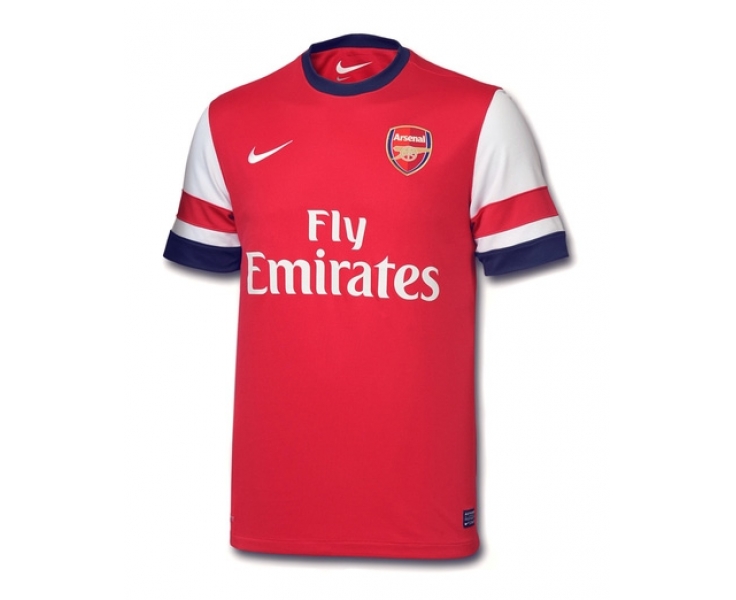 Avid sports fans collect memorabilia that reminds them of their favourite players and clubs. In Great Britain, football memorabilia garners more sales than any other sporting memorabilia. The popularity of English football has been depicted in popular culture. English football fans purchase a wide variety of football memorabilia, but perhaps no other football memorabilia sells more than football uniforms. From shirts to shorts to socks, English football fans keep the tills churning online and at retail outlets. The most successful English football clubs garner the highest selling merchandise, especially if the merchandise is a signed shirt by a player on one of most iconic football clubs in Great Britain.
Arsenal Football Club fans have a number of shopping options when it comes to finding a shirt signed by their favourite player. They can attend club-sponsored auctions, shop in club-run shops, or go online to eBay and peruse the selections of Arsenal signed football shirts. eBay brings sellers and buyers together in a very active virtual marketplace. Before breaking out the credit cards, Arsenal fans should research shirt size charts and tips for both children and adults, and then learn about the factors to consider during the shopping process.
About the Arsenal Football Club
Mention the English Premier Football League and a few clubs come to mind. As one of the most successful clubs in the history of English football, the Arsenal Football Club represents one of the few high-profile clubs. The club plays home matches in the 60,000 seat Emirates Stadium in Holloway, London. Over the course of its 127-year existence, the football club has won 13 First Division and Premier League championships, as well as 10 FA Cups. Arsenal was only the second English top-flight football club to finish a season undefeated and the only club to have accomplished an undefeated season that comprised 38 matches. With a very high club value, the Arsenal Football Club represents the fourth most valuable football club in the world. Much of club's value stems from merchandise sales to a rabid fan base. Arsenal offers merchandise that includes football equipment, posters, trading cards, and signed Arsenal player football shirts.
Arsenal Football Shirt Sizes
Arsenal football shirts comes in a variety of sizes for both children and adults. The following two charts break down the shirt sizes for children between seven and 16 years old. Adult sizes typically begin at 17 years of age. Both charts include Chest and sleeve length sizes are measured in centimetres.
Child
Buying an Arsenal football shirt can be tricky. While size remains the primary consideration, children tend to be particular about colour and style. Parents may have to purchase multiple shirts of varied sizes, colours, and styles.
| Adidas Sizes | Chest (cm) | Sleeve Length (cm) | Ages |
| --- | --- | --- | --- |
| 26-28 | 76-81 | 53 | 7-8 |
| 28-30 | 86-91 | 55 | 9-10 |
| 30-32 | 86-91 | 60 | 10-12 |
| 32-34 | 81-86 | 66 | 12-14 |
| 34-36 | 86-91 | 71 | 14-16 |
Child sizes are not etched in stone because some children grow faster than others. Shops that sell sporting goods employ sales professionals who recommend that parents purchase a signed Arsenal football shirt that is one size larger than the child's current size. In the case of adolescents in their late teens, buying a shirt one size larger than the adolescent's current size may require parents to purchase an adult-sized Arsenal Football shirt.
Adults
Most English football players possess thin, fit frames. This means that larger adults who want to buy an authentic Arsenal football shirt may be out of luck. Instead, larger adults should search for signed replica shirts that fit them. They can also buy an unsigned Arsenal football shirt and have one or more of the players sign it.
| Adidas Sizes | Chest (cm) | Sleeve Length (cm) |
| --- | --- | --- |
| Small | 101-106 | 73 |
| Medium | 106-111 | 76 |
| Large | 116-121 | 81 |
| X-Large | 121-127 | 81 |
| XX-Large | 132-137 | 84 |
| XXX-Large | 137-142 | 86 |
While the size charts provide a solid foundation for determining shirt size, buyers must also consider a few other factors before deciding on the right size of a signed Arsenal football shirt. The material used to produce the shirts influences how much a shirt shrinks after its initial wash. Measurements can be taken at home, although most garment sales professionals recommend that buyers visit a shop to receive accurate football shirt measurements.
What to Consider Before Buying a Signed Arsenal Football Shirt
Arsenal football fans have a number of factors to consider before they make a purchasing decision on a player signed shirt. The factors run the gamut from colour choices to ensuring the authenticity of the signature. Fans must also decide upon the venue where they plan to purchase the shirt and how much they can afford for a player signed shirt. Rank the following factors in terms of importance and keep the list close by, regardless if the shopping is performed online or in person.
The Player
Arsenal's 127-year run of excellence has produced dozens of great players. Player popularity goes a long way in determining the value of a signed Arsenal football shirt because of higher demand. Since fans covet signed football shirts from the most noteworthy Arsenal players, sellers tend to receive higher prices than for shirts signed by lesser known or less popular players. For example, a Thierry Henry or Robert Pires signed Arsenal football shirt costs more than other signed Arsenal football shirts.
Signature Authenticity
If the signature is fraudulent, a signed men's Arsenal football shirt possesses no value except in the materials used to construct it. Buying directly from the Arsenal website is one way to ensure authenticity. Arsenal fans should also consider eBay sellers who provide a visible certification of signature authenticity. Buyers can view most of the current player signatures by accessing the Arsenal website. The club runs annual fundraisers that derive revenue from auctioning Arsenal player signed football shirts. Fans can compare the signature of current players with the signatures on shirts offered by online sellers.
Online vs. In Person
Arsenal fans can find player signed shirts in sporting goods shops and Arsenal organisation sanctioned clothing outlets. They can also attend periodical auctions that the club runs to raise money for varied charities. Some fans are wary of buying signed shirts online due to questions that concern quality and authenticity. Fans who have doubts can shop on eBay with peace of mind. Sellers who offer Arsenal signed football shirts on eBay typically do whatever they can to confirm authenticity and provide superior quality.
Colour
Because of the Arsenal Football Club's long history, fans have a surprisingly large number of colours and colour combinations from which to select. Throughout the Arsenal Football Club's celebrated history, the players' home colours included bright red shirts and white sleeves. For most of the club's first 100 years, the players wore white road shirts. Since 1969, Arsenal Football Club players have worn yellow and blue road shirts. Fans can find more variety in the colours of the road shirts, since the club regularly changes the colours every few years. Fans can find road shirts from the early 2000s that include metallic gold and a navy blue stripe. During some seasons, Arsenal wear different coloured home and away jerseys to commemorate a club milestone.
Condition
Judging the condition of an Arsenal football shirt involves a different process than evaluating the condition of an Arsenal football trading card. Fans are basically on their own when it comes to judging an Arsenal shirt's condition. Since most Arsenal football shirts display bright colours, fans can easily detect inferior shirts that contain spots where the colours run together. Pay attention to any fraying along the seams, as that indicates wear and tear. Refrain from buying Arsenal football shirts that possess small holes. Even a shirt protected by a glass frame can possess small holes that grow into larger holes.
Material
Manufacturers produce English football shirts made of cotton, flannel, polyester, or some combination of the three materials. Cotton can pose washing issues, but most fans buy Arsenal signed football shirts to display in their homes. Therefore, consider buying a 100 percent cotton Arsenal football shirt, since cotton does the best job of visual presentation.
Replica vs. Authentic
It is not about the signature, but about the shirt itself. Many signed Arsenal football shirts are replicas of the real deal. Replicas cost less in retail outlets and have lower auction values. It is rare for a fan to buy an authentic Arsenal football shirt anywhere other than a club-sponsored charity drive.
Buying Arsenal Signed Football Shirts on eBay
Arsenal football fans want to know that they are doing business with the best eBay sellers when it comes to purchasing an Arsenal footbal shirt. You may have a difficult time finding a signed shirt, but you should have no problem finding one of eBay's Top-Rated Sellers. eBay designates the top-rated sellers by placing an electronic ribbon icon next to the Arsenal shirt photographs that accompany each seller listing. After you narrow your choices down to a few sellers, make your decision based on which of the sellers runs an eBay Store where you can purchase the shirts directly. Once you find the right seller, ask the seller if he or she has a signed Arsenal shirt that has not been offered on eBay. You can also buy a high-quality Arsenal football shirt from an eBay Top-Rated Seller, and then get your favourite player to sign it.
Another way to find the right eBay seller is to utilise the powerful search engine. Avoid typing in generic keywords such as "football memorabilia", and instead, type specific keywords that reduce the number of search results. For example, you can search using new or used condition criteria. After you narrow your seller list down to just a few candidates, review the information each seller publishes on the product page to make a buying decision. Delivery terms is an important factor to consider, especially for Arsenal fans who live overseas. Some sellers may not offer delivery outside of Great Britain.
Conclusion
Mention the English Premier Football League and the responses you receive from fans involves one of the most popular players or clubs. Of all of the clubs that comprise the preeminent football league in Great Britain, Arsenal and Manchester United have the largest and most devout followings. Arsenal Football Club has established over a century of fielding clubs that include some of the best football players in the world. High calibre play has translated to a fan base that supports their favourite football club by purchasing Arsenal memorabilia, especially Arsenal signed football shirts.
Arsenal fans have a number of factors to consider before they buy an Arsenal shirt signed by one of the club's players. They must first find the right size to fit either children or adults. A good tip is to buy one size higher for children to ensure fit as the children grow out of smaller sizes. Next Arsenal fans have to decide whether they want to shop in person or online and buy either an authentic or replica shirt. Consumers who shop for signed shirts must decide on the player, verify the player's signature authenticity, and choose a shirt in near mint or mint condition. All three factors play a large role in determining if the signed shirt appreciates in value.