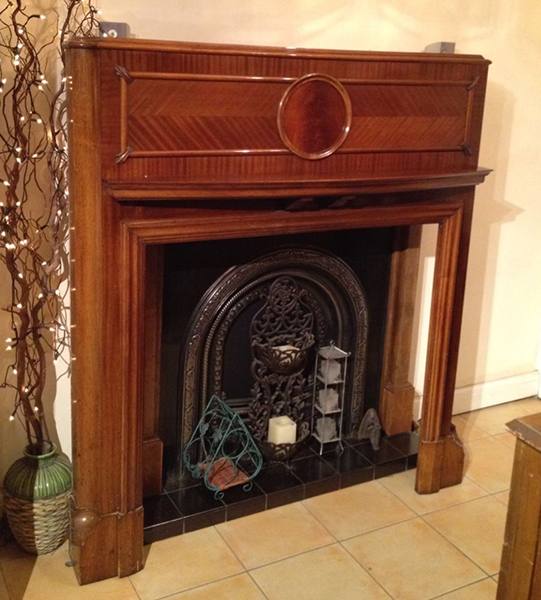 Art Deco was a style of design that emerged from Paris and flourished from 1925 to 1940 in Europe and the United States. The style is known for its industrial appearance, bold lines, jagged building-like shapes and soft, muted colours. This style was adapted to architecture, jewellery, furniture and even fireplaces. Fireplaces made in the style of Art Deco were known for using geometric shapes, chevrons, and zigzags in their designs.
There is a wide range of Art Deco fireplaces that can be found on eBay - some of which are antiques and some replicas. This buying guide will help the buyer to make better decisions when choosing an Art Deco fireplace on eBay. The guide will also provide information about the historical background of Art Deco, highlight the key design elements and materials that were commonly used and the factors to consider when selecting an Art Deco fireplace.
History of Art Deco Fireplaces
Although the name wasn't officially coined until 1966, Art Deco made its debut at the 1925 World's Fair in Paris, and was developed by a group of French architects and interior designers. This new design incorporated an assortment of elements and styles from diverse artworks and fashion trends that were popular at the time.
In Europe and the United States, Art Deco was associated with the machine aesthetic. As an art form, Art Deco became a reaction against the more ostentatious and sinuous Art Nouveau style. Art Deco was heavily influenced by both Cubism and Surrealism. Egyptian and African folk art can also be seen in the lines and embellishments of the design, as well as Asian influences which helped to contribute symbolism and grace to the finer details. Art Deco discarded the need to incorporate historical influences and opted to favour and highlight a more modern approach to design. The decorative detailing that was common in Art Nouveau was sacrificed in favour of function, where more industrial design methods were adopted.
Discover Art Deco Fireplaces
The Art Deco style greatly influenced the shape of 1930s fireplaces as new design elements could be seen in bevelled edges, rounded corners and repetitive patterns. Early Art Deco pieces can be identified simply by the expensive materials and craftsmanship that went into creating such fireplaces. A desire for high-end luxury items and an increase in modern designs were reflective of the world-wide craze for Egyptology which gripped the western world after the discovery of the tomb of Tutankhamen in 1922.
A typical Art Deco fireplace would be completely machine-made out of ceramic with motifs that highlighted architectural and geometric forms. Art Deco fireplaces also tended to be tall rather than wide. The hearth and the opening of the fireplace tend to be taller than previous styles. The shapes also sometimes reflected the façade of tall buildings, with squares, archways and rectangles.
Materials Used in Making Art Deco Fireplaces
Art Deco designers broke away from the traditional use of materials and patterns. They used materials that allowed them to convey a sense of wealth and luxury. In the design of their fireplaces, they also leaned towards the use of materials that would allow for straight lines and geometric patterns which was prevalent during this artistic movement. Simple, understated lines became more spectacular with the use of reflective chrome, lacquered wood and ceramic and marble tiles, all giving off a more modern feel without being overly showy.
Material

Features

The improvement in steel-making techniques meant that metal was widely-used. Cast iron was one such use of metal. The back of the hearth, the hearth itself and the grate could all be made of cast iron in the construction of Art Deco fireplaces

Fireplaces that were made entirely out of tiles or slabs of marble still often bore metallic trimmings

Tin metal embellishments were also a common decorative feature in Art Deco fireplaces

Ceramic, marble, and faience

Marble, ceramic, faience (a type of earthenware ceramic glazed with tin) mixed with metallic trimmings were also materials commonly used in the design of the Art Deco fireplace

Ceramic tiling around the fireplace and hearth was typically seen. Most of these tiles had a high-gloss glaze and bold geometric designs

Some materials in Art Deco fireplaces that resemble a shiny, glazed wood were actually a kind of golden, veined marble

Design components

Many of the Art Deco fireplaces were designed asymmetrically and often the overall shape was taller than it was wide

Designs and shapes were made with tiles and metal featuring jagged edges, stacked arches, stepped lines and geometric shapes

Lacquered wood

The deep, opaque and highly polished lacquered surface offered a warmth and shine to the Art Deco fireplaces

Art Deco borrowed elements from Asian design and the popularity of Japanese lacquer wood, known for its beauty and durability, was thus incorporated in the overall fireplace design
Factors to Consider When Buying an Art Deco Fireplace
There are a few factors to consider when buying an Art Deco fireplace.
Materials
Decide on what kind of material best suits the home. One can choose from the range of materials outlined above. Ceramics might give an earthier feel, whereas marble exudes sophistication. Metals, while durable, could absorb a lot of heat, which means that the room could take longer to warm up.
Design
Decide on the kind of design that works. Art Deco fireplaces often feature roses as a decorative design, for example. Rounded corners are another feature that could be attractive to some buyers. Geometric designs are also typical of the style.
Size
This depends on the size of the room that will feature the fireplace. Living rooms will need bigger fireplaces to provide ample warmth while bedrooms will probably need smaller ones.
Budget
A marble fireplace could be more expensive than a ceramic one, for example. A buyer's budget could also be affected by how many fireplaces are required in the home. Some people like to have fireplaces in the living room and the dining room. Older properties also have fireplaces in bedrooms.
Suitability
A buyer may also want to consider if an Art Deco fireplace will suit the furnishings and even the style of the house.
Typical Features of an Art Deco Fireplace
Sharp, Clean Lines
One of the key features of Art Deco is clean lines. This was influenced by Cubism and to a lesser degree, Surrealism. Symmetry is important and edges tend to be sharp. Such features are different to designs of earlier ages. For example, the design in the Victorian age tended to be more intricate and fussier. Art Deco's polished look gives a sense of sophistication and understated elegance.
Bright Colours
Vibrant primary colours are also commonly used in Art Deco design. Brightness could also refer to polished metals, such as chrome and brass. Marble could also be polished to a shine, to give a sense of brightness. Art Deco developed in the aftermath of World War I and part of the concept of having shiny, polished things reflected the optimism of the time.
Motifs
Straight lines, chevrons and zigzags often appear in Art Deco styles, as do geometric shapes such as triangles and rectangles. In terms of pictorial depictions, roses, girls and animals also feature in Art Deco and can be found in the fire surrounds made in this style. The depiction of animals and people could be traced to influences by Egyptian and African folk art.
American Streamline
In the United States, the Art Deco movement soon morphed into a concept known as streamlining. This employed the ideas of speed and motion to incorporate a sense of aero-dynamism into the design of things, including household products and decorations on furniture and even fireplaces.
Accessories for Art Deco Fireplaces
* Tiled grates such as arched ones, register grates, dog grates
* Fireplace fenders
* Fire irons
* Fire screens
* Matches and match holder
* Coal buckets
* Log baskets
Finding an Art Deco Fireplace on eBay
Once you determine the type and style of the Art Deco fireplace you want to purchase, visit the Antiques portal on eBay, click on 'Architectural Antiques', then 'Fireplaces' and start searching item listings. The Categories list on the left-hand side of the eBay page helps to narrow the search.
Searching For an Art Deco Fireplace on eBay
Search eBay listing titles for specific words when shopping for Art Deco fireplaces. For example, to find a wooden Art Deco fireplace, type 'wooden Art Deco fireplace' into the search box, and then click the Advanced button to customise the results. Also visit eBay's Search Tips page for more advice on searching for Art Deco fireplace with keywords. If you can't find the exact Art Deco fireplace you want, try shopping eBay Stores.
Conclusion
Once you understand the key design elements, historical background and materials used in the construction of Art Deco fireplaces, you can make an educated decision about the purchase. Once you have collected this information, you can buy an Art Deco fireplace or fireplace accessories safely and securely on eBay.