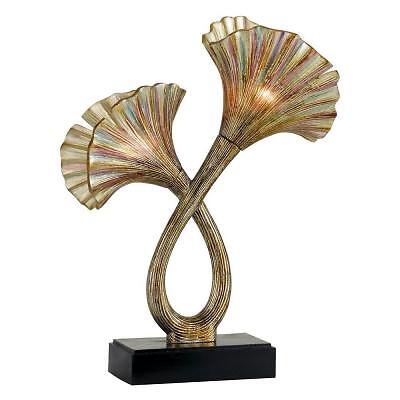 Art Deco lamps experienced a surge in popularity during the 1990s, which has never really abated. Their rich colours, bold geometric shapes and sometimes lavish designs have a universal appeal. While also being functional, they bring a sense of history to the home. There is no shortage of Art Deco lamps on eBay. With such a wide range available, it can be hard to know what to look out for. This buying guide will provide information about the history, types and styles of Art Deco lamps. It will also provide tips to assist the selection process, and instructions for care and maintenance after the lamp has been purchased.
History of Art Deco Lamps
The term 'Art Deco' refers to the period from the 1920s to the 1940s, as does the term 'Art Moderne'. In fact, 'Art Deco' was not commonly used until the 1960s and the period was initially referred to as Moderne. Art Deco began with the Paris International Exposition in 1925, building on the stylised, cleanly-lined forms of its Art Nouveau predecessor. The influences in Art Deco also included the Greco-Roman ideals of balance and proportion, and the two-dimensional silhouettes of Egyptian art. The influence of Asia could also be seen in the glossy finish of Art Deco. That glossiness was employed in Asian artefacts thousands of years. Nevertheless, the clean lines in the style of Art Deco are not plain, by any measure. Art Deco lamps have designs that controlled and restrained. They rely on texture and contrasts in colour and materials as opposed to the ornate outcrops and additions of other periods of art.
Art Moderne (also known as American Moderne or Modernist) is a style that originated from the United States, rather than France. While it overlaps stylistically and over the same period, 'Art Deco' is the more commonly-used term. For some, it's a question of style than dates. Art Deco can be considered more chic or organic, demonstrating restraint in the craftsmanship. Art Moderne is more sleek and mechanical, celebrating the precision of geometric shape.
Discover Art Deco Lamps
Art Deco lamps provide a glamorous accent to any room. Their style reflects the excitement and optimism of post-World War I. Art Deco also coincided with the Jazz Age, which was a time of change and exuberance after the period of austerity during the war. To this day, the styles and patterns of Art Deco and the Jazz age are still influential in art, fashion and home furnishing. The sleek, smooth lines and bold colours of an Art Deco lamp can provide understated brilliance to any room.
Art Deco lighting comes in many forms including ceiling lights, floor lamps, table lamps and wall sconces. Bronze and glass are used liberally, often accented with flowers, nudes and zigzag shapes in the design. A tall torchiere floor lamp can provide a focus for a room. Its wrought iron or chrome base is often combined with beautiful hand-blown glass shades. An Art Deco table lamp with clear, frosted, or coloured glass shades can be an excellent accompaniment to a low profile couch. Wall sconces in bronze or aluminium provide strong accents. Other touches to complement the lighting include Art Deco door handles, candlesticks and vases.
Parts of Art Deco Lamps
Art Deco lamps generally have a simple design, including a metal frame, base and lampshade. There are many different styles and designs of Art Deco lamps, but the essential components are common to all.
| Part | Description |
| --- | --- |
| Base | The base utilises materials like coral, alabaster and other metals. |
| Lampshade | Clear or coloured glass, which may feature nature motifs. |
| Frame | The frame was often made from a metal, including brass, chrome or bronze and may feature a female figurine accentuating the lamp shade. |
Types of Art Deco Lamps
| Type | Description | Advantages | Considerations |
| --- | --- | --- | --- |
| Swivel Shade Lamp | Nickel-plated desk lamp with shade. | Light can be directed to specific areas as the shade can swivel. | There is an S-shaped support mechanism linking the shade to the circular base. |
| Copper and Chrome Table Lamp | A 1930s style desk lamp. | The base and shade is copper. | Features a chrome switch. |
| Torchiere | Tall lamp with wrought iron base and hand-blown glass shade. | Dramatic addition to a room. | Can be complemented by doorknob accents and vases. |
| Spirit of Modernism | Designed by Arthur Von Frankenberg. | Highly desired American art moderne table lamp | Features an unclothed young female. |
| Alabaster Table Lamp | Dating back to the 1930s, it is just over 11 inches high. | Can add a glow to any room. | French design. |
| Cobra Lamp | Reading lamp designed by Norman Bel Geddes in 1930s. | Made from polished copper. | The specialist reflector shade hides the bulb and reflects the light without glare. |
Factors to Consider When Buying an Art Deco Lamp
Do some research before purchasing an Art Deco lamp on eBay. This guide is a good start, but there are hundreds of different styles available. Once you've identified a potential style or design, spend some time going through the individual eBay listings. Ask the seller for more information about the lamp if it seems lacking in certain areas. Find out if the lamp has been re-wired. Examine the images carefully to determine if it needs repair or restoration. Also, many original Art Deco lamps will have a manufacturer's mark on its base.
Typical Features of Art Deco Lamps
Art Deco lamps employ striking colours with bold contrasts. Deep yellows, rich reds and emerald greens are common. Blues and pinks are often used where silver or chrome is present. Etching on glass was a favourite technique, as was enamelling. White glass and coloured tiffany-style glass were popular too. Below is a brief list of some of the features common to Art Deco lamps.
Angular shapes
The glass on Art Deco lamps is often moulded into different shapes to create unique angles and precise synchronicity.
Polished surface
Bronze, chrome, aluminium and other metals often feature prominently on Art Deco lamps.
Female Figure
Nudes are a common motif on Art Deco lamps of the 1920s and 1930s. One of the most popular features is of a feminine figure holding up a clear or coloured glass sphere.
Other common features include:
Leaves and branches
Feathers
Etched glass
Enamelled glass
Trapezoids
Stylised animals
Chrome
Silver
Bold colours
Chevrons and zigzags
Sunbursts
Jagged pointy edges
How to Care for Art Deco Lamps
Art Deco lamps require careful handling and maintenance. If left untouched for too long, vigorous cleaning could damage the lamp and affect its value. Just because an Art Deco lamp is missing its plug and cord doesn't mean it's not a good buy. Rewiring is sometimes necessary to adapt it to modern technology. A sense of authenticity can be restored by using either a reproduction Bakelite plug or an older one in safe working condition. New, reproduction rayon wrapped cord will also look great. Painting is also an option but only if the lamp is chipped, or the original finish is so worn out and weathered as to render it unattractive.
Below are some simple cleaning instructions to care for an Art Deco lamp.
Remove the glass shade of the lamp and gently wipe inside and out with a dry cloth to remove dust and surface dirt.
Put a few drops of laundry soap into a tub of warm water and completely immerse the shade, using a soft cloth to scrub dirty areas. Wipe liberally any outer or inner areas that have accumulated grime.
Rinse the shade with clean water and allow to dry.
Popular Art Deco Designers
None of the Art Deco designers worked exclusively in lighting. Many worked in multiple fields such as furniture, architecture and auto-design. Below is a list of some of the most influential Art Deco designers.
Jacques Adnet
Oliver Percy Bernard
Norman Carling
Charles Catteau
Clarice Cliff
Jean Dunand
Jean-Michel Frank
Paul T. Frankl
René Lalique
Vadym Meller
Charlotte Perriand
Jean Puiforcat
Émile-Jacques Ruhlmann
Walter Dorwin Teague
Lloyd Wright
Accessories and Add-ons for Art Deco Lamps
Soft polishing cloth
Detergent (if necessary)
Soft toothbrush
Bulbs
Reproduction wiring
Finding an Art Deco Lamp on eBay
Once you determine the type of Art Deco lamp you want to purchase, visit the Antiques portal on eBay, click on 'Antique Furniture', then 'Lamps' and start searching item listings. The Categories list on the left-hand side of the eBay page helps to narrow the search.
Searching for Art Deco Lampson eBay
Search eBay listing titles for specific words when shopping for Art Deco lamps. For example, to find a spirit of modernism Art Deco lamp, type 'Spirit of Modernism Art Deco Lamp' into the search box, and then click the Advanced button to customise the results. Also visit eBay's Search Tips page for more advice on searching for Art Deco lamps with keywords. If you can't find the exact Art Deco lamp you want, try shopping eBay Stores.
Conclusion
With this guide, you can find some information you need about Art Deco lamps. Once you have collected this information, you can buy an Art Deco lamp safely and securely on eBay.