Finding the right shade for an Art Deco lamp takes some creativity. The period did not include a lot of usage of 'lamp shades', and existing shades mostly consist of fragile moulded or blown glass. Floor and table lamps sometimes feature traditional shades. The best Art Deco lamp shades are simply the shades that suit owners' personal tastes.
Lamp-Shade Shapes, Materials, and Motifs
The Art Deco period glorified industry and human accomplishment. Geometric forms dominated and replaced the lush naturalism of Art Nouveau. Practical desk lamps are common leftover items from the period. These lamps often feature slip-on glass shades in shapes described as 'batwing' and 'chevron' as well as shades that resemble a bird's wing. Many table lamps include sculptured bases with glass globes in various shapes such as round, acorn, and starburst. The Art Deco flame and skyscraper lamp shades are typical of the era. Standard table and floor lamps use materials like chrome and crystal in their bases to emphasise the brilliance of the era's industrial design. Ceiling lamps typically include glass globes.
Ceiling-Lamp Shades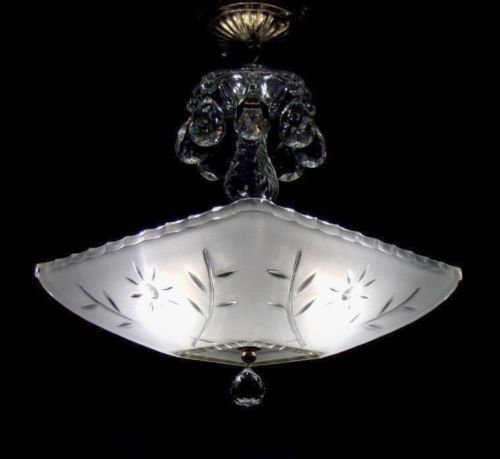 The most common type of Art Deco ceiling lamp shade is called a 'flycatcher'. This large hanging glass globe includes ringed indentations and metallic paint. Another ceiling light design is the clamshell, which has a shape like a giant mollusk and alternates stripes of translucent and coloured glass similar to the sections that form a shell.
Shades for Sculptural Lamps
During the Art Deco period, designers created table lamps and globes to go together. This is evident in the sculptural desk lamps made for men's business offices and studies. The lamps known as 'lady lamps' often echo Art Nouveau forms, with figures of ladies illuminated in the glass globes. Other lamps have regal Egyptian-influenced designs.
Floor and Table-Lamp Shades

Standard lamps tend to last, and Art Deco shades sometimes grace more than the chrome and crystal lamps from their own period. Typical Art Deco floor lamp and table lamp shades consist of simple silk to allow the lamps to really shine.