IT WOULD BEST TO DRY FIT THE SURROUNDS BEFORE STICKING THEM ON.
Driver's side:
1. Push the indicator towards the door and then lever it up (can be done with your fingers).

2. With the indicator out, turn the bulb housing and it will come out.

3. Stick the surround on

4. Refit the bulb housing and indicator lens.
Passenger side:
This is the harder one. A lot of guys just cut the clip off but this doesn't have to be done. (Once you get the indicator off you'll understand)
1. Push the indicator towards THE WHEEL (the lenses are not mirror image to each other so you have to push the other way now).

2. Get the indicator/bulb etc out as per driver side.

Now this is where it gets kind of tricky. You can take the easy way out and cut the clip off then glue the lens to the surround and put it on. This doesn't have to be done.

3. Before you put the surround on, take the big clip on the lens and bend it like so (top is original, red is what you are bending it to).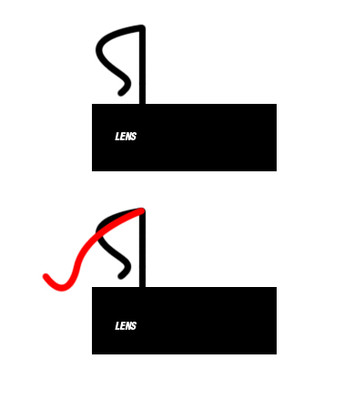 Don't bend it too much - try to bend it less than you need it so that when you put it on it will hold the indicator in place.

4. Slide the indicator into the surround BEFORE you stick the surround on.

5. If you haven't OVER-BENT the clip, it should need a bit of prying to get it in... Which is a GOOD thing as it means once in it will hold the assembly in place.

Take of most of the paper on the surround, leaving only the corners still covered so you can maneuver the surround.

6. Using a skewer or something that won't scratch your paint, pry the clip open so that you can slip it into the panel hole.

7. Once in, simply take off the remaining wax paper and stick the surround on.

MOST ASTRA'S DONT REQUIRE ANY WORK BUT THIS GUIDE IS TO HELP THE ONE'S THAT NEED IT, THIS IS THE BEST WAY WE HAVE FOUND TO FIX THE PROBLEM. THE SURROUNDS ARE DESIGNED TO FIT THE CORSA VXR BUT WITH A LITTLE MOD CAN ALSO FIT THE ASTRA H, CORSA D, ZAFIRA B, INSIGNIA
vxr vxr vxr vxr vx vxr vxr vxr vxr vxr vxr vxr vxr vxr vxr vxr vxr vxr vxr vxr vxr vxr vxr vxr vxr vxr vxr vxr vxr vxr vxr vxr vxr vxr vxr vxr