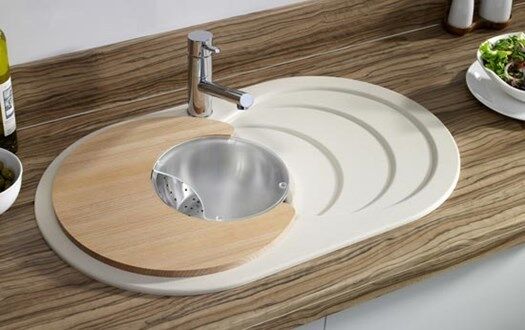 Even though you and your dishwasher are joined at the hip, you are sure to find many uses for your kitchen sink, such as soaking baking trays, washing delicate glassware or rinsing fruit and vegetables.
There are many good reasons for a
hardwearing kitchen sink
, after all it is something that should last you for many years. There's more to choosing a new kitchen sink than just design. Kitchen sinks come in a variety of composite materials including ROK®. ROK® kitchens are designed to combine hard-working performance with stunning good looks.
What is ROK®?
ROK® kitchen sinks
are an engineered product made from concentrated quartz crystals which makes ROK® kitchen sinks stronger and even more durable. With their hard wearing properties ROK® kitchen sinks remain looking good not matter what you put in them. Quartz is the fourth hardest element and makes a good choice of material for a kitchen sink for many reasons.
Heat Resistant
ROK® kitchen sinks
can also handle the extremes of hot and cold temperatures. Because of the durable surface of the ROK® kitchen sinks , you can literally take a boiling pan straight from the hob and put it in a ROK® sink without having to worry. ROK® kitchen sinks are resistant to thermal shock and heat-resistant up to 280 degrees celsius.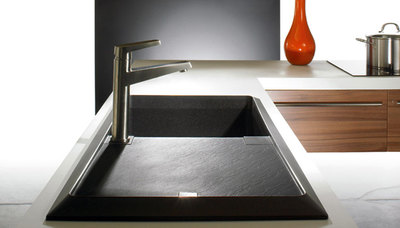 Scratch Resistant
With a ROK® kitchen sink, you will not have to worry about surface scratches. The outer surface of ROK® kitchen sinks are so hard wearing, it is scratch-resistant
Stain Resistant
Your kitchen sink is one of the hardest working utilities in your home. From greasy pans to abrasive cleaning materials, your ROK® kitchen sink will look like new after a quick wipe. The low porosity of ROK® kitchen sinks ensures resistance to all commonly used household chemicals.
Impact Resistant
Your kitchen is a busy place and it is not unknown for things to get dropped or broken from time to time. ROK® kitchen sinks are designed to withstand everyday knocks and bumps, and are built to last for years to come.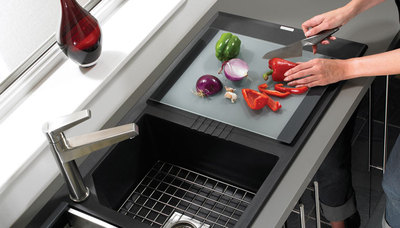 Easy to Clean
ROK® kitchen sinks are designed to offer superior performance but are also easy to clean and are resistant to nearly all household chemicals and stains.
Antibacterial Surface
Granite features natural antibacterial properties which is what makes it such an excellent choice of material for kitchen sinks.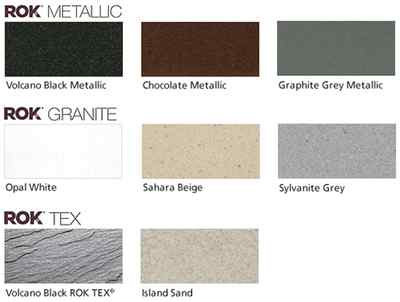 ROK® composite is made from an intense mass of 90% quartz crystaline particles. These are forced together within a smooth bonding agent, to create super strength. Unlike standard granite sinks ROK® has a higher concentration of quartz crystals on its surface that is what gives it extra durability and creates a water, stain and scratch proof barrier.
Your kitchen sink is one of the most hardworking appliances in the home, so you need to make sure its up to the job. That is why the right composite material is so valuable. ROK®kitchen sinks feature quartz crystals concentrated at the surface making it tougher, stronger and more durable. ROK® keeps on looking good no matter what you throw at it.
ROK® is made from an extraordinary mass of 90% quartz crystaline particles forced together in a smooth bonding agent to give superior strength. The strength of ROK® kitchen sinks makes it a great material for kitchen sinks. ROK® has a greater concentration of quartz crystals compared to standard granite composites. This creates an impenetrable barrier, which makes it resistant to stains, an intense heat, scratching and everyday knocks and bumps.
ROK® kitchen sinks are available in a variety of colours and finishes including, Volcano Black Metallic, Opal White, Chocolate Metallic, Sahara Beige, Graphite Grey Metallic, Sahara Beige, Graphite Grey Metallic, Sylvanite Grey, Volcano Black Rok Tex® and Island Sand. Rok Tex® is a new and pioneering granite ROK® material featuring a textured contemporary slate surface. Metallic particles are added giving Rok Tex® sinks which glisten under intensified light.
Tapwarehouse offers an extensive collection of ROK® kitchen sinks at heavily discounted RRP prices backed by an extensive Astracast lifetime manufacturers guarantee for your peace of mind.
Shop online now for ROK® kitchen sinks.