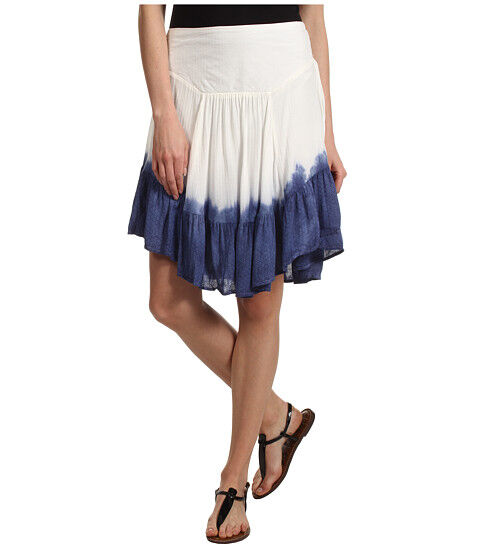 Wearing an asymmetrical skirt can bring new life to an old look. Skirts have been a staple of women's wardrobes for centuries, but the asymmetrical skirt is comparatively new. This style of skirt debuted in the 20's and has seen a variety of stylistic changes. There are several styles of asymmetrical skirt available and these styles differ based on the trends of the season. Women should take into consideration their body type before choosing which style or length of asymmetrical skirt to purchase, as some styles are more flattering than others.
Asymmetrical skirts come in a variety of materials, with some that work well in casual settings, others that are perfect for going out, and some that can be worn to an office or formal event. Because fashion trends are constantly changing, the styles and colours of asymmetrical skirts available for purchase each season will change. Purchasing an asymmetrical skirt through eBay will allow women to shop both current and past styles of asymmetrical skirts.
What is an Asymmetrical Skirt?
An asymmetrical skirt does not have a uniformly even hemline. Whether the skirt is high in the front and low in the back, V's to the side, or is a wrap skirt with a crossed front, all are asymmetrical skirts. Depending on the fashion source, an asymmetrical skirt also includes skirts where the designs differ from side to side, such as when one side of the skirt has a ruffle and the other does not. Budget should not be a factor for women when they are looking for a trendy asymmetrical skirt, as they can be homemade, designer brand, or even purchased at local shopping centres.
Styles of Asymmetrical Skirt
Because of the broad definition of an asymmetrical skirt, there are many styles available for purchase. From one season to the next, styles change and it becomes a constant battle to keep up with the latest fashions. Rather than purchasing a new wardrobe of skirts every time the seasons change, women should discover which styles best flatter their body type and purchase skirts in basic colors in those styles, and only buy the occasional seasonal asymmetrical skirt when they find one in a unique colour and style that suits both their body type and personal style. Of the asymmetrical skirt styles, three of the more prevalent styles are the high-low skirt, the diagonal slant, and the wrap skirt.
High-Low Skirt
The high-low skirt features a longer back hemline that angles up to a shorter front hemline. This skirt is available in a number of lengths and the difference between the high and the low parts can be subtle or pronounced. This style can work on most women if the proper length is selected for their body type. Depending on the material used and how dramatic the cut, this can be anything from casual beach wear to a skirt suitable for the office. Another common way for this style to appear is with a solid underskirt and a longer, sheer overskirt.
Diagonal Slant Skirt
The diagonal slant skirt has a short hem on one leg that slants down to the other leg. These can be found in mini-skirt lengths as well as in longer lengths where the slant starts just below the knee. The diagonal can go in either direction, so it is a matter of personal preference which direction the slant runs.
Wrap Skirt
A wrap skirt wraps around the waist and ties, snaps, or buttons into place. Many of these skirts will fit a range of sizes, so women who are working on losing weight may find these particularly beneficial as they won't have to buy a new skirt every time they go down a trouser size. The hemline of an asymmetrical wrap skirt narrows as it approaches the edge of the skirt so that when it is worn, an upside down "V" cutout appears. Depending on the skirt, this can be on the side or in the front of the skirt. Be sure to select a skirt that is long enough to preserve modesty.
Choosing the Right Asymmetrical Skirt
When selecting which asymmetrical skirt is right for them, women have several factors they should take into consideration. The length of the skirt is important as different lengths of different styles of skirts will look better on different body types. The colour and materials used are also important. Finally, it is important to make sure that the skirt fits properly for the material and style.
Length of Asymmetrical Skirts
Women with long, slender legs can wear any length of any style of asymmetrical skirt and not have to worry about it presenting an unflattering image. However, the majority of women do not fit into the supermodel category. Women with boyish figures should look for skirts with ruffles around the hips to give the illusion of curves. Curvy women will find that skirts with hems above their knees are the most flattering. Women should play around with length and find which lengths best flatter their figures from all angles.
Colours of Asymmetrical Skirts
There are many colours and patterns available. When first trying out the style, women may wish to stick to basic solids that will go well with the majority of their wardrobe. Once they have found several staples that work well for their needs, they can begin to branch out into more daring patterns and colours. Black, navy, white, and grey all work well for first time asymmetrical skirt buyers. Also consider the selected material and the purpose of the skirt when making a selection, as bold colours and patterns are more easily worn in casual settings.
Choosing the Material
The material chosen for the asymmetrical skirt is important. Chiffons and silks are better suited to formal situations while knits are meant for casual outings. A sheer skirt may work well for a day at the beach, but to be worn elsewhere would need a slip worn underneath.
Sizing
Skirts that zip up are meant to fit snugly against the hips while skirts that have elastic waistbands are typically loose and flowing. If the material is stretchy, a skirt with an elastic waistband may be designed to hug the body. Women should begin by searching for skirts in the size they currently wear. However, if they do not know their size, it is easy enough to use a fabric tape measure to learn what size they should purchase.
| | | | | | | | | | | | |
| --- | --- | --- | --- | --- | --- | --- | --- | --- | --- | --- | --- |
| Size | 4 | 6 | 8 | 10 | 12 | 14 | 16 | 18 | 20 | 22 | 24 |
| Bust (cm) | 76 | 78.5 | 81 | 86 | 91 | 96 | 101 | 108.5 | 116 | 122 | 128 |
| Waist (cm) | 58 | 60.5 | 63 | 68 | 73 | 78 | 83 | 90.5 | 98 | 104 | 110 |
| Hips (cm) | 83.5 | 86 | 88.5 | 93.5 | 98.5 | 103.5 | 108.5 | 116 | 123.5 | 129.5 | 135.5 |
While the above chart is a good reference for the average measurements for different sizes, if the designer provides a specific sizing chart, it is best to order the skirt off that chart instead. Designers will best know what measurements their sizes will fit. Also pay attention to reviews left by other people who have bought the skirt, as they will provide information about if the skirt fit true to size.
How to Buy an Asymmetrical Skirt on eBay
Once you have decided to purchase your asymmetrical skirt through eBay, your first stop should be the home page. From here you will be able to type any search queries directly into the search bar. Begin with a general search for "asymmetric skirt". This will provide you with a large number of results. At this point you can choose to modify your search in the search bar, delete the search words and enter a new search phrase, or narrow the search by selecting a category. Be careful to not be overly specific with your search terminology, as it may limit the number or results that are returned. Searching by size "asymmetric skirt S" is one way to limit the search results to items that are in the proper size range.
The closer the skirt's location is to yours, the faster the shipping time will be, so pay attention to the shipping location of the item when placing an order. At that time, also look at the seller's return policy in case the skirt arrives and does not fit. You can buy with confidence from sellers with high feedback ratings.
Conclusion
Asymmetrical skirts are a trendy way to spice up the wardrobe. These skirts are versatile and can be worn anywhere from as a beach cover up to the office to a fancy restaurant. Make sure the material of the skirt is appropriate for the occasion as some materials are better suited to casual settings. Look for a length of skirt that flatters the body as most styles of wrap skirt can flatter any woman provided the proper length is selected. Wear asymmetrical skirts with heels to elongate the legs and create a smooth line, but make sure the shoe doesn't draw attention away from the skirt which should be the focal point of the outfit. Women should remember that not every colour and style of asymmetrical skirt will flatter them, so rather than rushing out to purchase the newest trends of the season, they should analyze the skirts and decide if they have a place in their wardrobe, or if they should go to eBay and look for a skirt from a previous season.