A much loved and long lived console....
The Atari Video Computer System was launched in 1977 and continued to be manufactured through the 1980's in a revised form as the 2600, soldiering on until the early 1990's as a budget games machine. It wasn't the first games console with interchangeable cartridges, but it was the first successful one - an estimated 30,000,000 units sold worldwide, along with licensed versions from Sears, Coleco and other manufacturers. As it was made from off-the-shelf components, anyone with the right knowledge could make an Atari compatible machine.
There are 7 main versions of the Atari Console as sold in the UK, this guide will help you identify what is what. Originally, Combat was the included game, however, various retailers struck deals to include a different inclusive title, though toward the end of the Atari's run, Millipede was the norm for the standard game.

Guide prices based on eBay prices June 2016 for console only in the UK. Please be aware that games cartridges, joysticks, paddles and other bits and pieces will increase the value.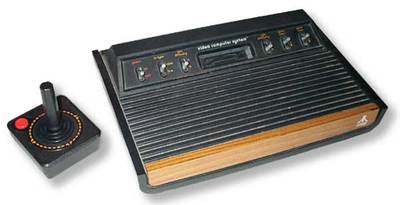 Add a caption
Heavy Six-switch atari. Note the rounded front corners and thick side bezels.
1977 - "Heavy" six-switch
This was the original, California-made console from 1977. It was only made for a year, and is now the Holy Grail of Ataris for many console collectors. Easiest way to distinguish this console from the later 1978 version is the rounded front corners, thick side bezels, and its weight (2.1kg/4.5lb). This console should have a sticker on the back with ATARI INC., SUNNYVALE CALIFORNIA, though some cases were exported to Hong Kong in 1978 when manufacturing was transferred there. Contrary to popular believe, this was made in a PAL version for Europe. Model Number CX2600.

Included game: Combat

Console only price (UK) £75-100 unboxed. £100+ boxed.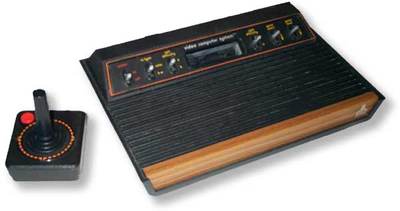 1978 - "Light" Six-switch
The first revision, made between 1978 and 1980, some were still being sold in 1981 as residual stock. Front corners are more angular and streamlined looking, and the size bezel mouldings are much thinner, and wrap over the woodgrain panel. Weight 1.2kg/3lb. A very common version of the console. Most of these were made in Hong Kong, and the sticker underneath state made by Atari-Wong. Some very early light sixers were made in California, and are worth a small premium.

Included Game: Combat

Console only price (UK) £25-40 unboxed. £50-70 boxed.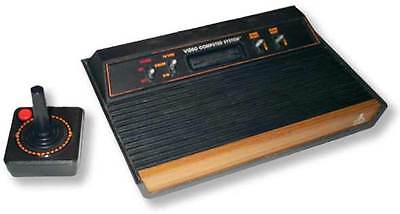 1980 - Four Switch woody
In late 1979, a revision was made to the internals of the Atari. Instead of a motherboard with the switches and cartridge slot on a daughter board, the whole lot was assembled onto one card. A result of this was the difficulty switches being moved to the back of the console, and the joystick and power socket being moved higher in the case. Another very common variant, model CX2600-A. In the UK old stock of this model was still being sold as late as Christmas 1983.

Included Game: Asteroids, Combat or Space Invaders

Console only price as per 1978 model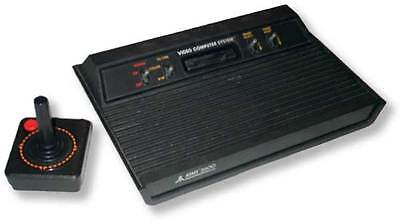 1982 - Atari 2600
The 1982 version of the console was badged as both the Video Computer System and the Atari 2600, the latter being a result of the model number, but also because in the same year Atari launched the 5200. The same case as the 1980 version, but now in all black, giving rise to its common soubriquet "Darth Vader". Not as common as the wood grain consoles in the UK, despite an official production run of 3 years, but no means a rare variant.

Included Game: Normally Combat, Asteroids, Space Invaders, or Pac-Man

Console only price (UK) £40-60 unboxed. £50-75 boxed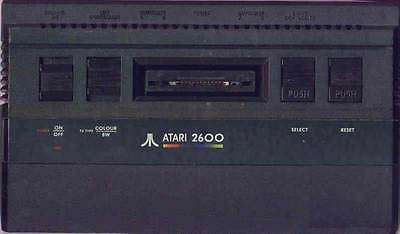 Add a caption
All black UK/Eire model 2600. Note spelling of Colour
1984 - Atari 2600
In the UK and Ireland, for Christmas 1984, a new variant of the 2600 was launched. A streamlined case, with new switches and an attractive all-black design. However this model was only sold in small numbers. Residual stocks of the older design consoles were still being sold, so it was possible that for Christmas presents, 3 friends could have this version, a 'Vader and a 4 switch woody, all brand new that year!
This version appears to be a UK and Ireland only model, and is only found to have the UK spelling of COLOUR on the TV type switch. Not very common, and the most collectable of the slimline 2600's. This model was sold with the "Pro-line" joystick normally supplied with the 7800.

Included Game: Pac-Man or Centipede (one person I know got E.T. with his)

Console only value (UK) £25-30 unboxed. £50 Boxed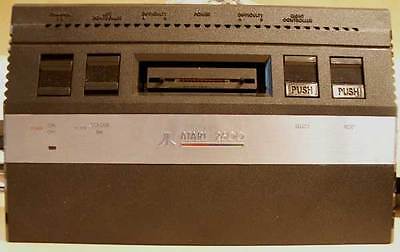 1986 - Atari 2600 Junior
In late 1985 the rest of the world was introduced to the new slimline Atari. The UK already had this model in all black, and was sold alongside the older Woody and 'Vader models. By 1986 all markets had the slimline case console, now with a silver band. Functionally the same as all other 4-switch and junior models, this (and its successor) are the least desirable Atari 2600 consoles. It is also one of the least reliable in the current market. Atari sold this model with the original style of Atari joystick, or the Pro-line type.

Included Game: Normally Centipede or Millipede

Console only value (UK) £15 unboxed. £40+ boxed.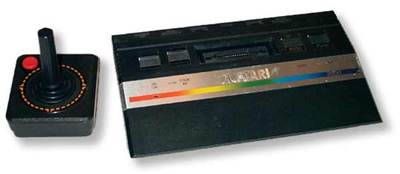 1988 - 2600 Junior revised
From around 1988, the Atari was given its final facelift. The only difference being the rainbow band on the chrome trim extending the full length. These are very late models, produced until 1991, and some were still knocking about unsold until the mid-1990's. Values as above model.
What model to buy?
I've owned and played on Ataris since the early 80's, when I was 3 or 4. I've still got the light 6-switch woody that was my Aunt's and still play on it often. I've also had all variants (except the heavy 6) at some point or another, and, apart from the form factor, there really is no difference between the models. Through experience, I did find that the later models more prone to failure and getting dirty cartridge slots, and original spec power supplies for any model aren't particularly great.
If you want a bargain, a Junior or 4-switch woody will be your best bet.
Approximately 1/3 of the games require paddle controllers, so make sure you get a set of these along with a joystick.
In the current market, if you buy an Atari, especially a woody, you should break even when you come to sell it on.


Cartridges
As with anything retro, a boxed cartridge with its original manuals is worth more, but don't get fooled into thinking because the earliest games are now 40 years old, they're worth a lot of money - the truth is many simply aren't, even in 1977 release guise! You're more likely to pay more for a game with a different style of label as opposed to what the actual game is!
Combat, Pac-man, Space Invaders, Centipede and Millipede have all been the included game when the console was new, and the market is absolutely flooded with these. Unless they are boxed, or are a rare label variant, they aren't worth much for than a couple of pound each.
Other very common games are Asteroids, Missile Command, E.T., and Defender, once again their price depends on label variation as opposed to anything else.
Some games were only launched in the USA and are geared up for the NTSC format, so may not work on a European PAL machine (the French models outputted in SECAM, which will show as greyscale on PAL machines if they work). Atari's own PAL cartridges for Europe will have a P on them somewhere.

There are plenty of dedicated websites for the Atari 2600 detailing each kind of cartridge with available label variants, and a comparative rarity for each one. It really pays to research before you part with any money when it comes to games for the Atari.