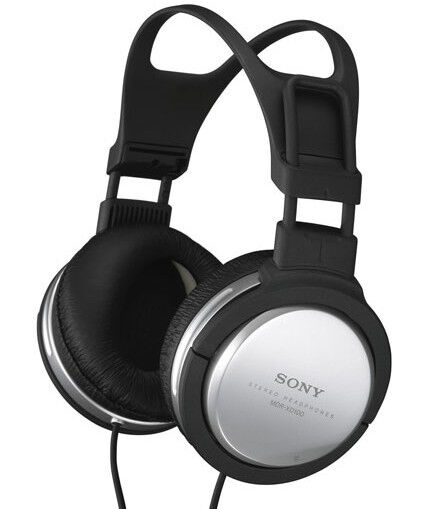 Headphones are great accessories whether you are lounging around the house, exercising, or completing chores. Headphones can be used with smartphones, MP3 players, radios, and computers. Multiple questions need to be considered when buying headphones including: comfort options and preferences, the best sound quality, portability, size options (bigger or smaller headphones), as well as overall intended use for the audio headphones. For example, if the buyer plans on wearing the headphones for exercise purposes, he or she is going to want to purchase a pair that is comfortable and stays in place even when in motion.
A wide selection of headphones can be purchased at electronics shops, some department stores, and on the online auction website, eBay. Shopping for the right pair of headphones can be difficult. There are so many factors that must be considered, including size, colour, purpose, in-ear or on-ear, and noise cancelling or non-noise cancelling. Before purchasing a pair of headphones, the consumer should learn about the different types of headphones and the advantages and disadvantages of each.
Types and Styles
There are different types of headphones available, including earbud, on-ear, full size, wireless, and noise cancellation. The headphones are evaluated based on if they are easily portable, breathable, their sound quality, and interference.
| Type of Headphones | Easily Portable | Breathability | Sound Quality | Interferes with Glasses, Earrings, or Hairstyles |
| --- | --- | --- | --- | --- |
| | Yes | Yes | Average | No |
| | Yes | Yes, except for closed-back | Good | Yes |
| | No | No | Excellent | Yes |
| | Yes | Yes | Good | No |
| | Maybe | No | Excellent | Yes |
Overall, earbud headphones are the most portable, and full-size, noise-cancelling headphones offer the best quality. However, full-size and closed-back headphones are not good for breathability. Earbud headphones are best if the user wears glasses, earrings, or is worried about them interfering with their hair. Wireless headphones and earbud headphones are recommended for activities, such as exercising, completing household chores, and walking the dog. Selecting headphones is a personal preference based on how they are used.
Earbud Headphones
Earbud headphones are most commonly sold with MP3 players, but can also be purchased individually. Earbuds are tiny earpieces that rest on the outer ear. Earbuds are designed to fit a variety of ear types. The earbud headphones are lightweight and very small, while providing ample isolation from external noise. Additional benefits of earbud headphones are that they are little or no hinderance to earrings, glasses, hats, or hairstyles and they are easily portable.
Earbud Variations
Earbud headphones come in a variety of colors adding variety and a personal touch. Two disadvantages of earbud headphones are their sound quality and comfortability. The bass is not as loud on earbud headphones in comparison to full-size headphones. Some people do not think earbud headphones are as comfortable because they do not fit their ears correctly or they continually fall out; although there are earbud headphones for sale that have a wrap-around component, which helps keep them in place.
On-Ear Headphones
On-ear headphones are also known as supra aural headphones.. They have pads that press against the ears, rather than around them. Supra aural headphones can be divided into open-back or closed-back. Open-back headphones have the back of the earcups open, creating a sound that is more natural or speaker-like. Open-back headphones also create the perception of distance from the source, whereas closed-back headphones have the back of the earcups closed. Closing the back of the earcup creates a smaller soundscape, providing the headphone wearer with the perception that the sound is coming from within his or her head. On-ear or supra aural headphones are comfortable and provide more breathability, but they have a less powerful bass and leak noise in comparison to full-size headphones.
Full-Size Headphones
Full-size headphones are the largest headphones, and have circular ear pads that encompass the ears. Full size, also known as circumaural, headphones completely surround the ear and are designed to completely block out external noise. Based on the size of the headphones, they are often heavy, therefore, there are different headbands to minimise discomfort; although the styles are constantly changing, and now full-size, noise-cancelling headphones are gaining popularity even for portability. The main benefit of full-size headphones is their sound quality. They offer maximum bass and surround sound effectively blocks out noise and keeps music inside. The disadvantages of full-size headphones include their inferior portability, earpieces that may become warm with use, and a bulky headband that can interfere with hairstyles or glasses.
Wireless Headphones
Wireless headphones are small electronic speakers that emit sounds without being connected to a device by a wire. An example of a wireless headphone is a bluetooth. There are two types of wireless headphones: infrared and radio frequency. It is important to decide how wireless headphones are used before deciding on infrared or radio frequency because infrared requires users to have the transmitter in sight. If the wireless headphone is not within sight of the transmitter, the signal is lost; however, radio frequency allows the headphone user to move a further distance. The sound quality with infrared is typically better than with the radio frequency.
Benefits of Wireless Headphones
When using radio frequency, the sounds are typically transmitted from a device, such as a smartphone or MP3 player. The benefits of wireless headphones include not having to deal with cluttered wires and their portability. For example, wireless headphones are recommended for someone who is exercising or completing chores, so the wires do not get in his or her way. Usually wireless headphones are smaller, therefore, the buttons are small, which makes them harder to control for some users. Another disadvantage of wireless headphones is that they are not connected to a power supply, so they must be recharged.
Noise-Cancelling Headphones
Oftentimes, people reach to adjust the volume on their headphones while on airplanes, buses, and when people are talking loudly. Headphones that reduce unwanted ambient sound by use of active noise control are called noise-cancelling headphones. They work by using a microphone outside of the headphone that monitors outside noise, and then cancels the sound. Noise-cancellation allows users to enjoy music without having to raise the volume too much. Raising the volume can cause damage to a user's ears and hearing.
Styles and Variations of Noise-Cancelling Headphones
Noise-cancelling headphones come in two different styles: earbud and over-the-head. Over-the-head, noise-cancelling headphones can reduce noise by 99 per cent, whereas earbuds only reduce sound by 75 per cent. The obvious main benefit is the noise cancellation. One negative effect from noise-cancelling headphones is a humming noise that some users experience. For example, if the buyer travels often on planes, it is recommended that they purchase noise-cancelling headphones, specifically the over-the-head type, to block out noises, such as screaming babies or loud talkers.
How to Buy Audio Headphones on eBay
Ultimately, a buyer must decide which type of audio headphones are the best fit for his or her lifestyle. eBay offers thousands of options when it comes to purchasing headphones, from earbuds to wireless headphones. The simplest way to search for headphones is to perform a keyword search. Fortunately, there is a search box on every eBay page. In this space, the buyer can type in specific keywords, such as 'headphones'. After clicking search, thousands of options appear in the search results. If the buyer would like to browse through a smaller product listing, then he or she just has to enter more specific keywords and peruse a much more targeted list.
The buyer can determine the authenticity of a seller and review his or her feedback. The seller's eBay history includes all feedback ratings from buyers within the last 12 months. Feedback is beneficial for the buyer because it provides the buyer with the seller's past interactions, and allows the buyer to make an informed decision before purchasing. The feedback is beneficial for the seller because it allows the seller to improve his service and attract more buyers to his page through positive feedback.
Sorting Listings by Price
After deciding how much money to spend on audio headphones, a buyer can then sort search results by price. This practice not only helps the buyer sort through the options more efficiently, but also helps him decide which sellers are offering the best deals on headphones.
Conclusion
Audio headphones are available in a variety of shapes, styles, and sizes. That being said, the right type of audio headphones is ultimately the buyer's own personal decision. However, there are many factors that need to be evaluated in order to make an informed purchase. These include the advantages and disadvantages of earbud headphones, on-ear headphones, full headphones, wireless headphones, and noise-cancellation headphones.
With each type of audio headphones comes a unique set of advantages and disadvantages, ranging from portability to sound quality. When evaluating these factors, each buyer should keep in mind the main reason for his purchase of audio headphones. Luckily, eBay provides a wide selection of audio headphones to meet every buyer's needs. In addition to audio headphones, eBay also offers headphone cases that are beneficial for the buyer who brings along headphones when traveling. Purchasing audio headphones should not be a hassle. With the right research, a consumer can ensure that they have made the best choice of audio headphones.