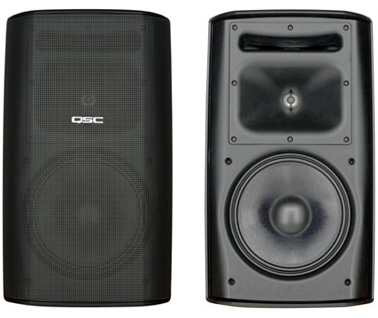 Audio speakers are essential for the overall quality of any sound system, so buyers should take their time when shopping for such gadgets. Some of the most important things to take into account when browsing the stores and the Internet for new audio speakers are the speaker type, stereo components, and personal preference. Thus, whether one enjoys watching movies with high-quality sound or simply is a music enthusiast, audio speakers are a good way to boost the entertainment experience.
Everyone's tastes are different when it comes to sound quality and for this reason buyers should choose their new audio speakers based on what they think it would be best for them. Identifying the speakers that sound best for one's ear may take some time and buyers should be well informed about the characteristics of different models and the way they work for various entertainment purposes in order to make a wise investment.
What to Look For in Audio Speakers
Buyers should consider their options carefully when shopping for audio speakers in order to be able to obtain the best audio quality for their favourite movies and music. Some of the most important factors to consider include the listening environment for which the speakers are intended, power, frequency response, and subwoofers.
One of the first things to consider when choosing audio speakers is one's personal listening habits. For instance, users who use their speakers primarily to listen to music and watch occasional movies do not need a full-blown 7.1 surround system, but should opt for one pair of speakers instead. Those who are interested in more bass should go for a small subwoofer, whereas those that are movie buffs and want to take their viewing experience to a whole new level should choose a surround sound system.
Listening Environment
The space in which audio speakers operate is an important factor to consider because this may have a considerable impact on the quality of the sound. The first thing to consider is the size of the room. As a rule of thumb, large and powerful speakers are not suitable for small rooms, not only because they take out a lot of space, but also because the sound may not come out as expected. On the other hand, very large rooms are not a suitable environment for small speakers.
Buyers should then think about whether they are looking to place their speakers in furniture. Unwanted resonances may be a problem in case one decides to place powerful speakers inside a cabinet. This is certainly not a good place for a subwoofer because it can affect the way the bass sounds. Bookshelves are a better option, especially for those who do not have enough space in the room to place their sound system on the floor.
Power and Frequency Response
Even though the vast majority of audio speakers have a power rating, it may sometimes be difficult to decide what model would work better in a certain room. For those looking for an above-average speaker, 25W would be a good choice. Amplifiers can be used in order to enhance power and the quality of the sound. The more power a set of audio speakers has, the more volume without loss of quality it can produce.
Frequency response is another thing to take into account, as this is related to the range of sounds a speaker is able to make. The human ear can hear around 20 to 20,000Hz, which means that a quality speaker system should produce sounds in that range.
Audio Cables
Resistance rating is essential when selecting cables for audio speakers. This measures the electrical conductivity of the cable and it should be matched with the rating of individual speakers. Reduced audio quality may be a consequence of not matching these ratings correctly.
Other Considerations
Buyers who want audio speakers for big flat-panel TVs may opt for on-wall models. Even though in some cases these may not sound as good as their freestanding counterparts, these may blend into your home décor better. Usually, on-wall and ceiling speakers require professional installation. After receiving the audio speakers at home, buyers should take their time to install and connect them correctly in order to get the best possible performance from their speakers.
Types of Speakers
There are numerous types of speakers buyers can consider for their home, including bookshelf, satellite, floor standing, on-wall, and in-wall models. The choice should be made according to one's personal preferences and the available space in a given room. Besides the form factor, users should also consider the configuration of audio speakers.
2.0 Systems
This type of audio speakers is a basic one and the main advantage of this system is the ease of installation. All one needs to do is plug the speakers into a PC or another audio device and many models offer the possibility to plug in a pair of headphones or connect a CD or MP3 player. Most 2.0 systems feature integrated controls that allow users to turn them on or off and their volume up or down.
2.1 Systems
Consisting of two side speakers and a subwoofer, 2.1 systems are the basic type of surround systems. They offer better quality than 2.0 systems and consume less space than the 5.1 ones. The subwoofer of a 2.1 audio system usually offers a deep bass sound. A high-end set should provide an audio quality similar to an average 5.1 one, but with a lower price tag.
5.1 Systems
5.1 surround systems are some of the most used audio systems for home theatres and commercial cinemas as well. They come in different versions, such as DTS, Dolby Digital, Dolby Pro Logic II, and SDDS. Regardless of their type, all 5.1 systems feature a similar configuration, consisting of a central channel, a subwoofer, two surround channels, and front left and right channels. In order to get optimum sound quality, buyers should make sure they have enough space in their room to install the sound system properly.
Single Speaker
Single speakers are a good choice for small rooms such as bathrooms and most models are able to get two audio channels. The main advantage of buying single speakers is the ease of installation. These speakers work with most audio devices, including CD and MP3 players as well as PCs.
Single Subwoofers
The subwoofer is an essential element of any audio system because it is responsible for the heavy bass sound. Buyers should choose a single subwoofer according to the type of music they enjoy listening. A powerful subwoofer is essential for listening to music that features a heavy bass. However, single subwoofers are a good choice for those who love classical or heavy-metal music. Buyers who wish to play techno or hip-hop should look into two or more subwoofers for an enhanced audio experience.
How to Find Audio Speakers on eBay
In order to make a good decision when it comes to buying audio speakers, you should compare as many models as possible and choose the one that fits both your preferences and budget. eBay offers a large palette of audio speakers in various sizes, types, and brands. By having a close look to several models, you can compare their technical characteristics with ease and make an informed choice.
To start your search on eBay for a new set of audio speakers, all you need to do is enter the keywords "audio speakers" into the search bar that is located on every page of the website. If you are looking for a particular style or brand, you can enter multiple search terms in order to reduce the number of results you get and make your quest for the perfect set of speakers quicker. For example, if you are only interested in powerful surround systems for your living room, you could enter the words "5.1 surround system" into the search bar.
When shopping for audio speakers on eBay, you should also pay attention to a number of factors such as the reputation of the seller, their location, as well as their return policy. You can save some money on shipping fees if you choose to buy from a seller located in your area, so you could try narrowing the results of the search by distance.
Conclusion
Audio speakers are essential devices for enjoying high-quality home entertainment, whether it is music, movies, or video games. The variety of styles available in high-street stores and online makes it rather difficult for the buyer to select the right style for their space. It is thus important to make a thorough research before purchasing a new set of audio speakers, especially if it is an expensive one.
eBay is a good choice for those who want to look for audio speakers on the Internet, mostly because of the large number of models available. In addition to that, the website features an intuitive search system that can make the shopping experience a quick and pleasant one. Buyers can choose from plenty of brands and opt for a new or used audio system, according to their budget and preferences. Regardless of the type of audio speakers one is looking for, chances are they can find them on eBay.