Austin-Healey Sprite 4 (1966-1970)
This is one of many illustrated classic car guides I've created for the community. I hope you enjoy it. If you wish to find out more about the classic Spridget car art featured in this guide please click here.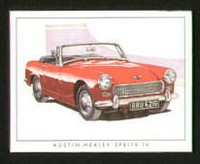 In October 1966 BMC announced what many people consider to be the best Sprite of all, the Mk 4, in which there was not only an engine worthy of the model, but a neat foldaway soft-top, which improved the little car's look. The Mk 4 's engine was still one of the A-series family but this time it was a detuned version of the Mini-Cooper S's 1,275cc unit and produced 65bhp with a great deal of lusty mid-range torque. It made the Sprite faster than its bitter rival, the Spitfire Mk III, and somehow it felt right, without strain or fuss, perhaps for the first time in its career.
If you would like to see more guides on classic Spridget cars please click!
Thank you for reading my guide and I hope you found it interesting!