Clarice Cliff reproductions and the use of the trademarked name can be confusing. This guide will help you to identify some of the more common reproductions including Wedgwood and Bradford Exchange items and which can be called 'Clarice Cliff'.

Clarice Cliff patterns were copied extensively in the 1920's and 1930's. They are used today on items ranging from reproduction ceramics to teatowels and knitting patterns. How can you tell whether your item can be called Clarice Cliff?

Clarice Cliff is a trademark
The name of Clarice Cliff is a trademarked name and it's use, like all trademarked names, is regulated by eBay rules and in most countries by law. This means that unless an item is an original Clarice Cliff or an authorised reproduction it should not be called Clarice Cliff in the title or description. Even if it is obviously a modern item and described as such, the use of the name Clarice Cliff is restricted to licensed users of the trademark only.

Who can use the trademarked name?
The two prolific areas of official reproduction ceramics come from Wedgwood and the Bradford Exchange. There are a number of different issues produced and more details are given below.
Certain manufacturers also have a license to use the name on a items beyond just the area of ceramics. If your item has the name of Clarice Cliff printed on it then it is likely it is authorised. Should you be unfortunate enough to come across an unauthorised use of the name then you will probably find out about it through the registered Clarice Cliff Collectors Club.
Authorised Reproductions
The original reproductions were issued by Midwinter, the company that bought Clarice Cliff. Now there are two companies that issue reproductions - Wedgwood themselves and Bradford Exchange or Bradex with a logo BE which uses the Clarice Cliff name under license from Wedgwood. Here is a guide to the Clarice Cliff reproductions available, note this is not an exhaustive list.
Midwinter
Midwinter took over the company Clarice Cliff in 1964 and produced a series of reproductions of some of her patterns. They were hand painted and of very good quality. The backstamps used were Royal Staffordshire POTTERY backstamps, illustrated below with an example of a reproduction sifter in the design 'Melon (pastel)'. More details about Midwinter reproductions can be found in my guide
Listing 'in the style of' Clarice Cliff
In the style of...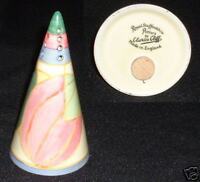 It is easy to distinguish between an original Clarice Cliff Bizarre pattern and a Midwinter reproduction:
The post 1952 backstamp used by Clarice Cliff was similar but instead of the reproduction wording "Royal Staffordshire Pottery by Clarice Cliff" the original reads "Royal Staffordshire Ceramics by Clarice Cliff" or "Royal Staffordshire Dinnerware by Clarice Cliff".
It is unlikely you will see an original Clarice Cliff Bizarre design with a post 1952 backstamp.
Wedgwood - hand painted and limited edition
Wedgwood began to issue official reproductions in 1994.
They were of high quality and hand painted.
Sold as limited editions in a jazzy box with a certificate of authentication.
The backstamp (example below) will say they are hand painted.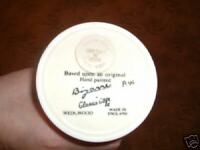 Commissioned reproductions were also issued as limited editions. An example is shown below. They were also sold with the jazzy box and a certificate of authenticity.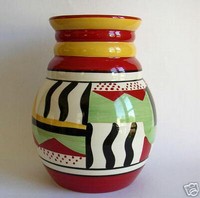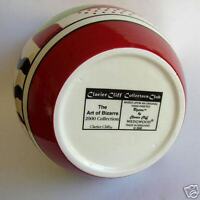 Wedgwood - transfer printed
Transfer printed reproductions.
Issued in a plain red box
Came with a certificate of authentication
Plenty of seconds are available without boxes or certificates. Without a box and certificate it would be difficult to say an item is an official piece.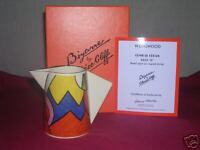 Wedgwood - paperweights
A recently introduced item consisting of a paper print placed in a modern glass paperweight. Not part of any limited edition or collection and not related in any way to an original Clarice Cliff shape. These are definitely genuine and issued by Wedgwood.
Bradford Exchange - transfer printed and limited edition on Wedgwood china
The Bradford Exchange commissioned Wedgwood to produce a 'limited edition' series.
Production took place over periods of firing days for example 75 so it is limited in how many can be produced over that period of time. The traditional use of the term limited edition usually means limiting production to a declared number, the smaller the number, the more exclusive the edition. These items are not by any stretch of the imagination rare.
Example backstamps below includes the words:

"Limited Edition 'Fantasy' based upon an original. Wedgwood logo. In the official limited edition of The Birth of Bizarre which is produced on Wedgwood fine bone china in an edition strictly limited to a maximum of 75 firing days and crafted to the exacting standards of The Bradford Exchange."

Came with certificate of authenticity which, if not available, should be considered seconds.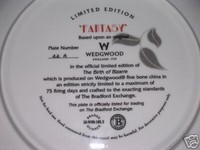 Bradford Exchange - transfer printed and limited edition
The Bradford Exchange, under license, commissioned an unspecified factory to produce a 'limited edition' series.
Production took place over various periods, for example 10 or 75 firing days.
Came with certificates of authenticity which, if not available, should be considered seconds.
Example backstamp below reads:

"Limited Edition TEA FOR TWO Produced in Clarice Cliff's preferred medium of earthenware, the official edition of Tea for Two is strictly limited to 75 firing days" followed by a stamped number and the logo BE for Bradford Exchange.

This is not a Wedgwood item and is nothing to do with Wedgwood apart from that Wedgwood issued a license for use of the name Clarice Cliff.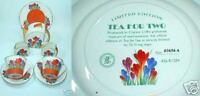 Unlicensed reproductions
Japanese copies
The original reproductions actually came from Japan in direct competition with the British ceramics industry. They copied the designs and produced the items far more cheaply than the traditional potteries could manage. This posed a significant threat to the local industry and was one of the reasons the use of the "Made in England" mark was encouraged. They don't use the Clarice Cliff backstamp but the patterns and the shapes can be confused with the genuine patterns and should not be mistaken for unmarked Clarice Cliff. The quality of the pottery itself is inferior.
Some examples of Japanese copies are illustrated in the book Comprehensively Clarice Cliff by Greg Slater and Jonathan Brough, Thames & Hudson, 2005.

Modern look-alikes
The largest modern manufacturer of items that bear a vague resemblance to Clarice Cliff is Moorland. Other modern manufacturers also produce reproductions. More details of these modern items can be seen in my guide:
Listing your 'in the style of ' Clarice Cliff
In the style of...
*************************
How eBay protects the use of trademarked names
Auctions that are not original Clarice Cliff or authorised reproductions but are described as Clarice Cliff are usually removed by eBay. Even using the name in the title but describing the item correctly in the main body of the auction still constitutes an eBay offence. These are the relevant sections on eBay that explain the process.
Keyword spamming
Keyword Spamming

"Keyword spamming occurs when members place brand names or other inappropriate keywords in a title or description to gain attention or divert members to a listing."

What is VeRO and why was my listing removed because of it?
"The Verified Rights Owner (VeRO) Programme lets intellectual property rights owners request the removal of listings on eBay that offer items or contain materials that infringe their intellectual property rights. This helps protect members of the eBay community from purchasing items that may be counterfeit or otherwise unauthorised."
*********************************
*****************
*******
*
I hope this guide has been useful to you. It is designed to give vendors the tools to list safely and accurately and bidders the ability to buy confidently. A safer environment means more confidence in the market, more sales, more collectors and healthy prices.
Good luck and happy eBaying!
More Guides
Clarice Cliff - Genuine or Counterfeit
Listing your auction 'in the style of ' Clarice Cliff
Did you like the guide and find it helpful?
Please vote by pressing the button below.
Do you have any comments or suggestions to make my guide more helpful?
Please let me know.
Thank you for reading.
Clarice Cliff - Wedgwood Reproductions for sale